MEWPs Training That Delivers Access and Safety
Manufacturers offer strategies and tactics managers can use in selecting training on mobile elevating work platforms
OTHER PARTS OF THIS ARTICLE
Pt. 1: This Page
Pt. 2:
Understanding MEWPs Options To Deliver Access, Safety
Pt. 3:
MEWPs: Myths, Misconceptions, Misinformation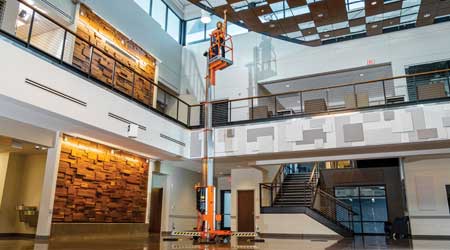 Institutional and commercial facilities are not always easy to reach. From multi-story facades and parking lot light poles to lecture hall ceilings and gymnasium lighting, an array of hard-to-access areas present difficult challenges for maintenance and engineering departments.
Managers trying to address the issue often turn to mobile elevating work platforms (MEWP) to give technicians the access they need. In making equipment decisions that involve researching a unit's size, reach and lifting capacity, managers also need to keep in mind that technicians require training on the safe and effective use of MEWPs.
"The most important thing is to ensure that anyone who operates a mobile elevating work platform in any capacity whatsoever has received proper training and is familiar with the specific model of aerial they are operating," says Scott Owyen with Terex AWP.
For managers who believe the issue of operator training is a relatively low priority, taking a long-term view is probably wise.
"Training is an investment in your personnel and your business," says Rick Smith with JLG Industries. "The cheapest and shortest training is often not the best investment."
A new standard
Driving the issue of MEWP training is ANSI A92.24, a new standard that became effective June 1, 2020.
"The new training standard requires managers and supervisors to be trained in the proper selection of the MEWP for the work to be completed, the operational safety requirements and the potential hazards of use for any MEWP being utilized and the means to protect the operators against them," says Tony M. Deatherage with Snorkel. "Trained managers and supervisors can effectively observe operators and assess them on a routine basis, enabling them to make educated decisions on their abilities and needs for retraining."
Owyen advises managers to read and closely follow the standard's requirements.
"The standards-writing bodies have clearly identified the training requirements for MEWP operators," Owyen says. "Each individual requirement is critical to the safe operation of MEWPs. Training must include both theory – classroom and online training – and practical, hands-on operation and evaluation by a qualified trainer."
Deatheridge says MEWP operator training should include: becoming familiar with the machine; identifying major component identification; conducting a pre-start inspection involving the operation and function of all controls, jobsite inspection and site awareness, and travel plan and setup; site-specific rules and regulations; and parking and securing the unit once work is completed.
Continue Reading:

MEWPs

MEWPs Training That Delivers Access and Safety

Understanding MEWPs Options To Deliver Access, Safety

MEWPs: Myths, Misconceptions, Misinformation
---
---
---
Related Topics:
Comments