You Might Like
On FacilitiesNet
Fall Protection: Safety Strategies and Tactics
Here are guidelines to help managers maximize fall protection, which annually tops OSHA's list of common violations.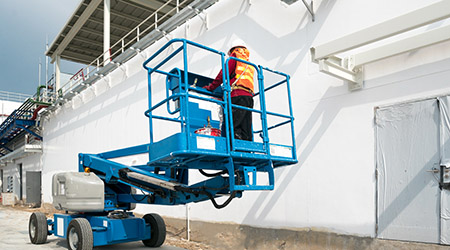 For the 10th straight year, fall protection was the most-cited violation in 2020, according to the Occupational Safety and Health Administration (OSHA). Considering these statistics, maintenance and engineering managers need to make training a top priority for front-line technicians who operate mobile elevating work platforms (MEWPs) and climb scaffolding or ladders to complete tasks in and around institutional and commercial facilities.
Data from the U.S. Bureau of Labor Statistics for the year 2020 shows a decrease of non-fatal injuries from 244,000 in 2019 to 211,640 in 2020. But the decrease in the injury rate can largely be attributed to the pandemic, which is why managers should not be too encouraged about the 2020 numbers, says James Junkin, a master trainer with Veriforce, which provides safety compliance and training services.
"When compared to the injury data from 2017-2019, we see an unfortunate increase from 227,760 to 244,000 injuries due to falls," Junkin says. "This is a disturbing trend. The fatality data related to falls in 2020 has not been updated as of yet. However, we do have some prior year data from which we can draw conclusions. From 2014 through 2019, a troubling trend is emerging in which, on average, 838 workers fall to their deaths. Serious injuries and fatalities continue to occur despite fall-protection violations making up 30 percent of OSHA's top 10 violations for 2020, which is another continued historical trend."
Ramping up training
In order to stem the tide, managers need to do more to train frontline workers on ways to identify hazards related to falls and the methods they can use to protect themselves. This effort includes the proper use of MEWPs and ladders, and the practice of effectively wearing personal fall arrest systems (PFAS), Junkin says.
"Poorly trained workers or those that are not trained to competently work at heights using work platforms, ladders, and scaffolding are subject to making critical mistakes that unfortunately can turn deadly," Junkin says. "OSHA regulations require comprehensive training and until we as an industry recognize the relationship between lack of training and serious injuries and fatalities, these types of incidents will continue to occur."
Knowledge is the most important safety device on any site, says Kristen Panella, principal trainer and OSHA authorized trainer with Summit Safety & Efficiency Solutions.
"PPE, fall equipment or any safety device is useless unless you have a well-trained, well-informed worker," Panella says. "Training provides the necessary knowledge that workers need to not only know what to wear but how to wear it, when to wear it, when not to wear it and, most importantly, its limitations."
Training is vital for protecting employees who are exposed to fall hazards, says Mark Stromme, senior editor of workplace safety at J. J. Keller & Associates and an OSHA outreach construction trainer.
"It's so important that OSHA has numerous requirements for employers to provide fall-protection training," Stromme says. These training requirements are based on the task and the industry the task is being completed in. Unfortunately, employers often fail to enforce safety regulations by looking the other way when employees disregard company fall-protection requirements.
"This can be due to the fact that the applicable OSHA regulations aren't completely understood," Stromme says.
For example, employers often use mezzanines for storage and to access equipment but fail to realize fall protection might be required. If the mezzanine is more than 4 feet above a lower level, employees need to be protected with OSHA-compliant guardrails or use a PFAS, Stromme says.  
The use of scaffolding poses its own problems because companies often use mismatched scaffolding components that are not compatible.
"This can cause the scaffolding to collapse," Stromme says. "There are also issues with not using the proper guardrails or having the platform completely planked, increasing the chances of an employee falling."
Eric Glass, senior safety adviser at UL, says, "Management or the employer is ultimately responsible for ensuring that all working environments are safe and healthy for all employees. This means that management must ensure that all equipment is well-maintained and used as intended. They must be sure that employees are aware of all potential hazards and can properly utilize fall protection equipment. A well-trained, hazard-intelligent employee can have a positive impact on the safety of the working environment."
Training techniques and tools
When employees are using a PFAS, they must be trained in how to properly adjust and wear the harness. A PFAS harness must be worn with the webbing snug against the body so the worker does not slip out in the event of a fall, Stromme says.
"Follow the manufacturer's directions on how to adjust and wear the harness," he says. "Some companies provide each worker with their own harness so that once the harness is fitted to the worker, it is good to go."
The proper inspection of fall-protection equipment also is critical. PFAS must be inspected prior to each use for wear, damage, and other deterioration, and defective components must be removed from service.
Inspectors must make sure the snaphooks on the lanyard are the locking type and are compatible with the PFAS, Stromme says. Proper inspection of these components, along with the harness, is needed before each use.
Training is paramount and must be done before to prevent the possibility of a fall hazard, and retraining must occur when the employer has reason to believe an employee lacks an understanding or skill or when there are changes in the workplace or the type of fall protection system used.
"Initial training is needed prior to performing work while on a scaffold or being involved in erecting, disassembling, moving, operating, repairing, maintaining, or inspecting a scaffold," Stromme says. "Each employee who the employer has reason to believe lacks the skill or understanding needed for safe work involving the erection, use, or dismantling of scaffolds must be retrained so that the requisite proficiency is regained."
Says Panella, "Simply popping in a video for your employees to watch is not sufficient," adding there should be hands-on classroom training with specific examples, a question-and-answer period, and evaluation of information retention.
Stromme says retraining should take place when changes at the worksite:
present a hazard about which employee has not been previously trained
in the types of scaffolds, fall protection, falling object protection, or other equipment present a hazard about which an employee has not been previously trained
include inadequacies in where an affected employee works involving scaffolds indicate the employee has not retained the requisite proficiency.
While not required on a rotating basis by the OSHA standards, it is recommended that fall protection and scaffolding refresher training be conducted at least annually.
"This helps keep the necessary and nuanced steps to work safely fresh in the employee's mind," Stromme says. This is especially important in facilities where employees are not regularly engaged in work requiring fall protection and scaffolding.
Maintenance in the spotlight
Maintenance duties often require the use of MEWPs to accomplish work at heights. Junkin says one of the most common mistakes involves employees not tying off within an aerial lift. Manufacturers and OSHA require occupants to be tied off to restrain workers inside the basket. Falls from baskets due to workers over-extending or the MEWP being struck by another object or other mobile equipment often result in a serious injury or fatality.
Front-line technicians might not use work platforms and scaffolding as frequently as they use MEWPs, and the lack of experience can lead to confusion. The most critical mistakes technicians make include not being mindful of weight capacities, neglecting proper inspection, and not using fall-protection equipment.
"The improper installation of scaffolding is another reason for serious injuries and fatalities," Junkin says. "Scaffolding must be assembled by qualified workers and inspected by those competent to do so. There are many considerations that must be taken into account when assembling scaffolding, such as the weight of the scaffolding and the load to be placed on the scaffolding, making sure to include workers and materials."
Electrocution also is a consideration when working with scaffolding. Workers usually suffer shock or electrocution because of a lack of pre-job planning. Hazards are best controlled in the design of the work. OSHA regulations state that work should not be performed within 10 feet of energized power lines. Junkin says that as a best practice, power sources should be de-energized or shielded when work must be performed near them.
"The trainer must be able to recognize the hazards associated with the type of scaffold being used and to understand the procedures to control or minimize those hazards," Stromme says.
Training must include:
the nature of hazards associated with working with scaffolding, such as electrical, falls and falling objects in the work area
procedures for preventing electrical hazards and for erecting, maintaining, and disassembling fall-protection systems and falling-object-protection systems
proper use and limitations of scaffolds
proper handling of materials on the scaffold, including the maximum intended load and the load-carrying capacities of the scaffolds.
Employees involved in erecting, disassembling, moving, operating, repairing, maintaining, or inspecting a scaffold also need additional training beyond the requirements above.
"Ask for input when designing a guardrail system or when deciding where the fall-protection anchor points should go," Stromme says. "Take time to explain the reasoning behind the requirement, and include real-life examples of what happens when the requirement isn't followed. Give employees options when selecting their personal fall arrest systems so that they're more likely to pick what they'd be most comfortable wearing."
Although e-learning or classroom training can be effective for general hazard recognition, relying solely on these methods to instill the knowledge necessary to use scaffolding and MEWPs will always fall short. UL recommends a blended learning approach that includes time in the classroom and on-the-job, hands-on training.
"Not only will management feel confident that their employees understand the hazards and requirements, but they'll also have the opportunity to evaluate how that knowledge has resonated and whether employees can demonstrate the required skills," Glass says.
That training should not be entirely about regulations and OSHA.
"Training should be hazard-based and involve case studies and examples of incidents that workers may actually face," Junkin says. "Workers should also be encouraged during training to share their experiences related to fall hazards. By making training realistic and moving beyond the regulations, lessons are learned that are not soon forgotten."
Maura Keller is a freelance writer based in Minneapolis, Minnesota.
---
---
---
Related Topics:
Comments