You Might Like
On FacilitiesNet
Aerial Work Platforms: Making Safety a Top Priority
Part one of a 3-part article on aerial work platform safety
OTHER PARTS OF THIS ARTICLE
Pt. 1: This Page
Pt. 2:
OSHA: Falls Top List of Aerial Work Platform Incidents
Pt. 3:
Manufacturers of Aerial Work Platforms Emphasize Safety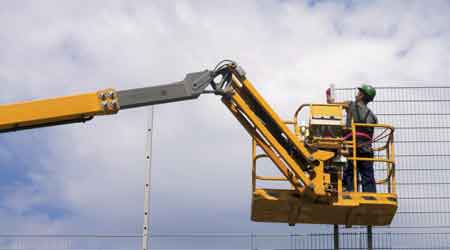 Maintenance and engineering departments rely on aerial work platforms to perform essential tasks in hard-to reach areas of institutional and commercial facilities. The tasks often include replacing lighting components, inspecting and repairing building envelopes, and painting interior spaces. The equipment helps departments perform these tasks more quickly and efficiently, but managers also must be sure workers use the platforms safely.
Managers can achieve this goal by understanding common safety issues related to aerial work platforms, implementing training that emphasize equipment safety and working with manufacturers to maximize the safe use of aerial work platforms.
Highlighting hazards
Aerial work platform safety begins with selecting the most appropriate lift for the job and planning the job so workers can perform it safely. If managers omit either of these steps, the job starts with unnecessary built-in risks. For example, if technicians opt to use a shortcut — modifying a forklift by adding a personnel platform to the forks, for example — the result could be an unsafe, imbalanced platform that can easily tip.
Job planning begins with determining each task and the reason for performing it. Is it being done because something is wrong somewhere else? Is some detail not right? Any extra steps added because of these conditions increases the risk exposure due to overworking technicians and equipment. The best safety precaution is planning the job carefully and completely so it is done with the right equipment, with trained and safety-oriented personnel, and under properly trained, safety-oriented supervision in the fewest steps.
Aerial work platform safety issues encompass eight equally important phases during equipment use: donning personal protective equipment (PPE); performing a pre-job equipment safety check; inspecting the jobsite for hazards; moving the lift to the job site; using the lift at the site; removing the lift from the site; performing post-job maintenance; and returning the lift to storage. No work should start until workers have donned PPE, including fall protection, hard hat, goggles or safety glasses with side shields, shoes, gloves, and a respirator if required.
Depending on the work, technicians might need special equipment. For example, when welding or burning, the welder needs such items as a leather jacket, gauntlet gloves, full face protection from a welding helmet with under-helmet head covering and appropriate eye protection lens, heat-resistant boots or shoelace covers, and a respirator when fumes are present.
The pre-job inspection ensures all safety devices are in place and working properly. It should include lubricating all fittings, as well as checking hydraulic systems for leaks and proper pressure and checking tires according to the manufacturer's maintenance recommendations. Workers should check the job site to identify: floor or ground obstructions, holes, slopes, or irregularities that might cause tipping; side clearances, such as narrow passageways; obstructions, such as utility poles and anchor cables, electric wires, and piping; other obstructions that might be encountered moving the lift from storage to the job site; and clearances at sharp corners.
Workers should arrange the job site in an orderly manner, with designated areas for material and equipment laydown when not in use. They also should test the lift's vertical and horizontal reach and stabilization controls before starting work and assign a safety watch while the lift is in use and when it returns to storage for the protection of the operator and nearby personnel to prevent damage to the equipment and structures.
After the job is complete, workers should inspect, clean and maintain the equipment according to manufacturer recommendations. They also should store all safety devices, such as outriggers, in designated places on the lift to ensure everything is ready to go for the next job.
Continue Reading:

Aerial Work Platforms

Aerial Work Platforms: Making Safety a Top Priority

OSHA: Falls Top List of Aerial Work Platform Incidents

Manufacturers of Aerial Work Platforms Emphasize Safety
---
---
---
Related Topics:
Comments