You Might Like
On FacilitiesNet
3 Key Questions on Mobile Elevating Work Platforms
Considering a MEWP rental? Make sure you know the answers to these three questions before proceeding.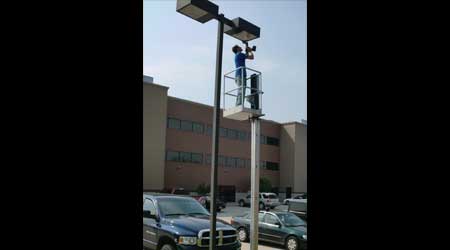 Front-line technicians in maintenance and engineering departments rely on a core arsenal of equipment and tools to complete many daily tasks throughout institutional and commercial facilities. But to handle the full range of maintenance and engineering tasks, managers often supplement this arsenal with key pieces of rental equipment.
The equipment rental process can be challenging, requiring managers to gather and analyze a great deal of information before making a final selection. To help them sort through and prioritize this information, let's focus on three important questions to answer.
• What physical requirements must the equipment meet?
• What controls, accessories, and documentation should the equipment have?
• What are the most important worksite conditions?
MEWPs can give front-line technicians essential access to hard-to-reach, off-the-ground locations in and around facilities. Auditorium lighting, for example, requires lamp replacement and occasional fixture and wiring addition, repair and replacement. A scissor lift is suitable for such straight-up jobs, but if the lighting is located above seating, an articulated lift can give technicians needed vertical and horizontal reach over bleachers and other obstacles.
Managers need to carefully consider worksite requirements when selecting a MEWP's physical properties. These requirements include enough capacity to lift the heaviest anticipated loads. For example, will technicians use the unit to move heavy materials such as piping and structural steel to remote locations? If so, managers need to consider the necessary load capacity for this task.
Managers also need to consider platform size. If the MEWP must lift two workers, several cartons of lamps, fixtures, tools, welders and other equipment to the worksite, the platform space or extensions must be adequate. The MEWP's closed dimensions also must allow technicians to move it through narrow areas, such as doors and alleys.
The MEWP's controls and accessories also must be adequate to ensure proper operation, maintenance and safety. If working on uneven outside terrain, tip controls must warn the operator of an unsafe center of gravity and stop the lift before it reaches the tipping point. Safety controls such as outriggers also must be in place and working.
Other controls, including those that regulate height, reach and load limits, must be reachable from the ground and, if needed, from the lift platform in cases where visibility above from the ground is restricted. The rental equipment dealer also needs to provide operating and maintenance documents, including safety tips, personal protective equipment requirements and safety data sheets.
Worksite conditions help managers determine a MEWP's required features, such as hard tires for working on inside or outside level, hard surfaces, such as auditorium high-bay lamping access and parking lots. Managers should specify balloon tires for off-road areas, uneven ground and wet, slippery surfaces.
The best way to maximize investments in MEWPs is to have several jobs in the backlog and perform them all during the same rental period to keep the equipment in full use when on site. This level of utilization planning requires anticipating and documenting all of the work with written job plans, including skills needed, as well as the needed materials, tools, equipment, safety measures, and access or other permits.
Thomas A. Westerkamp is a maintenance and engineering management consultant and president of the work management division of Westerkamp Group LLC.
---
---
---
Related Topics:
Comments