Facility Manager Cost Saving/Best Practice Quick Reads RSS Feed
Parris Island Facility Designed For Net Zero
July 19, 2016 - Contact FacilitiesNet Editorial Staff »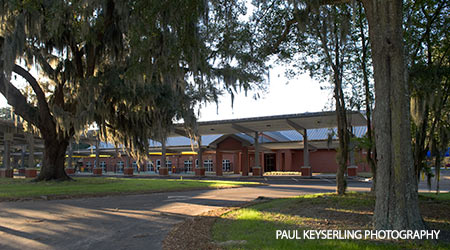 Photo caption: To meet the goal of zero net energy use at the Parris Island Child Development Center, photovoltaic panels were mounted on the roof and on canopies that covered parking areas.

The Child Development Center in Parris Island, S.C., is the Marine Corps Base Recruit Depot's first facility that was designed to achieve zero net energy. The 25,775-square-foot building serves a staff of 65 and approximately 250 children. The building has more than 1,100 photovoltaic panels that together are capable of producing 387,581 kWh per year, as well as hydronic heating and cooling via a variable flow geothermal closed loop system. To capitalize on the renewable energy generation capabilities, efficiency was built into many aspects of the facility, including the building envelope, high efficiency electric appliances, and LED lighting. Sustainability as guided the choice of water-saving plumbing fixtures and products that contain high percentages of recycled content as well as materials that were manufactured locally and regionally.

The facility also plays a role in achieving the Department of Defense Education Activity (DODEA) 2030 goal of achieving energy independence in all of its buildings as well as the U.S. Navy 2020 mandate that 50 percent of energy requirements be met using renewable resources.

In its most basic form, a zero net energy building produces enough renewable energy to equal the amount of energy it uses each year. A zero net energy building will still be connected to the power grid, and natural gas if available, to offset peaks and valleys in energy use. To meet the goal of zero net energy use, it will push energy to the grid during peak generation times and pull energy from the grid during peak demand periods so that its external energy needs will zero out over 12 months.

This quick read is from R. Stephen Spinazzola, RMF Engineering, Craig E. Pullyblank, KCI Technologies, and Gregory M. Tinkler, KCI Technologies. Read more from them about net zero energy buildings.
---
Comments