« Back to Facilities Management Green Category Home
Energy, Renewables, and Sustainability are Key Drivers of Corporate Growth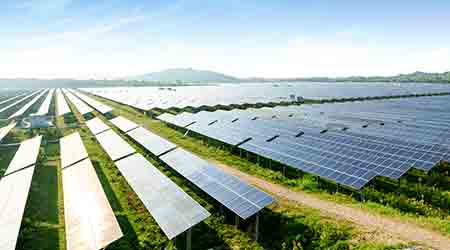 April 25, 2018 - Green
By Tim Grosse
Many organizations, from the smaller mid-market firms to the largest Fortune 50 companies, are turning to energy efficiency, renewables, and sustainability as key drivers of growth as their employees, customers, and stakeholders are demanding comprehensive and effective environmental programs within.
According to recent studies, more than 67 percent of U.S. companies see sustainability as having an influence on their growth rate and top-line revenue while 48 percent of respondents said that sustainability actively influences their growth strategy.
One of the biggest challenges for today's organizational leaders is to identify and coordinate effective energy and sustainability strategies to implement enterprise-wide. There is a wealth of information and data that is available to identify energy and sustainability programs but a lack of comprehensive understanding of the value that those programs will bring.
Additionally, as more and more organizations develop sustainability programs, they need effective and actionable strategies and steps to meet those goals. Programs such as LEED, GRESB, and WELL Building standards are a beginning but not a panacea to inefficient buildings that contribute up to 30 percent of all of the world's greenhouse gases. The same goes for software programs and Energy Star ratings. While these are good starting points, much more work is needed to identify specific strategies and technologies that will bring about actual change and help organizations ultimately meet their goals of being good environmental stewards and of corporate growth.
There also needs to be a convergence of ideas and strategies between the overall corporate strategy and the various departments that make those critical decisions. C-suite, marketing, finance, energy, engineering, facilities, and sustainability all need to have open and continuing dialogue as to how to meet these goals and become the best corporate citizen that they can be. In doing so, these organizations will thrive.
Many studies have shown that consumers prefer to patronize companies that have strong sustainability programs in place. Many companies, such as Google, Whole Foods, and Starbucks, have promoted sustainable practices and incorporated them into their corporate mission and culture with tremendous success.
Other more traditional companies are benefitting from energy efficiency and sustainability as well as they are finding that they are acquiring and maintaining more customers and revenue and attracting and retaining top thought leaders and talent to join their firms as a result of their efficiency and sustainability programs.
Today's markets and workplace have dramatically changed as energy efficiency and sustainability has been placed in the spotlight and taken on an increasingly vital role within an organization and play a key role in growth and revenue. Those organizations that recognize and react to these paradigm changes will be the leaders in their industry and markets.
Tim Grosse is CEO/executive director of E2 Energy Advisors, a commercial aggregator bringing together the best-in-class Building IoT and smart building energy efficiency technologies, top energy managers, engineers, former utility industry executives, and some of the largest energy wholesale and retail energy market makers across a wide industry spectrum. The firm offers a full range of energy management strategies/technologies for the commercial, industrial, and municipal energy users. For more information, contact info@esquaredenergyadvisors.com
posted on 4/25/2018