Five Minutes With Audio & Video Home
fiveminuteswith
Energy Efficiency: Role of HVAC Systems and Benchmarking with Jay Russell
Jay Russell, mechanical engineer lead with the University of Michigan in Ann Arbor, discusses energy-efficiency initiatives, including benchmarking and steam- and chilled-water-system maintenance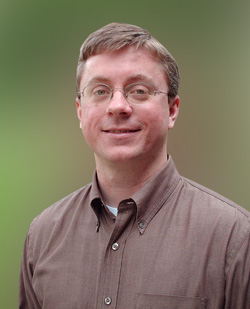 Jay Russell
Mechanical Engineer Lead
University of Michigan
Ann Arbor
What is your role in benchmarking building energy use at the university?

I'm responsible for metering and billing for steam and chilled-water utilities. I also get involved with reporting results for our Planet Blue program, which is a broad effort to save energy in campus buildings and get people involved with sustainability on campus. In these roles, I've helped develop regression-analysis techniques to create weather-adjusted baseline energy models for campus buildings.


What are some of the most successful energy-efficiency activities the university undertakes as part of the Planet Blue program?

Basic equipment scheduling is a key part of the program, where we work with building occupants to identify HVAC systems that can be shut down at night and on weekends. We've had success with a number of bread-and-butter capital projects, such as lighting upgrades, variable-speed drives for pumps and fans, occupancy sensors for lighting and ventilation, demand-controlled ventilation, and other projects.

Steam- and chilled-water-system improvements tend to have a big impact due to the energy-intensive nature of those systems.


What is the university doing to improve the energy efficiency of steam and chilled-water systems?

Steam-system improvements have included ultrasonic trap testing and replacement, replacing aging heat exchangers, insulation upgrades, and boiler-plant controls.
Chilled-water-system activities include everything from basic controls calibration and tuning to the replacement of aging chillers with newer technology. Normally, basic energy-conservation projects require a simple payback of eight years or less, and we look at longer-term life-cycle-cost analysis for certain major projects.


Can you talk about the process of developing weather-adjusted energy baselines for individual buildings?

The process involves using statistical regression to determine the relationship between historical energy usage and other variables, like weather or building schedules, and to create a model for individual meters or buildings.

Once we have a baseline model, we can input current weather data to predict what a building's energy use would be, given the current weather conditions. We can flag high or low usage and provide direction for corrective maintenance. We also can measure actual utility usage after a major change in the building, compare that to the predicted utility usage from the baseline, and calculate the increase or savings as a result of that change.


For organizations considering implementing a benchmarking program, what are key first steps in generating energy baselines?

The precursor to this effort would be having utility metering in place, at least at the building level. Just as I wouldn't want to drive a car without a fuel gauge, I wouldn't want to operate a building without the appropriate metering in place.

The next step is to get or generate historical energy data over a given period of time so that it can be incorporated into a baseline model. Throughout the process, building-automation systems are very helpful to manage the data from meters and equipment and to help with troubleshooting issues as needed.

Finally, some familiarity with the standards for measurement and verification of energy savings would be helpful, namely the American Society of Heating, Refrigerating and Air-Conditioning Engineers (ASHRAE) Guideline 14 and the International Performance Measurement and Verification Protocol (IPMVP) standards.
Find more on this topic:
efficiency, utilities, ashrae, variable-speed drives, occupancy sensors, energy benchmarking, benchmarking, meters, metering, pumps, fans
posted: 6/30/2011