Technology Advances Bring Efficiency Benefits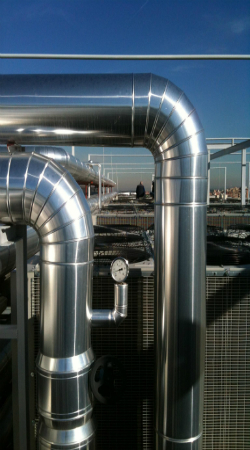 The three most important features found in the new generation of heating, ventilation and air conditioning (HVAC) systems are efficiency, efficiency and efficiency.
The rapid rise in energy and operating costs is forcing managers to look for new ways to improve the operating efficiency of their energy-using systems, and manufacturers have responded by finding ways to squeeze even more out of their systems.
For example, the efficiency of chillers has risen slowly to the point to which the latest generation offers peak-load efficiencies 25 percent higher than those of 10 years ago. Changes in operating controls and the use of variable-frequency drives also have improved part-load efficiencies so that seasonal chiller efficiencies have increased by 50 percent or more.
The benefits are not limited to chiller systems. New generations of boiler systems offer similar improvements. With operating efficiencies for condensing boilers approaching 95 percent, along with improved downturn operations, new-generation boilers offer managers a means of significantly reducing operating costs.
Some of the most significant improvements involving HVAC operations relate to maintenance. No matter how efficient or reliable a system operates at installation, technicians must maintain it properly to ensure it provides the intended performance level. Fortunately, new diagnostic tools are helping ensure systems operate at peak efficiencies with minimal breakdowns.
Technicians in large facilities can use diagnostic software tools that extract and use data from energy-management systems to detect and diagnose energy and other performance issues in HVAC operations. By correcting those deficiencies, managers have been able to realize typical reductions in annual energy use of 5-15 percent.
The benefit of diagnostic tools is not limited to facilities with energy-management systems. New handheld devices that can identify similar performance issues can be connected to air handlers, boilers, chillers, and other energy-using systems.
Finally, a new generation of modular systems for boilers and chillers provides another avenue to improve efficiency. Instead of installing one boiler or chiller sized to meet facility needs, managers are installing a bank of smaller units. Using multiple components allows managers to match operating capacity to the required heating or cooling load.
This new generation of smaller chillers and boilers also offers managers improved operating reliability. In any boiler or chiller installation, the failure of one component could cut the heat or air conditioning to the entire facility. In an installation of banked units, the failure of one boiler or chiller would result in a drop in system capacity.
— James Piper, P.E., is a national facilities management consultant based in Bowie, Md.
---
---
---
Related Topics:
Comments