Sustainably Designed Labs Must Follow Through With Green Operations
While challenges remain, new ideas in operations have resulted in long-term energy efficiency in energy intense lab spaces.
OTHER PARTS OF THIS ARTICLE
Pt. 1: This Page
Pt. 2:
To Procure Green Labs, Start With Product Selection
Pt. 3:
I2SL Focus on Training FMs How To Operate Sustainable Labs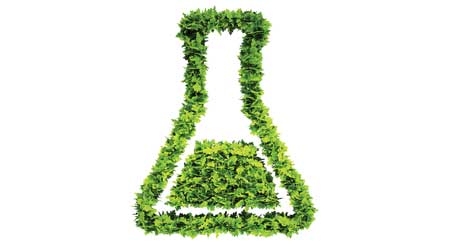 Many new laboratories are designed to be energy efficient. They're LEED certified and outfitted with energy-saving lighting and HVAC systems, plus new ultra-low temperature freezers that use about half the energy of the older models.
These features make a great start, but don't guarantee the lab will run efficiently. "The issue is not just the design, but how it's used," says Phil Wirdzek, founding president and executive director with the International Institute for Sustainable Laboratories (I2SL).
Three elements are necessary for a lab to function sustainably, says Sudhakar Reddy, coordinator of the sustainable labs program at the University of Michigan. The first is engineering the lab so it can operate in a sustainable way. The next is operational, and refers to policies to, for instance, turn off equipment when it's not in use. The third element is behavioral, and involves helping researchers comply with the procedures, by getting them interested in saving energy.
The idea of sustainable and efficient laboratories has only gained ground in the past two decades, Reddy says. Historically, the focus was on obtaining grants and conducting research.
While these remain primary objectives, of course, energy consumption has become a bigger concern. About one-third of the space at a typical research university is lab space, yet labs tend to consume two-thirds of the energy used, Reddy says.
One reason is the HVAC requirements of most labs. While air in many facilities can be recirculated, that's often not that case with laboratories. Conditioned air enters the lab, is used, and is then exhausted. The equipment used in the labs also tends to consume large amounts of energy.
The way in which many labs are funded poses another challenge, Wirdzek says. In many universities, an administrator will build a new lab to attract a researcher. While there's nothing inherently wrong with this, it triggers a set of ongoing expenses.
In addition, most researchers understandably want to focus on research and teaching. Because many bring in grant money, they're often given free rein to work as they want, Wirdzek says, and may operate in ways that consume more energy than necessary.
Researchers often purchase their own equipment, even if it's already available. In addition to the cost, "space management becomes a big issue," Wirdzek says.
Another concern is a lack of adequate funding to train facilities professionals who work in laboratories. "It's a complicated environment," Wirdzek notes, making an analogy to the owner of a high-performance sports car. "It's like throwing out the Maserati mechanic and going to Sears for a few years," he says. Problems will be overlooked or not properly addressed.
Support from the top
While the challenges are real, solutions are possible. Support from leadership is key. Reddy notes that in 2011, the University of Michigan announced six sustainability goals. One is to reduce the University's greenhouse gas emissions from FY2006 levels by 25 percent by 2025. Another is to reduce waste tonnage diverted to disposal facilities by 40 percent below 2006 levels. "These goals are driving the sustainability programs," he says.
Awareness also is critical. "We give students, staff, and researchers information and education so they can be more sustainable," says Ken Keeler, senior sustainability representative with the office of campus sustainability (OCS) at the University of Michigan. Keeler and his colleagues meet with researchers and others working in the labs to discuss ways to save energy and operate more safely.
The university also has developed a sustainable laboratory recognition program to promote and practice sustainable operations. The university's sustainability staff visits the laboratory and evaluates lab practices, considering pollution prevention, waste minimization, and green chemistry, among other subjects. They'll develop recommendations, which the lab can implement. Once it does, the lab is recognized as a UM sustainable laboratory.
The benefits of the program to the labs include a greater understanding of green chemistry practices, a reduction in energy consumption and hazardous waste materials, and improved lab safety for students, researchers and others.
So far, about 130 labs have received certification. The goal is to reach all the 800-some labs on campus.
The program starts with an emphasis on awareness, rather than requiring specific actions, Keeler says. In addition, safety remains a priority. The university doesn't "prioritize energy conservation over safety," he says.
(Design itself doesn't ensure a lab will be energy efficient or sustainable. Adequate ongoing funding for operations and support from upper management are also important factors.)
Continue Reading:

Critical Facilities: Green Labs

Sustainably Designed Labs Must Follow Through With Green Operations

To Procure Green Labs, Start With Product Selection

I2SL Focus on Training FMs How To Operate Sustainable Labs
---
---
---
Related Topics:
Comments