Main Problems Identified During Commissioning Included Malfunctioning Sensors And Water Valves
OTHER PARTS OF THIS ARTICLE
Pt. 1:
Building Recommissioning Helps Heifer International Meet Challenges Of Reliability, Efficiency, And Sustainability
Pt. 2: This Page
Pt. 3:
Ongoing Commissioning Is Part of Comprehensive Approach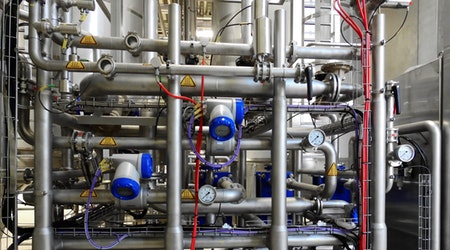 Working with the building automation control contractor and a mechanical contractor, the team addressed many of the issues discovered during analysis. Many of these issues were addressed immediately, while others were identified in the recommissioning report and added to Heifer's maintenance planning for the next fiscal year. While there were many items identified during this effort, some of the most significant were:
Heifer's recommissioning effort had a significant impact on the overall comfort, reliability, and energy efficiency of its facilities. The Energy Star rating was improved to 91 and actually exceeded the original post-construction rating. The recommissioning had less than a one-year payback and has continued to operate at its peak performance.
Sensors not working or not calibrated properly
Outside air damper minimums set too high or too low
Fan speed minimums (variable frequency drives) set too high at 40 percent instead of 10 percent
Loose fan belts
Chilled and hot water valves not functioning properly
Hot-water pump running with boiler cycled off
Excessive air in the hot water heating system
Hot water reset schedule not functioning
Lead/lag on hot water pumps not functioning
Minimum outside air damper position set to 25 percent on AHUs instead of 0 percent with carbon dioxide control
Carbon dioxide set points found at the previous ASHRAE standard of 500 PPM, instead of the (then) new standard of 700 PPM
Relative humidity sensors not reading accurately due to air leakage from the raised floor system
Manufacturer defects with the lighting controller
The Heifer project underscores the growth in commissioning and recommissioning services by leaps and bounds over the last 10 years. The growth has been driven by multiple factors: The U.S. Green Building Council added commissioning as a prerequisite to LEED certification, building systems are becoming more and more complex, and the federal government now recognizes the long-term benefit and the improved life cycle cost of recommissioned facilities.
A Quick Review of Terminology
Building Commissioning (Cx): An intensive quality assurance process that begins during design and continues through construction, occupancy, and operations. Commissioning ensures that the new building operates initially as the owner intended and that the building staff is prepared to operate and maintain its system and equipment.
Recommissioning (RCx): A building that has already been commissioned undergoes another commissioning process. The decision to recommission may be triggered by a change in building use or ownership, the onset of operational problems, or some other need. Ideally, a plan for recommissioning is established as part of a new building's original commissioning process or an existing building's retrocommissioning.
Retrocommissioning: The application of the commissioning process to existing buildings. Retrocommissioning is a process that seeks to improve how building equipment and systems function together. Depending on the age of the building, retrocommissioning can often resolve problems that occurred during the design or construction, or address problems that have developed throughout the building's life. Retrocommissioning improves a building's operations and maintenance procedures to enhance overall building performance.
Ongoing commissioning: A continuation of the commissioning process well into the occupancy and operations phase to verify that a project continues to meet the owner's current and evolving project requirements. Ongoing commissioning process activities occur throughout the life of the facility; some of these will be close to continuous implementation, and others will be either scheduled or unscheduled, as needed.
Sources:
Lawrence Berkeley National Lab
Continue Reading:

Sustainable Operations

Building Recommissioning Helps Heifer International Meet Challenges Of Reliability, Efficiency, And Sustainability

Main Problems Identified During Commissioning Included Malfunctioning Sensors And Water Valves

Ongoing Commissioning Is Part of Comprehensive Approach
---
---
---
Related Topics:
Comments