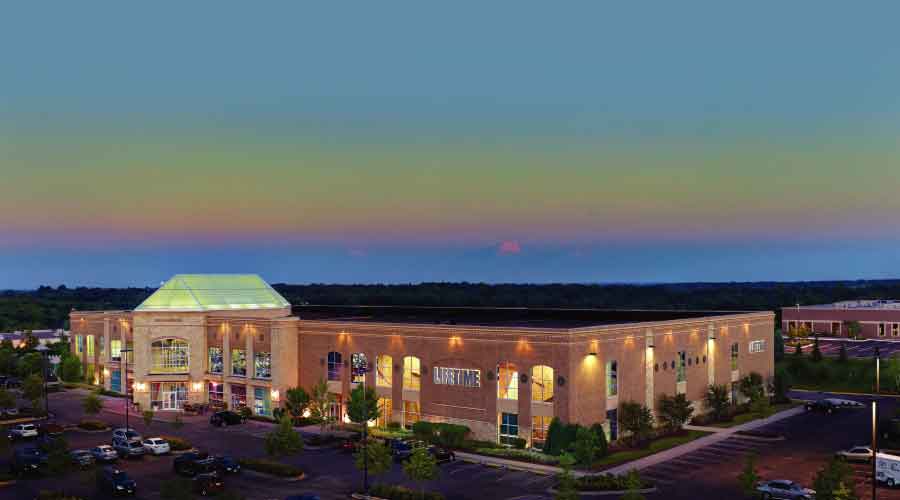 Life Time, Inc.
Life Time Athletic Club Chain Establishes Energy Efficiency Standards Across its Locations
Better Buildings Challenge helps athletic club chain Life Time achieve energy efficiency goals at its locations.
Most building owners and facility managers at institutional and commercial facilities are all-in on energy efficiency efforts. But sometimes they need a more effective road map to achieve the best possible results.
As those who struggle to drop pounds know all too often, while intentions might be good, the execution doesn't always produce the desired weight loss.
"Everyone can set a goal," says Maria Vargas, the director of the U.S. Department of Energy's (DOE) Better Buildings Initiative. "I can say I want to lose 20 pounds in the next year, but the question is how am I going to do it?"
The DOE's Better Buildings Challenge was created about a decade ago to help all kinds of organizations across the country reduce their energy use. Participating organizations commit to reducing their portfolio-wide energy use by 20 percent within 10 years. As with any initiative, some facilities are more successful than others.
Life Time, Inc., a national athletic club chain oheadquartered in Chanhassen, Minnesota, is one of the Better Building Challenge's success stories, achieving its energy goal three years early through a number of energy and water efficiency measures.
Setting standards
Life Time debuted in 1992. The chain is described as an "athletic country club" on its website, providing members with workout opportunities in swimming, group exercise classes, basketball and pickleball courts, and other assets such as rock walls, spas and cafes.
The company continues to grow, with almost 160 current clubs across the country, and 20 more set to open this year and in 2023.
With the national headquarters located in Chanhassen, the club adjacent to the corporate offices was the perfect club to serve as a testing ground for the current and future sites for exploring energy-saving opportunities.
Life Time first implemented projects aimed at reducing emissions impact in 2011, and has achieved across-the-network energy reduction of 35 percent and water use by nearly 60 percent.
The variety of amenities available to members at the clubs provided Life Time with many opportunities to save on plumbing, lighting and HVAC system upgrades.
"One of the reasons that we were excited to have Life Time is because they were the first fitness facility to join us," Vargas says. "And part of the reasons we work with organizations like Life Time at a portfolio level is because then energy efficiency becomes a strategic priority for the organization.
"When we went there, it was pretty obvious that their whole C-suite and the management of the organization bought in because you need the folks who are building the facilities and those that are maintaining the facilities to buy in."
At Life Time, the person behind the plan is Peter Isabell, the director of energy management and sustainability.
"I started in this position in 2009 during the economic downturn," he says. "I was in construction, and I thought we could save some money on utilities. That just morphed into an evolution of energy controls, overlooking the entire Life Time property range."
Isabell implemented the upgrades in Chanhassen starting in 2011, focusing on electric, natural gas and water efficiency measures to accomplish its goals.
Life Time saw a 70 percent drop in energy use after converting to LED lighting in the strength training and cardio machines room and the pickleball courts. The lighting retrofits also saved an average of 4-8 hours a week of maintenance and labor costs.
"With new fixtures, the average club has 2,000 fixtures and the return on investment isn't going to exist," Isabell says. "So, we went down to the component level and basically started creating our own kits. It just started out with how can we create the most light out of a troffer with the lowest dollar? In doing that the largest components of the financial aspect were boards and drivers.
"Everything was unique to Life Time. We didn't have hurdles where we could only retrofit, say, troffers or high bays. I think we retrofitted like 250,000 fixtures (nationwide), so their consistency was really high. After three years we might have had like 18 drivers fail."
The opportunities for water savings were massive in facilities that include pools, showers, steam rooms, saunas and cafes.
"We have a lot of pools and a lot of members," Isabell says. "There's irrigation, laundry, showers, and the café with domestic water with toilet and sinks and drinking fountains. It's putting 1.5 million gallons of water into these different buckets, and then how to manage the buckets more optimally."
Isabell implemented a number of projects to conserve water including establishing a proactive maintenance irrigation program, annually testing flow rates for showerheads, enforcing a laundry cleaning program and establishing real-time metering for domestic water outlets and pools to monitor leaks.
To realize HVAC savings, Life Time retrocommissioned more than 3,000 rooftop units across its properties, installed advanced controls, and used energy management systems to analyze and optimize HVAC systems.
Among the practices Life Time enacted were establishing a steam boiler proactive maintenance program; expanding use of variable frequency drives (VFDs); increasing monitoring of motor usage; and optimizing variable air volume units and upgrading steam room controls.
In taking a closer look at the steam room operations, the company determined that the men's and women's steam rooms constituted 13 percent of the peak load for the buildings as they ran constantly before controls were instituted.
Life Time's energy-management system was extremely valuable during the COVID-19 pandemic, when the clubs were forced to close. During the shutdown, the facilities implemented measures to avoid energy waste, rescheduling the use of more than 5,000 pieces of equipment to save more than 86 million kWh of electricity, 6.5 million therms of natural gas, and 600 million gallons of water.
"At the time (of the upgrades) we had like seven different platforms, so we took all of the platforms that were out there and we retrofitted them to one standard platform," Isabell says. "They all roll up to the same supervisor, and we optimize scheduled set points. It all seems like pretty simple stuff. Just by reducing the number of changes that are made to things has had a positive impact.
"We've worked through the last eight years teaching why standards are important. Just because something feels hot doesn't necessarily mean if you touch the button on the system, it's going to make it any cooler."
Sharing results
Institutional and commercial buildings are costly to run and are among the biggest energy wasters on the planet.
"What we know is buildings in this country spend about $400 billion a year to run," Vargas says. "It's about $200 billion for what we commit to commercial buildings, which is grocery stores, hotels, hospitals, office buildings, etc., and on average, we know that 20 to 30 percent of that energy is wasted."
The DOE set up the Better Buildings Challenge to help facilities not only reduce their energy use, but help develop a blueprint for others to achieve their goals. Since starting the Challenge about a decade ago, more than 900 facilities have combined to save more than $15 billion in energy costs and sharing innovative strategies at the Better Buildings Solution Center database.
Businesses like Life Time and institutions like universities and school districts are sought by the Better Buildings Challenge. Not only for their impact on reducing energy use, but for their ability to share in how they went about their solutions.
"It's that transparency, that understanding of sort of where you're getting stuck, and how do you get unstuck, which is why the DOE is interested in working with these organizations," Vargas says. "There are school districts, or hotels or hospitals or industrial facilities. We work with organizations because they share their energy bills with us and how they are driving this portfolio-wide ability to reduce their energy waste."
Earlier this year, the DOE took another step toward the battle against climate change by establishing the Better Climate Challenge, which calls for companies and organizations to reduce their carbon emissions by 50 percent by 2030. More than 100 organizations have committed to the climate challenge, including notable employers such as Harley-Davidson, the Cleveland Clinic, retail giant IKEA and the State of Maryland.
As with the Better Buildings Challenge, sharing experiences and results is a key focus of the program to help organizations establish their plans.
"Where we are in greenhouse gas reductions is that a lot of organizations have move toward hitting a target, but what we need to do now is take action and set a pathway," Vargas says. "What we know is the pathways are going to be different for a building in Miami than they would be in Milwaukee. So, we are keen on working with partners who have set these goals."
Dave Lubach is managing editor for the facilities market. He has seven years of experience covering facilities management and maintenance.
---
---
---
Related Topics: