How to Plan An LED Upgrade
LED upgrades need not be tricky. Here is advice on how to plan and execute a lighting retrofit to maximize energy efficiency and minimize downtime.
OTHER PARTS OF THIS ARTICLE
Pt. 1:
Lighting is the Best Place to Start for Energy Efficiency
Pt. 2: This Page
Pt. 3:
How New Buildings Maximize Energy Savings
Pt. 4:
Take Advantage of HVAC Opportunities for Energy Efficiency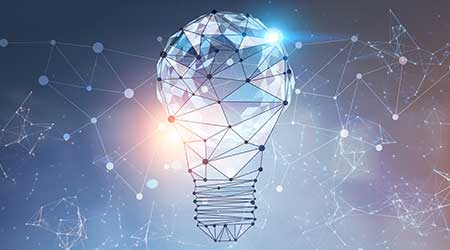 There are different options and scenarios to consider for how to approach introducing LED upgrades to a space. If minimizing impact and downtime is key, LED retrofits — using tubular LEDs or LED retrofit kits — may be a good option. Retrofits may utilize the existing fixture housing and branch circuiting with the addition or replacement of interior components. This typically means that there is minimal impact to the architecture or other systems surrounding the upgrade area, and the upgrade may have a quicker turnaround. The downside is that existing lighting layouts may not be optimized for the use of LEDs. Wattages of a 1:1 retrofit replacement may be higher than a holistic renovation with full LED fixtures in order to compensate for the shortcomings of the existing fixture placement.
Conversely, replacing fixtures with new LED fixtures provides the greatest opportunity for customization and optimization of energy and arrangement. However, it may require a more substantial renovation to a space, including demolition and construction of new architectural components, new ceilings, new or revised branch circuiting and controls, etc., which creates more disturbance to the area and occupants than a simpler retrofit.
Either solution could be combined with an upgrade of controls. Areas that are considered high-traffic or 24-hour operation (stairwells, lobbies, underground parking garages, etc.) will benefit greatly from the implementation of occupant sensor controls to either dim, reduce, or turn off lighting when the area is vacant. Daylighting sensors allow lighting to be dimmed or deactivated when appropriate levels of natural light exist within the space. All of these modern controls focus on providing light when and where it is needed, reclaiming energy during down times to reduce cost and usage. Savings can be repurposed elsewhere or cycled back into other building improvements. It is important to note that any substantial lighting renovation project may require a corresponding upgrade of the associated lighting control systems in order to meet the minimum requirements of the local energy code.
Some local jurisdictions have taken an even greater step towards energy efficiency by mandating existing buildings meet certain lighting upgrade requirements by specific deadlines. Often seen as a leader of energy efficiency and sustainability, California implemented Title 24 in 2016. This mandates that new buildings, as well as additions and alterations within existing buildings, comply with efficiency standards of ASHRAE 90.1-2013. Similarly, New York City implemented a pair of local laws — Local Law 88 of 2009 and Local Law 134 of 2016 — that require the lighting systems of all commercial buildings greater than 25,000 square feet to comply with the latest energy code requirements by Jan. 1, 2025. These laws have strict lighting power densities and control requirements that can only be met through use of LED fixtures with sensor-based controls. Such regional initiatives are becoming more common across the country as jurisdictions balance the increase of energy demands and environmental responsibility.
Financial concerns
The question remains as to how to accomplish strategic lighting upgrades in a cost-effective manner that also positively impacts the bottom line of a facility. How do you know where to begin and what areas to target to maximize savings? What are the best fixture types and what options may be right for the specific applications within a given facility? The possibilities can leave even the most seasoned facility manager with many questions.
There are resources available to aid in the planning and execution of such building upgrades. Most regional, city, or state utility companies have energy assessments, rebates, and incentive programs for commercial facilities, with information readily available on their websites for requirements and availability. Rebates, incentives, or tax credits are some of the best ways to offset the upfront costs of any energy-efficient renovation project and can often be combined to reap maximum benefits. Typically, these programs include free on-site energy assessment(s) to review the existing conditions and work through the options available. They may offer a calculated monetary incentive per fixture or control sensor, based on either the amount of energy reduction or the replacement of specific equipment.
Some states have state-wide energy rebate programs or tax credits for energy-efficient projects. The U.S. Department of Energy offers resources, tips, rebate searches, and more on their website, www.energy.gov.
Facilities may benefit from a third-party consultant who can provide varying levels of cost-benefit analysis to compare different available options, taking things like yearly maintenance, different rebate programs, yearly utility costs, and initial equipment costs into account.
The most important aspect of any building upgrade is to make sure the proper planning and coordination is undertaken. This is even more important with projects affecting existing occupants. Effective communication and planning will be the key to weathering any inconveniences the occupants may experience and will also set the expectations for the desired outcome. With the proper planning and coordination, it is possible to harness and maximize the energy use of nearly any facility and make energy conservation goals a reality.
LED lighting and sensor-based controls are an evolving technology. As developers, portfolio managers, and facility operators continue to focus on environmental responsibility and sustainable solutions, these types of tangible and realistic renovation goals present a great opportunity to spearhead even larger goals for all types of facilities, providing flexibility and long-term advantages.
Continue Reading:

Energy Upgrades

Lighting is the Best Place to Start for Energy Efficiency

How to Plan An LED Upgrade

How New Buildings Maximize Energy Savings

Take Advantage of HVAC Opportunities for Energy Efficiency
---
---
---
Related Topics:
Comments