Energy Storage Case Study 1: Walmart Uses Energy Storage with Solar PVs
Second of a four-part Green Building Report.
OTHER PARTS OF THIS ARTICLE
Pt. 1:
Five Benefits of Energy Storage: The Holy Grail of Energy
Pt. 2: This Page
Pt. 3:
Energy Storage Case Study 2: Reducing Peak Demand
Pt. 4:
USGBC Perspective: Large-Scale Venues Earn LEED Certification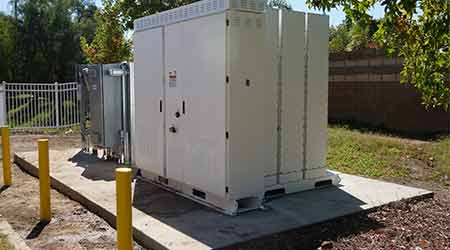 Solar City
Walmart has recently installed energy storage at eight retail sites across California. These stores are pairing photovoltaic solar with battery storage to achieve financial savings and operational reliability. Walmart is working with SolarCity on the solar-plus-storage systems to provide both peak load reduction and emergency backup power.

In the event of a power outage, Walmart's critical load backup system is programmed to initiate a series of events to prevent unintentional islanding and to coordinate with the existing building management system across several Walmart locations. The scale of these back-up power systems goes beyond traditional solutions and is a significant operational advantage to Walmart.

These systems are the first of their kind in providing backup power at this scale while also reducing demand charges. Read more about Walmart's energy storage system here.
Continue Reading:

Green Building Report

Five Benefits of Energy Storage: The Holy Grail of Energy

Energy Storage Case Study 1: Walmart Uses Energy Storage with Solar PVs

Energy Storage Case Study 2: Reducing Peak Demand

USGBC Perspective: Large-Scale Venues Earn LEED Certification
---
---
---
Related Topics:
Comments