You Might Like
On FacilitiesNet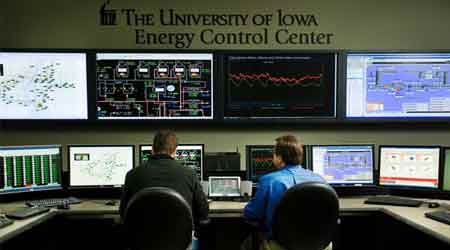 Bringing Energy Understanding to Occupants, Tenants
Last of a 3-part article on keys to setting up a real-time energy monitoring system
And finally, don't forget the humans. One of the benefits of real-time energy monitoring is showing building occupants and tenants not only how much energy a building uses in real-time, but also how much it's saved against a baseline — or how specific actions they've taken have resulted in energy savings.
For SL Green, New York City's largest landlord, Black says tenant energy use is "by far the lion's share of consumed energy." So allowing tenants to see in real time with a dashboard system "allows them to start questioning their own use — 'why are we using so much after everyone's left for the night or on weekends when no one's here?'"
Paterson says showing both students and university leaders energy use can be eye-opening for them. "Most people have no idea how much energy or money it costs to operate a building," he says. "This includes administrators of the university — they're astounded when we show them how many dollars per hour it costs to run a building."
So he says a huge benefit of the real-time monitoring is to show those who have influence over the budget exactly how and why, for instance, a lab uses more energy than an academic building, something obvious to him, but not to administrators. "People are smart; give them the information, and they'll figure out how to use it," he says.
A Visit to University of Iowa's Energy Control Center
The end goal for any real-time energy monitoring system might look like what's in place at the University of Iowa. There, a system of thousands of meters and at least 100,000 data points is constantly monitored and analyzed to identify problems and opportunities for greater efficiency.
This system is managed by a team of engineers and facility managers known as the Energy Hawks (Iowa's nickname is the Hawkeyes), and George Paterson runs the Energy Control Center, a physical control room of all the campus' energy data and analytics. Created in 2010, the Energy Control Center won APPA's Effective and Innovative Practices Award in 2012.
Paterson describes the Energy Control Center as "an actual room in our facilities department, but also a service we provide to gather data, cleaning and validating it, and creating reports for benchmarking. It's a hub of information centered around how we leverage data in facilities."
On the Energy Control Center's website, visitors can see real-time data for the energy use — electricity, chilled water, and steam.
In total, with the support of the Energy Hawks and the Energy Control Center, the University of Iowa is saving more than $1.5 million per year on energy costs, against its 2010 baseline. Its goal is to use no more energy in 2020 than it did in 2010, despite nearly $1 billion in new construction over the next several years, according to Paterson.
— Greg Zimmerman
Continue Reading:

Energy Information

Using and Managing Energy Monitoring Data

Quick Response to Energy Waste, Quick ROI Among Benefits

Bringing Energy Understanding to Occupants, Tenants
---
---
---
Related Topics: