Boilers and Water Heaters: Planning for HVAC Savings
Part 1 of a three-part article on HVAC savings
OTHER PARTS OF THIS ARTICLE
Pt. 1: This Page
Pt. 2:
Taking Next Steps to Energy Efficiency in HVAC System
Pt. 3:
Boiler and Water Heaters: No Cookie Cutter Solutions for Improved Efficiency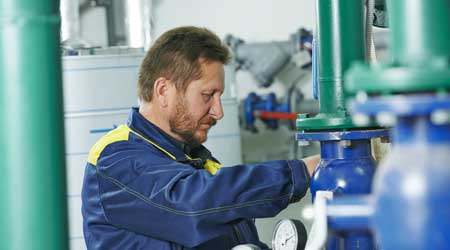 Boilers and water heaters are among the top energy-using systems in many institutional and commercial facilities. More importantly for maintenance and engineering managers in these facilities, these systems also are among the top energy wasters.
To address the issue, managers more often are being asked to develop and implement a plan that can improve the energy efficiency of these key pieces of HVAC systems. By understanding the full range of resources at their disposal and the overall goals of the organization, managers can develop a comprehensive plan that maximizes the organization's investment.
The first step for managers seeking to improve the efficiency of boilers and water heaters is to assess the measures they already have taken to improve a facility's overall energy efficiency. Among the most common measures are these:
• Installing a new maglev high-efficiency chiller
• Converting from primary/secondary pumping to variable-primary pumping, which improves a chiller's Delta T, reduces pumping energy use, and eliminates two pumps.
• Reprogramming and optimizing variable-air-volume (VAV) box control to reduce reheat energy and reduce outside air ventilation to code levels.
• Relamping lighting fixtures facilitywide with high efficiency LEDs. This step provides both energy and maintenance savings.
• Upgrading a building automation system (BAS) and maximizing efforts in scheduled energy reductions and air handling unit (AHU) optimization.
Developing a program to increase energy efficiency requires a team of experts. This team often includes:
• department staff and technicians who know the facility better than anyone
• electrical staff to repipe and rewire new burner devices
• a steam trap maintenance contractor
• a water-treatment professional
• a fire-tube testing professional
• a local boiler and burner supplier and technicians who will play an integral part
• the local mechanical contractor for piping revisions, including installation of new flow meters
• a BAS contractor for integrating the burner management and combustion control system to a BACnet-based BAS.
Continue Reading:

Energy Strategies

Boilers and Water Heaters: Planning for HVAC Savings

Taking Next Steps to Energy Efficiency in HVAC System

Boiler and Water Heaters: No Cookie Cutter Solutions for Improved Efficiency
---
---
---
Related Topics:
Comments