Facility Manager Cost Saving/Best Practice Quick Reads RSS Feed
Schools Ramp up Maintenance Prior to Reopening
August 7, 2020 - Contact FacilitiesNet Editorial Staff »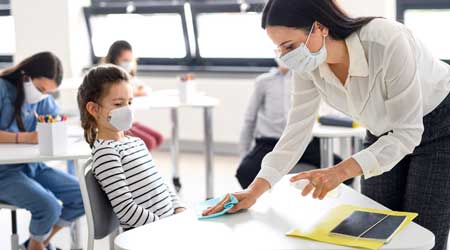 Safely reopening the nation's education facilities is an enormous undertaking, given the scope of the changes to buildings and systems needed to control the spread of the coronavirus among returning students, staff and faculty. While the effort is challenging for front-line workers, it comes with a bright spot: a growing appreciation for the crucial – and risky – role maintenance and housekeeping workers are playing in the process.
At the University of Nebraska, the Journal-Democrat describes the work being done by the university's facilities team, which includes increasing fresh air circulation and improving filtration in campus buildings. The adjustments are meant to reduce potential impacts if the COVID-19 virus becomes aerosolized or lingers in the air for extended periods of time, according to .
"Much about how this virus spreads is still being discovered, however, with some initial studies indicating that airborne transmission is a possibility, it's our responsibility to be proactive and do what we can to keep students, faculty and staff healthy," says Lalit Agarwal, director of maintenance and utility services.
In Charleston, S.C, the Charleston County School District is preparing to reopen its classrooms, so workers are implementing millions of dollars worth of safety measures before teachers or students walk through the door, according to WIS.
The district serves more than 50,000 students in over 80 schools. The safety measures being taken for next year have a price tag of almost $6 million. One-half of that amount is going toward purchasing and installing plexiglass in classrooms.
And at the University of Maryland, The Diamondback encouraged students to appreciate the role of front-line workers in creating safe spaces to work and live in university facilities:
"In addition to working in high temperatures, housekeepers are working through a pandemic. And unlike many other jobs in a university setting, cleaning a building is not something that can be done remotely. Since their only alternative is to use accrued personal leave, housekeepers have little choice but to put themselves at risk."
Dan Hounsell is editor of Facility Maintenance Decisions.
---
Comments