You Might Like
On FacilitiesNet
Risk Assessments Highlight Facility Weaknesses
By identifying weaknesses in facilities and plans, managers can improve an organization's resilience in an emergency
OTHER PARTS OF THIS ARTICLE
Pt. 1:
Emergency Preparedness: Understanding Facility Vulnerabilities
Pt. 2: This Page
Pt. 3:
Upgrade Opportunities To Improve Facility Resilience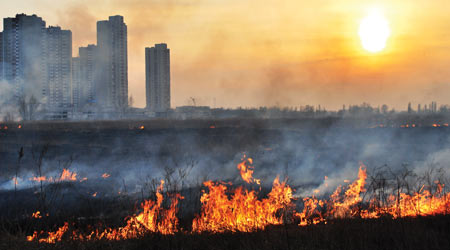 In an emergency, the most critical improvement identified in the after-action report is usually not a piece of equipment. Instead, it is communication inside and outside the organization. Before fortifying HVAC systems, managers need to ensure that everyone inside the organization is part of a comprehensive communication plan to keep them informed. To effectively manage an emergency, all personnel must be on the same page – medical, legal, custodial and facilities management. Everyone must understand actions and expectations. Outside partners such as local, regional, state and federal response organizations, as well as vendors and other local healthcare facilities, also need to be a part of the plan.
Communication is essential for proper disaster preparedness, and staff communication should begin as part of the planning process. Understanding which staff are available to assist during a disaster and any needs they have — child, family or pet care, for example — is crucial. Who is essential personnel, and who is not? By determining this in advance, managers can ensure everyone knows their role in a crisis.
Another unforeseen hindrance many facilities run into with emergency management is leadership – or a lack thereof. Some executives view emergency management and safety as a line item in a spreadsheet or a compliance issue. Consequently, many leaders choose to drastically reduce costs in this department in order to save facilities money. But that decision can have long-lasting and damaging effects.
When leaders understand the importance of emergency preparedness, they are more likely to dedicate resources. They also will ensure the right people are managing the program, rather than assigning the oversight as an additional duty to someone already overwhelmed or lacking the experience and knowledge necessary to oversee an emergency program simply because it is something they should do.
In the case of a storm, leadership will play an integral role in decision making. For example, in preparing for a hurricane, critical decisions like additional resources and evacuation need to be made at least 48 hours before landfall, when the exact impact area and intensity are still unknown. The leadership team also is responsible in determining staffing plans, canceling electives and closing off-site locations.
After accounting for facilities' more intangible vulnerabilities, managers can perform a risk assessment that includes vulnerabilities to water and wind damage, flood-prone areas of a campus, and generator capacity — for example, seeing if HVAC systems are connected to generator power.
Finally, every facility must maintain records or systems, such as the medical records department in a hospital. Those departments need a certain amount of physical space, access to files and software systems to get through every day.
What happens when a disaster occurs and knocks the software systems offline or blocks access to records? How will the hospital operate? Managers often wait until a disaster has created a problem before trying to find a solution, losing precious time in the process. They need to address every vulnerable area of facilities. A business continuity plan will help to identify the hardware, software, space, and other resources that each area of a facility requires to remain operational. It is crucial to recognize these needs in order to develop alternative solutions before a disaster disrupts any of the requirements.
Continue Reading:

Emergency Preparedness

Emergency Preparedness: Understanding Facility Vulnerabilities

Risk Assessments Highlight Facility Weaknesses

Upgrade Opportunities To Improve Facility Resilience
---
---
---
Related Topics:
Comments