You Might Like
On FacilitiesNet
Universities and Colleges Turning to Utility Vehicles
Part 1 of a 3-part article on utility vehicles
OTHER PARTS OF THIS ARTICLE
Pt. 1: This Page
Pt. 2:
Utility Vehicles Deliver Reliability that Grounds Managers Covet
Pt. 3:
Utility Vehicles Match Needs for Increased Power, Performance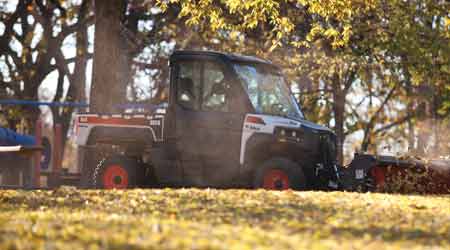 The complex nature of higher education campuses creates a host of issues for grounds managers. Tackling the challenge means balancing department needs related to productivity, performance and safety, campuswide calls for greater sustainability in department operations, and the administration's demand for landscapes that enhance the institution's image. Combine all of this with landscapes and turf areas that endure heavy foot and vehicle traffic — not to mention unpredictable weather — and the result is a list of duties and projects that can seem overwhelming.
On a growing number of campuses, managers and their staffs are trying to meet the challenge by leaning even more heavily on pieces of equipment that in the last decade have become workhorses of grounds departments — utility vehicles.
Driven by growth
For Jared Rudy, superintendent of grounds with Villanova University just outside Philadelphia, the move toward utility vehicles has been driven by a growing need for more powerful equipment.

"I've been here about two years, and I'm trying to move us toward utility vehicles instead of golf carts because (utility vehicles) have more power and are more reliable," Rudy says. The 30-person department is responsible for maintaining the 265-acre campus that features more than 90 buildings and hosts nearly 11,000 students. The department's equipment fleet includes three utility vehicles and 12 golf carts, four of which are electric and the rest gasoline-powered.
Given the heavy-duty nature of much of the work his crews perform daily, Rudy is moving the department away from golf carts in favor of their more rugged relatives.
"The utility vehicles are just built better and stronger, and they can haul more material," he says.
For the 65-person grounds and landscape services department at the University of California-Davis, the increased investment in utility vehicles began as a response to a growing department and campus.
"The fleet is expanding a bit to accommodate the staffing levels," says Cary Avery, the university's grounds and landscape services superintendent. "We started out about 20 years ago with a fleet of 10 utility vehicles, and we've expanded from that.
"The reason we expanded is that they really helped us improve our productivity in terms of transporting our employees between locations, as opposed to walking or using a pickup truck to take people around. They get around campus very well, and we can really maximize our efforts in terms of time management." The department's investment in utility vehicles has paid off in some unexpected ways.
"We were expecting them to be a help in terms of getting folks around the campus, but we have been pleasantly surprised by how much help they've been," Avery says. "It also has helped us from a safety standpoint by cutting some of our workers comp issues.
"It's easier for us to move around equipment — small equipment, like edgers and trimmers. It's harder to load that stuff in and out of a pickup truck than it is a utility vehicle. They work well for one individual, and our grounds staff works pretty independently." The department uses its 39 vehicles — along with two electric golf carts and four trash carts — to maintain the 920-acre campus.
Continue Reading:

Grounds Management

Universities and Colleges Turning to Utility Vehicles

Utility Vehicles Deliver Reliability that Grounds Managers Covet

Utility Vehicles Match Needs for Increased Power, Performance
---
---
---
Related Topics:
Comments