You Might Like
On FacilitiesNet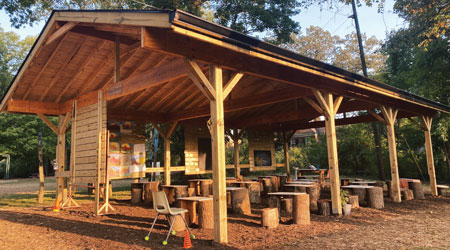 The Bradley Projects
The Great Outdoors: Learning Moves Beyond the Classroom
Outdoor learning pavilions offer a creative classroom setting for one Nashville school.
Making sure students have a connection to the outdoors is a longstanding tenet in K-12 education. The pandemic pushed the issue to the forefront for architects and school officials alike, transforming outdoor spaces from recreational areas to a necessity for safe operation.
For The Linden Waldorf School in Nashville, Tennessee, finding innovative solutions to bring students safely back to its 12-acre campus perfectly aligned with the school's curriculum geared towards fostering a connection to nature, which includes outdoor activities such as gardening, woodworking, orienteering, botany, and movement classes.
Design creativity played a key role in realizing those goals. Last year, with the help of a local design firm and contractor, the school created eight outdoor learning pavilions.
The spaces empower teachers to advance their professional skills by leading classes in different settings and motivating students to develop critical competencies through deeper learning. Each of the eight structures provides tree stump chairs and desks, reclaimed from a few fallen trees on campus, mulch flooring, hand-cleansing stations, and nearby portable sinks to address safety needs and use design to keep students immersed in a natural environment.
Because the Linden Waldorf School's curriculum limits technology in the classroom, the design focused on allowing students to embrace and engage with nature fully. The pavilions allow students to use their intuition and creative senses, something that's harder to achieve in front of a computer screen. The pavilions help support cognitive development and learning for students of all ages by encouraging hands-on, future-proof learning and critical thinking.
Because of the success of the outdoor pavilions last school year, The Linden Waldorf School wanted to expand its classroom design as they prepare to return to full occupancy. Phase two of the COVID Action Plan includes taking existing classroom spaces and making them safer for students and staff members. By retrofitting classrooms with large glass roll-up doors, the school will ensure all classrooms have a direct connection to the outdoors. Younger grades will be outside in the pavilions, while middle schoolers will have the opportunity to learn in these hybrid glass wall classrooms.
Jared Bradley is co-founder of The Bradley Projects.
Continue Reading:

Educational Facilities

Trend in Educational Facilities: Learning Studios Replace Classrooms

The Great Outdoors: Learning Moves Beyond the Classroom
---
---
---
Related Topics: