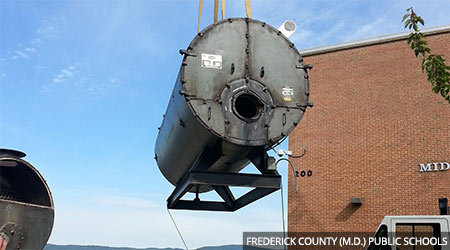 Future Focus: What's Your Next Retrofit Project?
Sidebar on funding of K-12 retrofits
When speaking with maintenance and engineering managers about K-12 retrofits in their school districts, we also asked about the trends they see developing in the market and what kinds of projects they envision focusing on during the upcoming years. Here are some of their responses.
Craig Borkman, project manager, Virginia Beach (Va.) City Public Schools: "I can easily see the Internet of Things becoming a major player in when and how buildings are operated. Other trends include solar, wind, and geo-thermal energy, rainwater harvesting, green roofs, gray water and composting will continue to gain traction and be incorporated into facilities. We as an industry need to become lean and look long term. I believe it will be the only way to function."
Jennifer DuPlessis, director of maintenance and operations, Arlington (Texas) Independent School District: "The cost of water continues to increase. When I started in this business, natural gas was second to electricity in Texas, but now it's really water, and that's completely changed in a relatively short time. We'll see more and more projects looking closely at water conservation. Renewable (energy sources) will also become more cost-effective, and commissioning will also take on a more major role."
Bob Wilkinson, director of maintenance and operations, Frederick County (Md.) Public Schools: "We'll see more intentional school designs intended to reduce energy consumption. Maryland requires LEED Silver certification for new buildings and I don't see that type of requirement going away. To get reimbursement from the state, buildings have to achieve LEED Silver certification. It's one way of saying I want sustainability and I want to see proof of its attainment. With integrated smart controls, we're getting better with monitoring and controlling our facilities. They allow for not only better troubleshooting after failure, but better predictive alarms to indicate the onset of failure."
— Dave Lubach
Continue Reading:

Project Management: K-12 Retrofits

Money Matters: K-12 Education Facilities Tackle Retrofit Funding

Financing Hurdles Tough to Overcome in K-12 Districts

Managers' Roles Vary in Trying to Secure Funding for K-12 Retrofits

Return on Investment Factors into K-12 Retrofit Decisions

Summer Work Common to Complete Upgrade Projects in K-12 Facilities

Future Focus: What's Your Next Retrofit Project?
---
---
---
Related Topics: