For University Housing, There's No One-Size-Fits-All Solution
Part 1 of a 2-part article on trends on campus in student living.
OTHER PARTS OF THIS ARTICLE
Pt. 1: This Page
Pt. 2:
Success Story: New Approach To University Housing at Ohio State's Regional Campus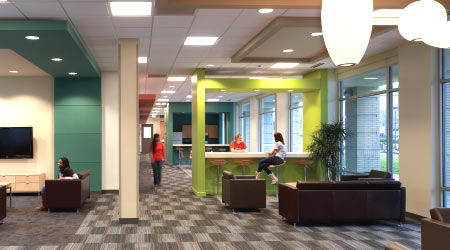 There's no one-size-fits-all solution to university housing. Each institution's housing portfolio presents special challenges and opportunities. What works well at XYZ State University might not be the right solution for ABC College.

Still, there are several key issues that every institution should consider when forming a student housing strategy. Though the circumstances surrounding these issues might be unique to each college, the trends remain the same. It's all about creating demand, desire, and diversity.

Many institutions, like The Ohio State University, have increased residency requirements from one year to two years. By requiring sophomores to live on campus, not only are schools able to collect another year's room and board, but data also suggest the two-year requirement produces students who are more personally invested in the university. These on-campus dwellers have seen increased test scores and are more likely to complete their degree at the same university. These results certainly make a longer residency requirement more attractive to the college.

While a requirement is a viable option, creating student housing so attractive that students want to live on-campus is much more palatable. If students are choosing to live in an off-campus apartment with their friends, then perhaps there's something wrong with the way the institution is packaging its housing. Encouraging students to make the choice to stay requires a fresh way to entice them.

When prospective high schoolers visit a college with their parents, they're escorted around campus by cheerful upperclassmen to all the hot spots, including the student union, rec center, and residence halls. Universities have found that a shiny new residence hall goes a long way toward attracting the best and brightest prospects to their campus.
Photo caption: Intended for upperclassmen, Falcon Heights Residence Hall at Bowling Green State University provides four single- bedroom suites and double-bedroom suites with private baths and living spaces — accommodations designed to be an attractive option to living off campus. Credit: DesignGroup.
Once the prospects turn into students, it's the uniqueness of the living environment that will keep them engaged on campus. Residence life offices work hard to create dynamic, lifestyle-rich communities to help retain students. Creating captivating environments isn't just about adding lounges to old dorms; it's about creating an exciting and relevant student culture. Ultimately, it's about providing a diversity of student housing experiences that satisfies everyone's needs and desires.

Diversity: New Living Model
In the early 2000s, most universities were burdened with a stockpile of student housing built in the 1950s and '60s. At best, the facilities had been renovated in the '80s or '90s to include air conditioning. Typically they had two to four beds per room, small windows, concrete block walls, blank, brick facades, flat roofs, bathrooms down the hall, and a laundry facility in the basement. Not too appealing.

This living model may have been acceptable for 18-year-olds who were just happy to be out from under their parents' watchful eyes, but it fell way short of keeping many of them interested in staying on campus. To compete with the plethora of off-campus choices, many universities decided to build their own apartments. These two- to four-bed modules incorporated single- and double-occupancy rooms, a small living area, a kitchen or kitchenette, and, most importantly, private bathrooms.

While the campus apartments were more attractive to students than dorms, many universities found that they brought operational problems. The big culprit: kitchen sinks and garbage disposals, which dramatically increased the number of maintenance calls. Operating budgets were not sized to accommodate the extra manpower expense, resulting in a significant drop in the bottom lines of residence life offices.

To be attractive and remain on-trend, universities had to adapt their student-housing prototype yet again. Apartments gave way to suites. Suites provide all of the amenities of an apartment with fewer students per unit. They also have private bathrooms but no kitchens, an approach that reduces the number of troublesome plumbing fixtures and budget-zapping maintenance calls. Suddenly you have living quarters that students actually want, and universities can afford to operate on a large-scale basis — a true win-win.

The design, layout, and even the definition of a suite can vary from one university to another. One university's "semi-suite" is another's "shared-double" or "super-suite." Many subtle twists can be put on these units. And that's fine: These are spaces that support some of the most formative moments in a person's life. They should be special.

With resource constraints, many universities have a mixture of dorms, apartments, and suites.
(Top photo caption: This cheery, spacious common space in a residence hall at Bowling Green State University provides a variety of places where students can gather for studying, reading, chatting, and enjoying food or beverages with friends. Credit: DesignGroup)
Continue Reading:

Educational Buildings

For University Housing, There's No One-Size-Fits-All Solution

Success Story: New Approach To University Housing at Ohio State's Regional Campus
---
---
---
Related Topics:
Comments