Cure for the Cold: 4 Energy-Saving Tips for Buildings in Cold Climates
To reduce heating loads for school buildings in cold climates, focus on these four design and operations tips.
In cold climates, significant energy is used to heat buildings during the coldest times of the year — when buildings are most heavily used — providing a separate set of challenges.
As a generalization, cold-climate design means that the building is typically in heating mode. Controlling heat loss, managing energy costs, and controlling thermal comfort are primary drivers.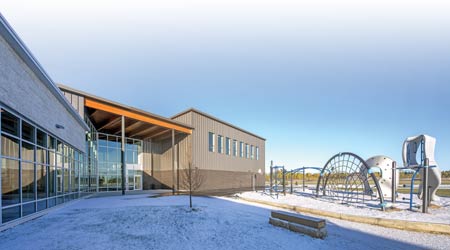 Gerry Kopelow
Cold climate strategy #1: Minimize the school's footprint. Minimizing footprint is a strategy for both cold and hot climates; however, the type of roof varies for cold locations. Flat roofs with internal drainage are typical in cold urban locations whereas sloped metal roofs are considered more durable for remote locations.
In cold climates, massing orientation creates comfortable outdoor micro-climates that have solar exposure and protection from winds. Snow loads and management affects massing and roof design. Changes in roof levels results in additional snow load on the lower roofs, and sloped metal roofs used in northern environments require entrances that are located away from rain and snow melt.
A special challenge is servicing equipment in harsh climates. A service call can be prohibitively expensive and may take weeks to complete. Due to severe cold, accessibility, and safety in icy conditions, it is important to locate equipment within the school building rather than on the roof or in a service yard. While the goal is to minimize the school's footprint, more roof and building envelope may be needed to address this situation.
Cold climate strategy #2: Control internal heat loss and manage plug loads. Cold climate energy tactics include highly insulated wall and roof envelopes, high-performing windows to keep heat inside, peel and stick air barriers on the warm side of the wall, and minimized building skin penetrations.
While cold in winter, summer temperatures can be excessively warm. Buildings often have to address both high temperature and high humidity conditions, requiring materials and connections that can handle expansion and contraction stresses. The biggest heat loss often occurs though mechanical air changes for ventilation purposes. Incorporating moveable walls and flexible furniture and technologies to provide multi-purpose spaces can reduce the footprint and heat loss.
Schools often serve as spaces for community events. The annual energy load can be unpredictable and varied, potentially affecting the optimization of mechanical and electrical systems. The design response is to acknowledge these patterns and create a high-use, high-occupant shared core with classrooms zoned separately for the mechanical systems. Similarly, occupancy sensors and LED lighting offer longevity and efficiency, while daylight sensors control lighting inside and outside.
Cold climate strategy #3: Achieve optimal design for window, solar heat gain, daylight, and views. Cold climate strategies balance the need for daylight and views. Reduced sunlight hours in winter and the need to reduce heat loss through window surfaces create unique challenges. The focus is to keep heat gain in the building. Cold climate schools often incorporate punched windows, instead of large expanses of glass, to help limit heat loss.
Cold climate strategy #4: Design the optimal building envelope for cold climate schools. In colder climates, the building envelope requires a continuous air barrier to be skin-tight and act as a vapor barrier. The typically low temperature and humidity outside in the winter compared to warm temperatures and higher humidity inside means that many inches of rigid insulation (sometimes as much as 8 inches in the walls and 12 inches in the roof) are required to keep the dew point on the cold side of the membrane barrier.
Mechanical systems that require maintenance and energy can be reduced somewhat in favor of operable windows and fans that promote air movement and natural cooling. This trend is gaining traction and helps reduce ductwork.
Addressing thermal comfort for occupants is a challenging endeavor. In remote cold-climate schools, soil conditions require removal of shoes at the front door due to excessive mud and snow issues. Incorporating in-floor radiant heat throughout the buildings can be a helpful solution.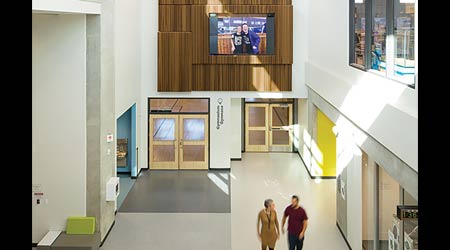 (The two-story school design for Ecole South Pointe School, in Winnipeg, Manitoba, incorporates a roof pop-up at the central lobby with clerestory windows to allow natural light to penetrate the core. This design solution is preferred over skylights that can leak and are frequently covered with snow. Credit: Stationpoint Photographic)
Schools are increasingly focused on outdoor learning, reflecting the desire for direct connections to outdoor spaces. In cold climates, each penetration through the building envelope offers potential for heat loss and mud and snow infiltration. One strategy is to locate such spaces adjacent to regular exits, such as at the end of a corridor, to reduce additional penetrations.
Schools of all shapes and sizes face sustainability challenges whether they are situated in hot, cold, or moderate climate zones, or in dry or humid regions. Facility managers, designers, and local stakeholders operating in these more extreme temperature zones have developed these guiding principles as the result of asking the right questions and evaluating multiple factors at play, enabling optimal K-12 school design that responds to and embodies sustainable solutions.
Alongside these best practices and zone guidelines, a better understanding of the impact of sustainable design on overall health and learning has emerged.
Schools are community assets, and using the right design strategies leads to better facilities control and improved operational cost management, highlighting good stewardship of our resources alongside student learning outcomes.
Whatever the goal may be — reducing carbon footprint, creating a connection with nature, improving delivery of education, or the well-being of school occupants — facility managers, designers, and other stakeholders are working together with proven sustainable strategies wherever children are learning.
Camilo Llorens Bearman (camilo.bearman@stantec.com) is a senior associate with Stantec specializing in learning environments. He has more than 20 years of architecture experience.
Jeff Moroz (jeff.moroz@stantec.com) is a senior associate, architecture with Stantec. He has more than 20 years of experience and leads the firm's K-12 education studio in Manitoba.
Continue Reading:

Sustainable Educational Facilities

Beat the Heat: 4 Energy-Saving Design Tips for Hot Climates

Cure for the Cold: 4 Energy-Saving Tips for Buildings in Cold Climates
---
---
---
Related Topics:
Comments