You Might Like
On FacilitiesNet
What is the Primary Goal of Fire-Exit Hardware?
OTHER PARTS OF THIS ARTICLE
Pt. 1:
Door Hardware: Codes for Fire and Life Safety
Pt. 2: This Page
Pt. 3:
The Three Parts of a Door Hardware Specification Document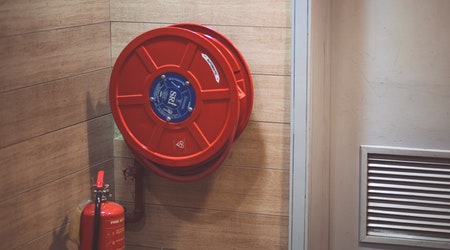 One of the most dangerous code violations involves adding locks or latches to improve a facility's level of security. While the goal of this effort is to stop unauthorized use, theft, or lost time, it also limits access and violates codes meant to provide fire and life safety.
The primary goal of fire-exit hardware — managers should avoid using such terms as panic hardware because of its negative connotation — is to provide free egress for occupants, even children and people with disabilities, and even in the dark.
March 25, 2011, marked the 100th anniversary of the New York City Triangle Shirtwaist Factory fire, which killed 146 workers. The business's owners had locked the building's exit doors — a move that was a violation even then — out of fears workers were stealing garments. This tragedy led to major improvements in building codes and exit devices that still form the basis for door-hardware designs today.
Contrast this with the events of 9/11 at the World Trade Center buildings, where many of the buildings' occupants below the impact levels were able to exit safety. This result was due largely to code enforcement regarding the three main elements of safe egress: unblocked exit access, properly working exit-door hardware — no modifications of exit-door hardware — and a clear path away from exits.
Facilities also must have clear exit marking and door hardware that allows a door to swing in an unrestricted manner from any direction of egress. Evacuation signals also must be visible and audible.
Regarding accessibility guidelines, ADA Accessible Guidelines for Buildings and Facilities A117.1, Section 4, is labeled Accessible Elements and Spaces. Section 4.13 covers doors and contains guidelines doors must comply with to qualify as accessible. Besides minimum door clearances and threshold-height limits above the floor, ADA 4.13.9 defines accessible door hardware in greater detail.
Handles, pulls, latches, locks, and other operating devices must allow easy grasping with one hand. The hardware cannot require tight pinching or grasping or the twisting of the wrist. Operation should require no more than 5 pounds of force, and thumb-operated mechanisms are prohibited. Lever, push/pull, and U-shaped handles generally comply, but some cylindrical knob handles might not.
The maximum distance from the finished floor to the handle is 48 inches. ADA 4.13.12 applies the following rules to automatic operators: They must be low-energy models that comply with ANSI/BHMA A156.19. The minimum time to fully open to backcheck is three seconds. ANSI/BHMA A156.3 covers exit-device codes, and A156.29 covers exit-device lock and alarm codes.
Continue Reading:

Door Hardware: Code Considerations

Door Hardware: Codes for Fire and Life Safety

What is the Primary Goal of Fire-Exit Hardware?

The Three Parts of a Door Hardware Specification Document
---
---
---
Related Topics:
Comments