Standards, Sustainability, Performance Highlight Door Selection Criteria
A good starting point for FMs is picking products that contribute to LEED certification and meet ANSI/BHMA performance standards.
OTHER PARTS OF THIS ARTICLE
Pt. 1: This Page
Pt. 2:
Updates To Codes and Technology Aid Door Selection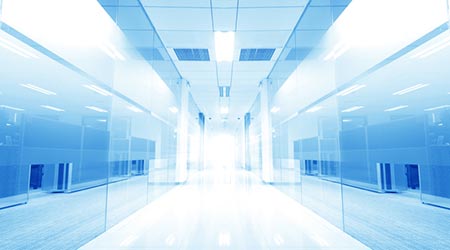 Today's doors and door hardware options can meet the most stringent technological requirements for life safety, security, and access control with products that also offer energy efficient and sustainable benefits.
With multiple standards and requirements to assist them, facility managers can find a door that fits their precise needs. As well, verifying energy savings and sustainability for both doors and door hardware is possible with a variety of certifications and standards.
"If the doors you are considering have an Energy Star label, you're headed in the right direction," says Tom Westerkamp, founder and owner of Westerkamp Group.
To verify that door and door hardware selections are sustainable, facility managers should ask manufacturers to see products that may contribute to LEED certification. By selecting these types of doors and door hardware, facility managers can earn points under the "Materials & Resources" category for both new construction and operations and maintenance.
Testing and detailed procedures in selecting doors and door hardware are essential to meet sustainability goals, points out Scott Sabatini, principal at Door + Hardware Consultants. "It's also important to make sure they all are specified and installed properly," Sabatini says.
Several LEED credits are designed to increase demand for building products that incorporate recycled content materials and reduce life-cycle impacts. As well, facility managers can earn LEED credits for using products that have Environmental Product Declarations and for developing a long-term environmental purchasing policy.
One manufacturer's listing of LEED-qualified hardware includes locksets with more than 10 percent recycled materials. Items that qualify for 20 percent or more recycled content are aluminum weather stripping, aluminum sliding door track, aluminum thresholds, flush bolts, steel butt hinges, steel sliding door track, brass protection plates, floor and wall stops, brass and stainless steel butt hinges, stainless steel continuous hinges, stainless steel protection plates, and stainless steel push and pull plates.
The U.S. Department of Energy's National Renewable Energy Laboratory (NREL) also provides sustainability recommendations for doors. For instance, the organization recommends three door-energy-conservation measures: revolving doors, two-door entrance vestibules, and weather stripping around loading dock doors.
NREL advocates for revolving doors replacing swinging doors in major retrofits. According to NREL data, revolving doors reduce by a factor of eight the infiltration of unconditioned air entering the building. Unconditioned air must be heated or cooled. Reducing its infiltration lowers heating and cooling loads.
Another method of reducing unconditioned air infiltration is by replacing single-door entrances with two-door entrance vestibules. Finally, NREL recommends installing heavy-duty weather stripping around loading dock doors to reduce heat transfer through this segment of the building envelope.
Performance factors
Besides sustainability, doors and door hardware need to be specified for their particular use. Panic bars and doors in hospital settings, for instance, must not hinder passage or catch wide gurneys and medical equipment.
Hardware performance also needs to be considered carefully. "We choose high quality hardware when upgrading doors," explains Denise M. Conine, locksmith supervisor at the University of Southern California. Lower quality door hardware does not hold up well in a university environment, where doors are opened and closed constantly.
"If we were to opt for lower quality hardware, we would be constantly replacing it to maintain the openings," explains Conine. "That wastes money, materials, fuel, and other resources.
"We have 40,000 rooms here. Do the math. That's a lot of doors. We cannot afford to have hardware failures or replacements after a year or two," Conine says.
Westerkamp notes that top management needs to "sign off on the system itself and agree that it's the best solution."
At the University of Southern California, a 128-page document covers access control specifications. "We hand this document to the architects so they understand what we expect and what our requirements are," explains Conine. "The document includes things like riser diagrams and photos of what is not acceptable as well as what we do accept."
The Builders Hardware Manufacturers Association (BHMA) is the only U.S. organization accredited by the American National Standards Institute (ANSI) to develop and maintain performance standards for builders hardware under ANSI/BHMA A156.
Certification assures facility managers that the product is tested and audited. Currently, there are more than 30 ANSI/BHMA standards in existence and more are being developed.
Within the standards, grades indicate performance levels. Grades are determined by the products' ability to hold up to the operational, strength, cycle, finish, and security tests outlined in each standard. Many standards have three grades, with Grade 1 representing the highest level of performance.
Door design, strength, reinforcement, casing, and locking mechanisms must be compatible with appropriate grade level needs. So even when organizations have detailed hardware specifications, Sabatini says third-party consultants may be needed.
Continue Reading:

Doors/Door Hardware

Standards, Sustainability, Performance Highlight Door Selection Criteria

Updates To Codes and Technology Aid Door Selection
---
---
---
Related Topics:
Comments