Proper Door Hardware Specification Reduces Maintenance Time
Part 1 of 4-part article on door hardware
OTHER PARTS OF THIS ARTICLE
Pt. 1:
Door Hardware: Striking Balance Between Safety and Security
Pt. 2:
Effective Key Management Policy Important First Step
Pt. 3: This Page
Pt. 4:
Expanded Electric Lock Choices Give Managers Many Options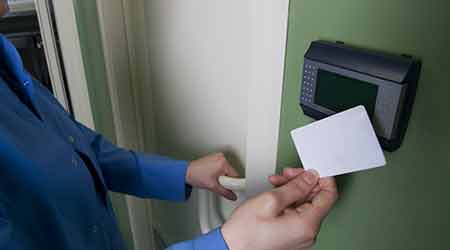 Maintenance and specification support each other. Managers who properly specify an access control system will find that maintenance time and costs decrease. A well-planned maintenance program also ensures that the specified system lives up to its ability to achieve optimum security and reliability at the lowest life-cycle cost.
Well-documented standards for cycle duty are also essential for maximizing the service lives of door hardware products. They ensure that the specified hardware is consistent with and of proper robustness and size for the facility's needs.
Managers also should ensure that selected lock vendors are appropriately licensed, bonded, and insured and can provide a current insurance certificate. The selected vendor also should be able to recognize such problems as: sprung hinges; insecure hinges; sagging doors that are difficult to open, scrape or cause door jamb wear; and leaking closers or worn closer cylinders. These deficiencies can render a new lock ineffective due to misalignment.
Periodic re-keying and cylinder replacement are necessary for security reasons. In the case of re-keying, too many keys have been issued; unauthorized copies were made; keys were lost; key holders left the organization and took keys; or key holders gave keys to others, then left the organization and did not return the keys loaned.
Mechanical lock re-keying constitutes an expensive way to ensure security. For example, the cost to re-keying a facility's six entry doors was more than $1,300. Because the process is so expensive, managers might resist doing it often, even though they know some keys are unaccounted for. Meanwhile, the facility is vulnerable to identity theft, unauthorized intrusion, theft, and vandalism. These are among the reasons managers consider replacing keyed locks with electronic locks on some applications.
Continue Reading:

Door Hardware

Door Hardware: Striking Balance Between Safety and Security

Effective Key Management Policy Important First Step

Proper Door Hardware Specification Reduces Maintenance Time

Expanded Electric Lock Choices Give Managers Many Options
---
---
---
Related Topics:
Comments