Implementing a Management Policy for Door Hardware Components
Knowing what kind of equipment is needed based on facility needs, can help managers specify the proper door hardware products.
OTHER PARTS OF THIS ARTICLE
Pt. 1:
How to Specify the Proper Locks and Hinges
Pt. 2:
Ensuring Door Hardware Performs as Intended
Pt. 3: This Page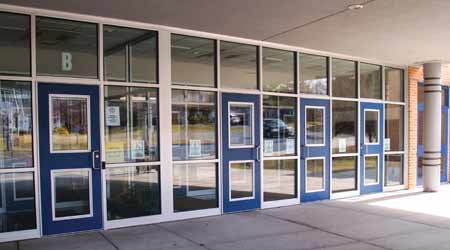 A management policy for door hardware components should include high-achievement training, up-to-date door hardware, and perhaps the most important element of all, stringent maintenance requirements.
When preparing to maintain access control hardware, managers should start with an inventory of the system. How many locations are there? What kind of locks, latches, handles, operators, closers, and hinges are installed in each location? What settings are in place? What support equipment — keys, cards, control panels, distribution wiring, batteries, chargers, computers, software, etc. — are in use?
One useful part of the system for this phase is the computer template layout of all the door hardware showing all door locations. Clicking on each location brings up a list of components installed there, specifications, settings, and where secure boxes with keys for fire department entry are located.
Other important system elements to have on hand include tracking reports, daily watchman tour records, battery-operated and battery-backup locations, intercoms, access control computers, badge and new card printing equipment, wiring, and control panels.
Tracking reports provide activity history, such as: entrance or egress by location, by key code, or by card key owner; when and where tamper alarms were activated from outside or inside; when time locks opened and closed; and who was in the premises during closed hours, as well as when and for how long.
This is a good time to review the report list to see if other reports are needed. An on-screen dashboard provides a quick summary of reports, offers the ability to drill down to details of each door location, and highlights unusual activity.
Managers should check with vendors to ensure the availability of parts before technicians need them. Give the vendor the hardware manufacturer, component type, and model number.
As design improvements are made, manufacturers begin to reduce and then end support for older models. This move sometimes is driven by changes in the ANSI standards for improved function, safety or security, so it pays to keep door hardware up to date. A supplier can give notice if availability of parts for a specific model has changed. As the component ages, parts become harder to obtain, requiring a specification change to a more recent model that will fit the same opening.
Maintenance technicians should review troubleshooting, daily checklists, and repair histories to look for any repetitive repairs, as well as their nature and frequency. This step is the key in deciding whether to repair the component again, repair it using a different method, or replace it. It also is a good time to consider changing cylinders from manual to electric in order to gain the advantages of access and egress history and reports. Some manual locks can be electrified simply by replacing the cylinder in the existing mortise case.
In high-traffic areas, a good practice is to have spare cylinders, locks, panic bars, and closers available in order to swap out a component quickly and perform any necessary major rebuilds in the shop. Sticking problems with mortise locks often can be fixed by disassembling and cleaning the moving parts. With the case open, the technician can take a picture to get parts back in the right place.
Thomas Westerkamp is a maintenance and engineering management consultant and president of the work management division of Westerkamp Group LLC, www.westerkampgroup.com.
Continue Reading:

Door Hardware

How to Specify the Proper Locks and Hinges

Ensuring Door Hardware Performs as Intended

Implementing a Management Policy for Door Hardware Components
---
---
---
Related Topics:
Comments