You Might Like
On FacilitiesNet
Doors and Door Hardware Can Be The Difference Between Life and Death in an Emergency
First part of a 2-part article on why careful consideration for doors and door hardware is a critical component of facility life-safety.
OTHER PARTS OF THIS ARTICLE
Pt. 1: This Page
Pt. 2:
Safety vs. Security: Biggest Issue in Choosing the Right Opening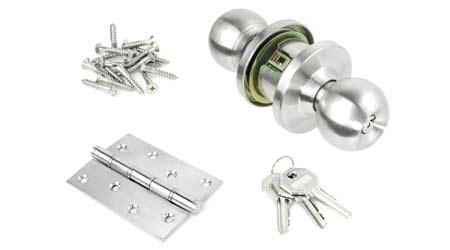 Facility managers may not spend a lot of time thinking about the topic, but properly installed and maintained doors and hardware could mean the difference between life and death in an emergency. When it comes to safety, regular maintenance is a non-negotiable. Moreover, when it comes to longevity, the old adage holds true that the less you spend today, the more you spend tomorrow.

Decisions on doors should be based on how much the door weighs, how much the door is used, how many people go in and out, the effect of wind, and so forth, explains Russell Hooker, opening consultant for D.A.W. Company. "We use the term 'building cycle' to make a determination about level of use," he says. "If you have a strip mall with tenants moving in and out, you can go with a lesser grade of hardware, versus a school that will need heavy-duty hardware. Long term, there's a cost savings from using better hardware. Premature failure will cost more in the long run, and can create issues with fire door assemblies or life safety."

Commercial hardware is certified by the Builders Hardware Manufacturers Association (BHMA). Hardware is also graded according to cycle-testing and strength attributes. A Grade 1 lock is heavy duty, says Hooker, a Grade 2 is the medium grade, and Grade 3 is a residential grade. Grade 1 and 2 are used for commercial applications. Grades are based on cycle tests, with Grade 1 tested at 1 million cycles.

Additional standards apply to special doors that must be sound- or bullet-resistant or resistant to natural events like hurricanes or tornados. Such doors require specific hardware, Hooker notes.
Many commercial and institutional buildings require different grades of hardware in different spaces, says John K. Clancy, principal at Architectural Openings Consultants. For example, a low-grade lockset might be fine for a private office, but not for the suite entry. A hotel might need Grade 2 locks for restrooms within rooms, but Grade 1 units for openings in public spaces.

Using different grades of locks in the same building can create maintenance headaches, Clancy says. "Where price is no object, or in an incredibly abusive environment, you might use nothing but bulletproof materials," he says, "with everything Grade 1 mortise. However, if the default is to a lower grade (2 or 3) when some openings need Grade 1, that can create a problem down the road."

In deciding how much to spend, facility managers need to think about what the building will be used for and how well the people who use the facility "are going to respect the opening," Heinz says. Locks that last longer will cost more. In new construction, hardware typically accounts for only 2 percent of the budget, but "it's the first part of the job that gets cut," says Heinz, "and it is the wrong place to cut, because everybody that enters the building touches a door. Value engineering will take you to a lighter-duty product that may not be suitable to the application."


Codes and Standards

Although standards are sometimes colloquially referred to as codes, there is an important difference between codes and standards. Codes determine what is legally required of any jurisdiction, and those codes reference various standards created by industry organizations. For example, the model code created by the International Building Code (IBC) may reference the standards of the Building Hardware Manufacturers Association (BHMA) or the National Fire Protection Association (NFPA). The International Building Code may then be adopted by a local authority having jurisdiction (AHJ), says Clancy. The AHJ is in charge of the building standard and decides which model code to adopt.

Justin Hendricks, team leader/engineer, building products and evaluation services for Intertek, explains that the IBC has sections for doors and hardware, and subsections for types of door assemblies, such as side-hinged or pivoted swinging door assemblies, sliding doors, elevator doors, and chute doors.

Facility managers should check listed installation instructions of a product, especially its limitations and restrictions, and be aware of the size and other hardware limitations associated with it.
NFPA 80 is a guide for the installation and maintenance of assemblies and devices used to protect openings against the spread of fire or smoke. Within that document, a section that covers inspection, testing, and maintenance provides information about replacing damaged or defective items, allowable field modifications, and allowable repairs to damaged items, Hendricks explains.

BHMA provides product certification that facility managers should be aware of. "BHMA certification shows that a product has been formally tested by an accredited third party and shown to meet or exceed minimum criteria of the test standard," Hendricks notes. "If you have BHMA certification you can show that there is a quality control associated with your product." Manufacturers of new products who want BHMA certification hire a third party to do the testing.

"BHMA has minimum requirements that dictate grade selection," Clancy says. BHMA is a self-governing organization, and manufacturers also contribute to and help write standards. A facility manager should be conversant with a product data sheet that lists certifications.

Two other organizations that help set standards are the Steel Door Institute and the Door and Hardware Institute. "They spend a lot of time and money creating standards that are sometimes incorporated into building codes," Heinz explains. A good consultant can help facility managers sort through the standards and match them to the type of building they inhabit or will be inhabiting.
Continue Reading:

Doors/Door Hardware

Doors and Door Hardware Can Be The Difference Between Life and Death in an Emergency

Safety vs. Security: Biggest Issue in Choosing the Right Opening
---
---
---
Related Topics:
Comments