You Might Like
On FacilitiesNet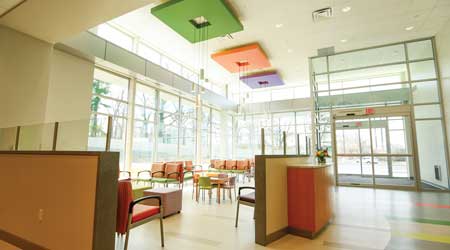 Photo courtesy of SSM Health
Considerations for Successful Hands-Free Door Implementation
The pandemic has made touchless building equipment a must. Here are some tips and advice on the best way to implement hands-free doors and door hardware systems.
We have all been in a situation where there was a door we absolutely did not want to touch. And now, the COVID-19 pandemic has made us acutely sensitive to the spread of germs and disease. Building owners are taking a holistic view of their existing facilities and adapting them in response to the spread of infectious diseases. Hands-free hardware has been a subject of discussion for building adaptation. Solutions range from no-tech retrofits to high-tech building-automated access systems.
Several factors should be taken into consideration when evaluating upgrades and retrofits of doorways. The type of facility and use plays an important role in hardware and infrastructure selection. What level of traffic flow will the entryway accommodate over a 24-hour period? Will maintenance staff be equipped to sustain the changes, and how do the proposed solutions integrate into the overall keying and access control system? These are just a few of a whole list of questions that must be posed to provide the appropriate solution.
Primary entrances
How do facility managers determine which openings provide the greatest benefit for conversion to hands-free operations? First thoughts lead to the primary building entrance. In the past few months, there has been an uptick in the installation of automatic doors, both swinging and sliding. The location and use are dictated by the surrounding parameters and elements. Is the opening width sufficient to integrate an automatic sliding door? Building egress requirements should be carefully considered to prevent reducing the width required for occupants to exit the building in the event of an emergency.
Sliding doors have a few limitations that facility managers should keep in mind. They can be knocked off their tracks when someone inadvertently hits them with a cart or dolly, rendering the door inoperable until trained personnel properly reset the door position. Exposure to wind can have a negative impact on some specific automatic sliding doors. Traffic patterns running parallel to the automatic door sensors should also be noted and considered. The operator may inadvertently be engaged as traffic passes by parallel to the opening, leading to building heating and cooling loss.
In contrast, all automatic swing-door operators are not created equal. The number of opening and closing cycles a door will be subjected to informs the type and grade of operator required. As with standard door operators, automatic door operators can be subjected to building pressurization impacting doors from closing and locking properly.
Also, the operator must not exceed accessibility standard thresholds for door opening force. Accessibility requirements also dictate the rate of speed at which the automatic operator should close to allow disabled patrons to clear the opening before the door starts to close.
In retrofit applications, providing power to these building components can be tricky. Aesthetics play a big role in routing power, conduit, and control cabling. Most storefront and curtainwall manufacturers will allow for cabling to be routed through their systems; however, this should be confirmed if making alterations to an existing storefront or risk voiding the manufacturers' warranties on recent installations.
Remote buttons or actuators are often required to engage these systems. They may require saw cutting concrete and removing finishes at primary entrances to introduce a hands-free option. Special care and planning must be placed in addressing the work after installation has been completed. And to truly move towards a hands-free operation, the industry is making strides to transition from push buttons to hand "wave-to-open" touchless sensors.
Other items to be considered on these applications are the full integration of access control systems and if door position switches are part of the operator or part of a separate component that must be added to remotely monitor the status of the opening.
Continue Reading:

Doors / Door Hardware

Considerations for Successful Hands-Free Door Implementation

Strategies to Go Touch-Free with Interior Doors
---
---
---
Related Topics: