You Might Like
On FacilitiesNet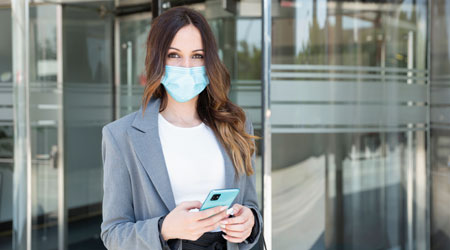 4 Post-Pandemic Opportunities for Upgrading Door Hardware
Whether specifying new or replacement door hardware, it's the right time for an assessment of the entire system to uncover improvement opportunities.
As a result of COVID-19, managers are focusing even more on occupant safety and health. Whether specifying new or replacement door hardware, it's the right time for an assessment of the entire system to uncover improvement opportunities. The latest door hardware technology offers a range of potential benefits, so managers need to stay abreast of new capabilities using the following steps.
1. The first step is to determine the system scope by inventorying every component. A summary documented should answer key questions. How many exterior and interior swinging, sliding, overhead, and hidden doors are there? Are more or fewer doors needed? How many server room, office, and closet doors are there? How many floor-to-ceiling turnstiles does the facility have? How many doors have biometric readers and photo identification for shift changes? How many doors are there in high-traffic, high-security areas?
2. A written policy should include organization responsibility and features and functions for access control and instant emergency egress, such as linking egress doors and elevator stops to fire alarms. An electronic access control system includes seven components: an entry device; a proximity card, keypad, key fob, cell phone, or combination of these features; an access device reader attached to the exterior of each door; a remote access control field panel attached to one or more readers; a field panel server or host computer with wired or wireless connections; a host server monitor and keyboard for data entry; and software.
Access control considerations also need to incorporate new requirements for air changes in facilities and controlling visitor access. New ventilation guidelines require less recirculated air and more outside air intake.
Access control software also now needs to manage scopes and functions set by policies to address requirements in key areas: setting parameters for specific building configurations; monitoring each access device for times, days of week, and user identification; setting start, review, and stop dates for each identification; monitoring contract workers regarding entry for contract duration only and at certain doors; granting chief information officers access to building and server rooms 24/7/365; programming clearance codes to facilitate one-click access to large groups; validating each access device with only three entries for device number, holder, and one or more clearance codes; and setting configurations for active shooter isolation and door locking devices.
3. Managers need to ensure technology orientation training for all users that includes: how to get access devices; how to use and maintain access devices; when, where devices are to be used; and start date.
4. Managers need to focus on additional key functions. For example, the technology should record all transactions in a journal, including valid and invalid access attempts. Each record must show the access device holder's name, the door, the date, and the time. The system also must show if a door was forced open or was open too long.
Continue Reading:

Doors / Door Hardware

Door Technology: New Era Brings New Challenges, Opportunities

4 Post-Pandemic Opportunities for Upgrading Door Hardware

Spotlight on Door Hardware Standards
---
---
---
Related Topics: