« Back to Facilities Management Design & Construction Category Home
What Mixed-Use Developers Can Learn from Theme Parks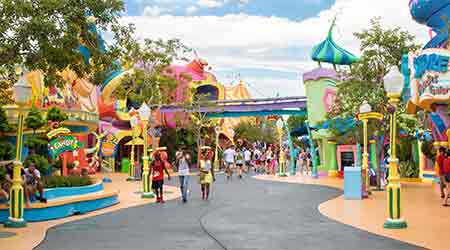 September 24, 2018 - Design & Construction
By Bill Coan
The blending of commercial, residential, and entertainment development is becoming increasingly popular in the United States, as real estate developers go beyond selling a space to promoting its community and culture. Mixed-use projects, which can encompass single buildings or entire districts, cater toward the growing lifestyle trend of walkable communities and campuses where people can conveniently live, work and play all in one space. However, merely developing these environments for convenience is not enough to create a destination in and of itself. In order to successfully drive long-term and sustainable growth, mixed-use developers should adopt a thematic approach to new projects. This means incorporating longstanding best practices of integrating storytelling into property that has been mastered by the theme park industry over the last 30 years. Experience-based design elements not only improve the experience for workers and tenants alike but also increase the marketability of projects and drive additional revenue streams.
Commercial real estate and theme park developers ultimately have the same goal: Attract people to come to a destination repeatedly, stay longer, and spend more money. A key difference is that theme parks encourage short-term, high-intensity engagement, whereas mixed-use developers want to create sustainable, daily engagement by cultivating hubs of ongoing activity that people want to be a part of all the time.
Making a Property More Than the Sum of Its Parts
The first entertainment principle that mixed-use developers should apply from the theme park industry is creating a reason for the project "to exist." This seems obvious, but many real estate developments simply exist to make money. While visitors of theme parks may not realize that every ride, retail store, restaurant, and pathway is a scripted part of the entertainment experience, the story that weaves these elements together immerses guests into the theme park's worlds. This establishes an emotional connection to the destination, and also enables theme park developers to understand what patrons will be doing at every moment of their day and gain quantifiable insights from it. More often than not, retail outside of theme parks has diverging brand stories. Property developers can add elements of fantasy to their mixed-use projects by first curating a legacy or property brand story for each space, even if the locations do not inherently have them.
The storyline should be applied throughout the entire creative process of each development. This includes audio and visual effects, such as projection screens and automated sounds, other interactive elements, and even smells. By leveraging brand stories and themed entertainment design, property developers can offer a one-of-a-kind experience to guests/tenants and also entice more businesses to rent spaces at higher prices due to increased foot traffic and elevated brand image. Ideally, a property's brand story will help businesses in the space integrate it into their own onsite stores and branded cultures. Inspiring companies to enhance the story further adds to the community culture beyond a property developer's scope of work.
Oftentimes, the area a developer is trying to build is a good starting point. A project built in the Bronx might be created to reflect the diverse cultures and historical elements that embody that area, such as the character of the architecture, type of paving materials, the style of the signage and graphics, as well as the street names. Mixed-use developers should be bolder and more imaginative with their properties' brands in order to create immersive experiences and build communities that residents and visitors want to contribute to.
Using Comprehensive Experiences to Improve the Value and Extend the Length of Stay
In addition to using theme-park inspired storytelling to provide an unforgettable experience and garnering key retail and business partnerships, mixed-use developers should consider the entertainment industry concepts of value and dwell time. Theme parks are carefully planned around capacity based in part on these concepts where value equates to the number of comprehensive and immersive experiences per hour and extending the length of stay or dwell time to promote additional per cap spending. For example, guest spending increases exponentially after 6:00 p.m., so theme parks strategically offer fireworks and other events late in the day and just before closing. This is the same reason that the Mall of America in Minnesota, which has a Nickelodeon theme park within it, hosts additional weekly events in their stores, including Toddler Tuesdays and "Music in the Mall," to give guests even more reasons to return and stay beyond their retail needs.
Mixed-use projects that provide programmed experiences throughout the day extend dwell time and increase the frequency of visits similar to the way theme parks do.
Another wildly successful example of this includes Missouri's best-known tourist attraction, Bass Pro Shops' Outdoor World, which offers a combination of retail, entertainment, and outdoor activities. In addition to a megastore and other shops, Outdoor World showcases unique features such as its Tracker Boat display room, Dale Earnhardt's Bass Pro NASCAR, an archery hall of fame, and more. The company also partnered with complementary brands to provide attractions — and multiple experiences per hour — including NRA's National Sporting Arms Museum and Johnny Morris' Wonders of Wildlife National Museum and Aquarium. The attractions and elements, which apply refined theme park technologies and designs, heighten the overall experience. Other subtle examples of experience-based elements in more standard commercial developments include erasable graffiti walls, kids rides, virtual reality games, and other elements that enhance the senses of touch, sight, hearing, and scent.
By incorporating entertainment and theme park elements into mixed-use and commercial projects, property developers can best create experiences that keep people coming back and entice them to live within these immersive spaces.
Bill Coan is president and CEO of ITEC Entertainment.
posted on 9/24/2018