« Back to Facilities Management Design & Construction Category Home
Optimizing the Workplace Through Strategic Design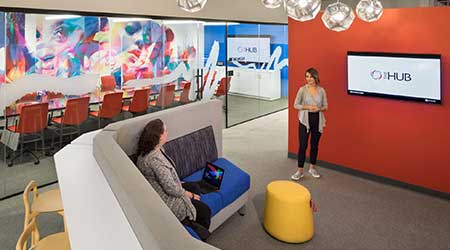 July 24, 2019 - Design & Construction
By Ted Heisler
There has been an increased focus workplace across all industries, including the purpose of space and how it is used. Popular topics include the effectiveness of open office, the need for quiet space, and the "one size fits all" approach.
In a survey conducted by Ware Malcolm and other design firms around the world, clients consistently named workplace design among the top factors affecting productivity
Within a workplace, there are many elements to consider that affect productivity, such as work patterns, technology, and firm culture. Workplace strategy is the alignment of these elements with the design of the physical work environment.
Some ideas to consider when planning a new workplace:
1. Engage a qualified workplace strategist as early as possible. This allows workplace strategy to be integrated into the design from the beginning of the project, resulting in the most impactful solutions.
2. Include key members of your corporate team (HR, IT, marketing, etc.) in initial discussions about the goals of your new space, and keep them involved throughout the entire process. This creates a well-rounded focus group to provide input and drive the process forward.
3. Explore new ways of working beyond what has traditionally been done. For example, video conferencing can reduce the need for physical meeting rooms. Technology continues to shape and evolve the way we interact with the work environment and can a valuable tool to maximize productivity.
4. Consider coworking as an alternative real estate solution. Coworking spaces offer unique opportunities for growth and expansion and often provide benefits including shared amenities, networking opportunities and low start-up costs.
5. Involve your company executives early in the process to establish budget considerations. As construction costs continue to rise, this will help establish realistic objectives for the project.
6. Connect with other corporate real estate executives to gather best practices for implementing a new workplace. The wealth of knowledge within the real estate community is a helpful tool to find out what works and what can be improved.
7. Integrate your company's brand throughout the space through branded graphics and signage. Brand expression is a valuable way to build a connection with clients and to attract and retain top employee talent.
As organizations are challenged to adapt to changing business demands, workplace solutions that enhance company culture and support employee and business objectives deliver a competitive advantage. Incorporating workplace strategy into the design process allows for early consideration of these objectives to help drive the project, delivering a high-performance environment invested in people and place.
Ted Heisler is vice president, interior architecture and design for Ware Malcomb, an international design firm providing planning, architecture, interior design, branding, civil engineering and building measurement services to commercial real estate and corporate clients. Established in 1972, the firm has 23 offices throughout the United States, Canada, Mexico, and Panama.
posted on 7/24/2019