« Back to Facilities Management Design & Construction Category Home
Bricks and Mortar Add Value for Retail Consumers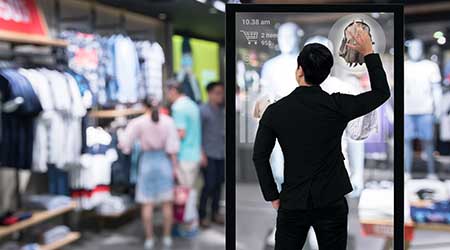 October 8, 2018 - Design & Construction
By Joseph Scaretta
While some say that brick and mortar is taking a back seat to online shopping, brick-and-mortar stores still serve a significant and in-demand role in the shopping experience. In fact, the importance of having a physical storefront is on the rise to meet the expectations of today's consumer. Given the demand for a personalized shopping experience and full product accessibility, brick-and-mortar locations are in a unique position to provide consumers with the experiential shopping they expect.
Need for Customization
With the rising demand for experiential retail, the physical store location should be about creating an experience that draws in consumers and offers them an unparalleled value that online cannot compete with. This added value could come in many forms, including a customized interaction with the products, additional services or assistance from highly trained staff, or another form of one-on-one connection with the products or brand. Whatever the offering is, it is meant to keep customers in the space interacting with and immersing themselves in the brand and product, allowing the customer to focus on how the product makes them feel. In order to provide a successful experiential retail environment, Forbes notes that retailers should strive to make the shopping experience intuitive, human, meaningful, immersive, personalized and accessible. By hitting on these six areas, retailers can ensure that their brick-and-mortar stores are meeting the shopping expectations of their consumers.
The drive to create a specialized in-store environment is leading brands to think outside the typical exchange of money for goods and guiding them to act with experience in mind. Some brands are moving toward customization of the product itself, with colors or patterns on shoes and clothing being completely selected by the shopper. Some retailers are moving toward locally sourced products customized to the area where the store is located. Others, like DSW, are looking toward adding services and expanding its loyalty program to offer something special. DSW is testing out a new experience in select locations that provides a space for manicures and pedicures, as well as a separate area for shoe maintenance, repair, and returns. As described in an article from Bustle, "The brand's revamped DSW VIP loyalty program, store makeovers, and concept locations are a major step up and make the retailer even more appealing. This is no ordinary rewards program — because it's not every day you can shop for shoes, do a polish change, repair shoes, and earn points!" DSW is leveraging its in-store space to test something new. They can now get even more detailed feedback direct from customers and make any adjustments before rolling out to more locations.
What's Next for Brick and Mortar Retailers?
Obviously, online shopping isn't going away, but retailers can make both avenues of online and brick and mortar provide customers with what they are seeking. Brick and mortar needs to move from a simple goods exchange to the next level by enhancing stores with either new or complimentary products and services (as DSW is testing), or with other experiential changes. It makes sense, especially for large retailers, to take some of the store footprint and remove the product displays and add a space for consumers to test and interact with the products. Adidas has added turf fields inside some stores, and Nike offers tracks and basketball courts, allowing shoppers to get up close and personal with the products, create a connection, and experience the benefits of the shoes before purchase. Retailers need to provide this type of innovation to help customers see the value of in-store shopping and their products.
It's also important to consider how brick-and-mortar stores can support online shoppers. Think about the needs of someone who is shopping online and address those needs in the physical store. Speed and ease of experience should be top of mind. Enhance the online experience with in-store pickup and cashier-less checkout. This allows online shoppers to get the instant gratification of an in-store purchase without having to navigate the store itself. Leverage augmented reality technology and allow adults to "try on" clothing without having to set foot in a fitting room. Harness virtual reality technology to allow customers to "test" products such as sporting goods equipment or other products that may typically take up valuable real estate. Even auto retailers could benefit from these experiential technologies, allowing shoppers to do most of the road test and research from the comfort of their home or on-site lounge.
Retailers need to find inventive ways to make use of their retail space to create that unique experience inside the store itself. These added values will draw in more customers, help retain current customers, attract online shoppers and create innovation, pushing the brand forward in the eyes of the customer.
Considering a Pop-Up?
For online retailers looking to enhance their storefronts and dive into experiential retail, the pop-up is an innovative way to provide the customer with the added value they are seeking. Pop-ups allow brands to test new ideas, whether that's in-store or in a separate location, without having to make significant changes to the physical store. Also, pop-ups provide a unique opportunity to collect data and capture consumer habits and feedback while still offering an affordable and agile solution.
Due to the temporary nature of a pop-up, brands can "try before they buy," allowing for innovation without tremendous commitment. Pop-ups generally have a low cost of operation and can be used as a safe space to try new ways of connecting with the customer. Additionally, for online retailers, giving customers the opportunity to interact with the brand and products, even if on temporary basis, can create the connection and buzz needed to take an e-commerce seller to the next level. Pop-ups can also allow e-commerce retailers to test the demands of a brick-and-mortar store, perhaps allowing them to see if investing in a permanent physical location would be beneficial for long-term goals.
As customers expect more and more from their shopping experience, pop-ups can be used to provide that added value. Perfect for a new product launch, pop-ups could create an air of excitement and provide a space to showcase new products outside of the regular store experience. Pop-ups can also be used to pave the way for new partnerships. Abercrombie & Fitch teamed up with SBE, a lifestyle hospitality firm, to generate buzz outside of its stores. The clothier also added rewards from SBE to its loyalty program, bringing the brand's lifestyle vision full circle into the shopping experience.
More big brands are taking notice of the benefits of pop ups for experiential launches, and are tapping into the excitement and joy that surrounds a special and exclusive event. AdWeek describes how M&M's parent company Mars established a pop up in NYC so that fans could vote on the next Crunchy flavor. Rooms were set up to highlight the three different flavor options: crunchy raspberry, crunchy espresso, and crunchy mint. Lots of Instagram-ready photo ops were included, and the company even created specialty cocktails based on the three flavors. This innovative way to bring attention to a customer voting was all thanks to the use of a pop up store.
Dove tapped into the pop up well for an event that was timed with a holiday twist. The beauty bar brand organized a Mother's Day event celebrating love. Participants could visit their gift station and purchase limited edition beauty bars with the words "love" or "amore" engraved in them.
Marketing agencies and teams are utilizing pop ups as well. Creating buzz and anticipation is a service offered by marketing agencies. Thinking outside of traditional avenues when making proposals can have incredible results. Medium.com reviewed the pop up established for HBO's Fahrenheit 451 premier, which was called Speakeasy 451 and was a "three-night, invite-only event that [provided] a platform for cultural discourse and celebration." Given the subject matter of the source material, this was an inspired way to incorporate a pop up into the marketing for the television show premier.
As more and more brands jump on the pop up wagon, it would make sense that determining the best location for these portable stores would be top-of-mind. When seeking out the location for a pop-up, consider what would make the most sense for the brand and experience being created. Popular locations include vacant storefronts inside malls or shopping centers, historical sites, mobile pop-up vans, or even pre-existing pop-ups where multiple retailers can leverage and share the space. Seeing the value of the pop-up, Simon Malls are trailblazing a path with "The Edit" — a dynamic space for startups and e-commerce sellers. Simon provides various footprint sizes, displays, security and an ideal location for a short-term commitment.
Brick and Mortar Has Tremendous Value
In the end, retailers can still get tremendous value from their brick-and-mortar locations. While consumers have raised their expectations of what the shopping experience entails, brands that are up to the challenge and willing to meet consumers with a unique shopping space will surely find success. Utilizing a pop-up can significantly enhance the shopping experience. Whether being tapped by an already prolific brand, retailer or a small e-commerce company, the pop-up can provide a distinctive shopping space for brands to get to know and connect with their customers while learning about their shopping habits in more detail. Using a pop-up to connect and customize on a more personal level is a smart way to learn more and provide the extra value for which consumers are clamoring.
Joseph Scaretta is co-CEO and co-founder of CS Hudson, a leading project and program management firm specializing in turnkey services and purpose-built facility solutions that help clients with dispersed portfolios deliver consistent, high-quality brand experiences.
posted on 10/8/2018