Role of Commissioning, Verification, and Project Team in Lab Modernization
Part 1 of a 4-part article on key issues in ensuring that renovated BSL3s meet current standards
OTHER PARTS OF THIS ARTICLE
Pt. 1:
Tips on Modernizing High Containment Labs
Pt. 2:
Issues of Airflow, Alarms, Siting in Modernizing Labs
Pt. 3:
Issues Involved in Continuous Containment for BSL3s
Pt. 4: This Page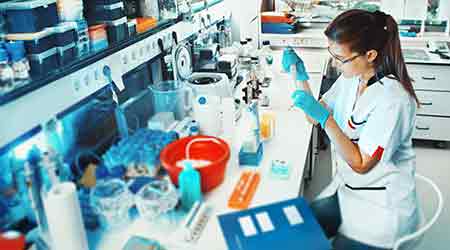 Issues involving the commissioning team, verification, and the performance of the project team are also important in the renovation or re-construction of high performance labs.
COMMISSIONING AND VERIFICATION
When it comes to high containment, the best-laid plans are always exactly that — plans. This is not to suggest that the engineered process is faulty, but that, when controlling an environment involving high levels of hazard, anything can happen. So it is absolutely crucial to be aware of system reactions in every scenario. Consider the following while engaging the commissioning agent:
• Encourage constant communications between the design team and the commissioning team.
• Verify pressure/directional airflow operations via BAS feedback and by all physical means possible (e.g., smoke testing, hand-held dP measurement, etc.) and make certain the data correlates.
• Test and verify every normal and transitional mode of operation.
• Identify sequential or organized restarts (room by room, highest to lowest pressure) after system shutdowns that can create more robust pressure control.
• Ensure that all door interlocks function per sequence, as many may have as much to do with supporting environmental control as with limiting movement through the facility.
PROJECT APPROACH
If a renovation or re-construction of the facility is on the horizon, understand that it is the coordination of the project team's internal efforts that will be the difference between a project that is challenging yet manageable versus one that is outright painful. The right team is going to engage all of the facility personnel possible and understand their concerns and points of view. They are going to focus not only on the suite, but also on all of the key stakeholders and participants, such as operations managers, building managers, lab safety officers, lab team leaders, and facility engineers.
The design team's interaction with the owner/user group is integral to the success of any renovation. Putting forth the extra effort in establishing the team, focusing on some of the lessons learned described above, and including a thorough commissioning effort will make all the difference when it comes to effectively extending the lifecycle of a BSL3 facility. Given the financial investment involved, that lifecycle needs to be a long one.
Joseph A. D'Alù, PE, LEED AP BD+C, CEM, is an architectural/mechanical engineer at RMF Engineering with more than 16 years of A/E industry experience. He has been responsible for the design and construction of HVAC and plumbing systems in a diverse range of markets, both new construction and renovation, in spaces including laboratory, healthcare, academic housing and classroom, administrative office, performing arts, and historic preservation. He can be reached at joseph.dalu@rmf.com.
Judging Whether an Aging BSL3 Facility Falls Short
Codes and standards for Bio-Safety Class 3 Laboratories (BSL3) have changed significantly since many existing BSL3s were built. Answers to the following critical compliance questions can help facility managers make informed and intelligent choices about the future of their aging BSL3 facilities.
Do I have the ability to track room level differential pressures at each space in my facility? Suite-level differential pressures?
Do I have a reliable system to visually (and audibly) validate correct directional airflow when working in each space in my BSL3?
Does my building automation system properly alarm when suite doors are left open?
Do I have a security system that accurately restricts access into all levels of my BSL3 suite?
Do I coordinate regular meetings with the lab biosafety officer and the facility managers to review suite operations and report any general deficiencies?
Can my suite air system seamlessly transition from grid power to stand-by power and back without losing containment (no reversals in directional airflow)?
Do all windows and exterior wall systems properly seal to prevent infiltration of outdoor air directly through cracks and discontinuities?
Can I effectively maintain a vapor phase decontamination charge in each space in my suite or does the material prematurely exhaust before effective decontamination can occur?
Am I fully confident that my BSL3 facility provides the safest environment for me and all those working in it?
For more information, see www.facilitiesnet.com/15688bom.
Continue Reading:

Critical Facilities

Tips on Modernizing High Containment Labs

Issues of Airflow, Alarms, Siting in Modernizing Labs

Issues Involved in Continuous Containment for BSL3s

Role of Commissioning, Verification, and Project Team in Lab Modernization
---
---
---
Related Topics:
Comments