You Might Like
On FacilitiesNet
How to Choose the Proper Metal Building Enclosure System
From metal curtain wall systems to metal roof and wall panels, the right systems can have a profound effect on a building's overall performance.
OTHER PARTS OF THIS ARTICLE
Pt. 1: This Page
Pt. 2:
Curtain Wall vs. Window Wall: Making the Proper Choice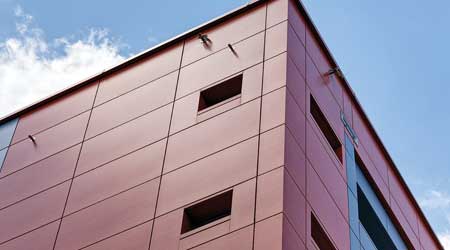 Choosing the proper metal building enclosure system can have a major impact on a building. To understand what kind of implications this can have, one must first understand the differences in building enclosure systems.
The building enclosure (or building envelope) is the part of any building that physically separates the exterior environment from the building's interior. The main components that make up the building enclosure are often doors, fenestrations, floors, and walls. The building enclosure's primary function is to facilitate climate control, maintaining a dry, heated or cooled indoor environment.
The building enclosure's overall design will heavily influence the amount of cooling, heating, and lighting a building will require. The local climate of the building site will also play a role in determining the design features and other metal building envelope materials and products that will be needed to complete the project effectively. Over the years, innovative ways have been developed to improve the overall building enclosure design, maximizing light and heat efficiency. Choosing between the various types will offer certain advantages and benefits.
Curtain wall systems
Any exterior that is attached to the building structure and does not carry the roof loads or floor of the building is considered a curtain wall. Curtain walls are typically aluminum framed, thin walls that generally contain in-fills of glass, metal panels, or stone.
Classified by their method of fabrication and installation, curtain walls typically fall into one of two categories: stick-built and unitized systems. They are both designed to be used as either interior or exterior glazed systems. The infill materials used for both systems are glass, stone, fabric, louvres, panels, vents, and windows. There are, however, quite a few differences between the two systems.
Stick-built systems feature the curtain wall frame verticals, called mullions. Additionally, these systems include glass or opaque panels installed piece by piece. The individual components are typically fabricated and shipped to the job site to install onto the building façade, creating a frame for the glass.
As prefabricated panels are not economical for small projects, stick-built systems are usually used on small to mid-sized projects. That is not to say this is always true. There are off-the-shelf stick-built products available for many different applications. As stick-built systems require highly skilled craftsmen to develop, they often take more time.
The detailing of connections and larger tolerances in the building structure can be streamlined and improved by installing the components on-site. It is important to remember, however, that an ample amount of space is needed for installation and storage of material on-site. Why is this mentioned? Many sites are located in large cities where space can ultimately be limited, making installation and storage quite challenging.
Unitized wall systems, unlike stick-built systems, are assembled by factory-bought interlocking units. Prefabricated in modules off-site and delivered in panels, unitized systems require less installation time. This is mostly because, due to their nature, unitized systems directly benefit from factory-condition manufacturing and quality control.
Unitized curtain wall systems are installed sequentially around each floor level, starting from the bottom and moving to the top of the building. They are also developed to accommodate thermal expansion/contraction, concrete creep, seismic movement, inter-story differential movement, and column foreshortening. This is because the interlocking unitized curtain wall frame members are weather-stripped to seal both horizontally and vertically to one another.
Why are unitized curtain wall systems so advantageous? It's easy to see when considering both their high quality and the fact that they are fabricated in a climate-controlled environment. In addition, installation time is relatively short. The system can be installed in approximately a third of the time of a stick-built system. This is mostly due to the fact that on-site glazing is not a requirement. One will typically see the unitized system utilized for high-rise buildings requiring both a large volume of prefabricated unitized panels and higher performance panels.
Metal roofing and wall systems
Metal roofing systems are available that can add slight pitch to flat commercial roofing systems. These steel, aluminum, or Galvalume (a trade name for a product that's steel coated with an aluminum-zinc alloy) roofing products offer a long life span as well as low maintenance. They can be chosen in various thicknesses, depending on the needs of a particular building. For instance, in areas prone to hailstorms, thicker gauges of metal — up to 29 gauge — may be chosen. These architectural metal roofing systems also offer facility managers and designers many options for colors and styles to match the overall aesthetics of a building.
Metal wall panels offer many of the same aesthetic and durability benefits of metal roofs.
There is a myth that metal storefront framing systems are just specified for curtain walls. However, they should also be used for lower structural performance applications. Consisting of a single piece of vertical mullions anchored at the top and bottom of the opening, storefronts are non-load-bearing glazed systems. They are installed on the ground floor and often include commercial aluminum entrances.
Because of the wind load resistance limitations, these systems are mostly used in one- or two-story buildings. Unlike curtain wall systems, storefront systems allow for thermal expansion and contraction, but only at vertical mullions.
Commonly field-fabricated glazed, storefront systems are stylish in appearance and will ultimately save energy and reduce lighting costs.
Continue Reading:

Metal Enclosures

How to Choose the Proper Metal Building Enclosure System

Curtain Wall vs. Window Wall: Making the Proper Choice
---
---
---
Related Topics:
Comments