Curtain Wall vs. Window Wall: Making the Proper Choice
Often less expensive and easier to install, window walls offer various ventilating styles and can offer improved sound transmittance between floors.
OTHER PARTS OF THIS ARTICLE
Pt. 1:
How to Choose the Proper Metal Building Enclosure System
Pt. 2: This Page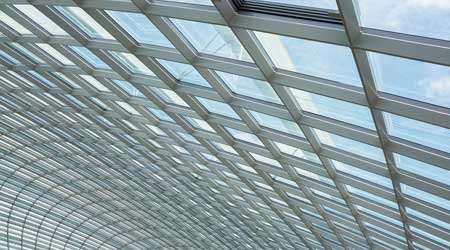 A design alternative to conventional curtain wall systems, window walls are an attractive option. Meeting market demands for aesthetics, ventilation, flexibility, cost, and speed, window walls can offer unique design features. For example, window walls offer various ventilating styles, such as projected casement, sliding windows, and both terrace and sliding glass doors.
The typical makeup of a window wall consists of 80 to 90 percent fixed windows. They utilize dry glazing, are factory-glazed from the interior, and are usually very large. They extend from floor to ceiling and appear to be a continuous system, wrapping around each floor. As window walls are compartmentalized between floors, sound transmittance in the building is greatly reduced.
Cost savings and time efficiency are two of the biggest advantages when utilizing window walls. These units are traditionally manufactured and glazed off-site. This eliminates the need for time-intensive construction of the mullion system and on-site glazing, which is common for curtain walls. The greatest advantage of window walls is cost efficiency. They are a budget-friendly alternative to curtain walls
Window walls do well with air infiltration and water resistance, in a similar way to curtain walls, and their popularity in the United States continues to grow.
It is essential to have a firm grasp on the difference between curtain walls, storefronts, and window walls, as well as determining when each should be used. This will allow the products to best meet project needs. The design and materials used influence the amount of energy lost or retained through each type of system. The overall design goal of the building should factor in the placement of windows and doors as well as their size and location. When executed well, this could ultimately reduce energy costs. Decisions regarding the appropriate fenestrations or wall system can be more complicated because the energy efficiency of the building is affected by the design.
Selecting a complete building enclosure contractor will better ensure coordination between the different elements of a project. Crossover areas can be an issue when projects involve multiple contractors. This can make quality control difficult to maintain. However, a complete building enclosure contractor has full control over scheduling and quality. This can ultimately lead to cost savings.
Michael Smalley (msmalley@iwrna.com) is the director of business development for IWR North America, a specialty contractor that focuses building enclosure.
Continue Reading:

Building Enclosure Systems

How to Choose the Proper Metal Building Enclosure System

Curtain Wall vs. Window Wall: Making the Proper Choice
---
---
---
Related Topics:
Comments