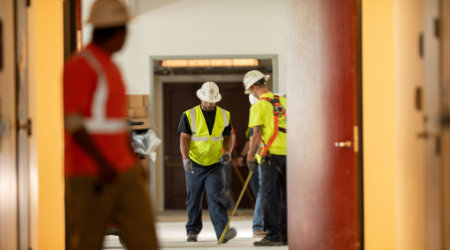 7 Benefits of Integrated Project Delivery
The need for speed, cost, and better quality control on new building projects are increasingly making integrated project delivery (IPD) a better option than traditional design and construction.
Integrated Project Delivery (IPD) isn't new. It's a tried and tested model that's been around for a while and has influenced many other industries along the way. The Lean Construction Institute (LCI), Construction Users Roundtable (CURT), and the Construction Industry Institute (CII) have been leaders in the development of the IPD Model.
IPD has gained significant acceptance within the design and construction industry as project teams have been looking for new delivery methods that will allow them to deploy capital and increase speed to market more efficiently.
IPD's ability to provide earlier cost certainty, accelerated schedules, and improvements in quality have many owners and facility managers evaluating this innovative delivery methodology. The COVID-19 pandemic accelerated a need to take lessons learned in IPD to respond to the high demand for facility builds manufacturing vaccines and other therapeutics.
While there are apparent differences between IPD projects, equipment, and regulations used in different vertical markets, strong parallels can still be drawn for all. For example, speed, cost, and quality are essential factors, whether in drug delivery or expanding space to accommodate more patients in a hospital.
The following are some of the critical elements of an IPD Project:
1. Project Chartering

Achieving alignment between stakeholders on the project scope, budget, and schedule is essential to completing projects on time and within budget. Projects that don't accomplish this alignment suffer from late-stage value engineering, extensive design changes, significant cost overruns, and late delivery.
Utilizing a project chartering phase to understand project scope, cost, and schedule before the start of detailed design activities has significant benefits. Conditions of satisfaction and team values develop during the project chartering phase. The conclusions of a successful chartering phase result in a high-performing team where all parties embrace the overall project goals, conditions of satisfaction, and team values.
2. Maximizing Value
IPD projects utilize lean project delivery techniques to focus on value and eliminating waste relentlessly. Lean construction techniques such as the Last Planner System and takt planning result in a production mindset that improves productivity.
For example, a Zero-Based Scope Concept can identify the minimum acceptable requirements for system specifications and materials of construction. Target value delivery is used throughout the project to ensure that budget and schedule goals remain on track. When challenges arise, all stakeholders weigh in to identify a solution.
3. Early Involvement of Trade Partners
The most significant difference between IPD projects and typical industry delivery models is the early engagement of trade partners. Trade partners are typically selected on the best value arrangement that assesses the firm's experience with lean construction practices, design-assist capability, safety performance, rates and markups, and willingness to engage in collaborative contracting methods.
For these projects, engineers focus on higher-level activities and oversee trade partners that handle some of the modeling activities, i.e., routing ductwork and piping in the BIM Models. This eliminates the associated waste that often happens when investing time and effort in developing a separate model. It also significantly accelerates schedules by providing fabrication level drawings much earlier in the project life cycle.
Additionally, early involvement of trade partners allows the project to access the intellectual capital that resides in trade partners. Most importantly, the project can attract top-tier firms rather than settle for the firm with the lowest price.
4. Skilled Labor as a Strategic Advantage
The pandemic highlighted the significance of labor. The architecture and engineering industry faces fierce competition for STEM resources, and the construction labor force is aging with inexperienced new entrants to replace retirees. It's an employee's market right now, and having skilled, well-paid, and well-cared-for staff on projects is the ultimate advantage.
It goes back to establishing shared motivation and culture — people want to feel appreciated and recognize their role in the work. Leveraging this can keep a project team motivated. In the long term, we believe that the idea that labor is a commodity versus a strategic advantage will shift.
And the labor is going to go to the best firms — the ones that treat their employees the best, have the best training programs, and the ones with the best safety programs.
5. Shared Risk and Reward
On a typical capital project, most parties are playing defense. The focus is on minimizing risk by transferring it to other parties rather than collaboratively assessing ways to mitigate project risks. The result is cascading contingencies and a silo mentality. The parties focus on executing their scope at the lowest cost without considering their impact on the other parties involved or the overall project goals.
In short, everyone is not rowing in the same direction. An honest assessment of the risks, associated costs, and an agreement to share the responsibility reduce the overall project cost. Basing profits on metric-based performance goals aligns all parties on maximizing the overall project delivery rather than just their portion of the scope. This unleashes a powerful current of collaboration and innovation.
6. Speed to Market
IPD allows for schedule compression of 30 percent or more over traditional delivery markets. For many buildings, speed to market is everything. The alignment on the client business case eliminates schedule delays associated with value engineering. Phased deliverables and early partnering stop the typical bid cycle. Modularization and prefabrication allow for overlapping activities to be completed in parallel. Trade Partner engagement with the design process compresses the commissioning effort.
7. PPMOF - Prefabrication, Preassembly, Modularization, and Offsite Fabrication
One of the critical factors learned from using the IPD model is the value of moving work offsite. Offsite fabrication has significant advantages in productivity, safety, and quality. It also allows for more activities to be performed in parallel, which provides for substantial schedule compression.
For instance, much of the interior work on a project can be fabricated while the core and shell are being constructed. This can reduce the schedule for the fit-out by 30 percent or more. Offsite construction can entail many forms, from fully functioning modules to pipe racks to simply preassembling pipe, valves, and fittings.
Continuing to find opportunities to improve the IPD model embraces the progressive nature of both industries. Above all else, IPD is a proven strategy that uses collaboration, leveraging relationships, and shared accountability to reduce costs and complete projects faster. IPD has the potential to completely transform the way capital projects are delivered.
David B. Howard, PE, is the vice president of Piquette & Howard Electric. Howard is a professional engineer and a master electrician.
Chris Bernecker is the Senior Vice President at H.T. Lyons, Inc. and has been with H.T. Lyons for 32 years. Bernecker has decades of experience in design, construction, and preventive maintenance of mechanical, plumbing, and medical gas systems in healthcare facilities. He is a member of the NFPA 99 Health Care Facilities Code - Technical Committee on Mechanical Systems.
Mike Politi is a Professional Engineer, LEED AP, Certified Energy Manager and Certified Building Commissioning Professional with more than 30 years of experience managing capital projects in the life science industries. His experience includes delivering capital projects for both owner organizations as an engineering and maintenance manager and for EPCM companies as a project manager, project director and senior director of operations. He is currently the Director of ONEsolution at CRB.
---
---
---
Related Topics: