3 Trends Influencing Building Enclosure Design
From product selection to overall design trends, facility managers should keep these in mind now into the future.
The building enclosure industry is no stranger to change and ever-evolving trends. As trends have come and gone over the years, a few have made themselves a prominent fixture in today's building enclosure industry. Whether discussing a growing demand for American made products, more companies focusing on sustainability, or the use of natural metals, it is important to be aware of current trends in the industry.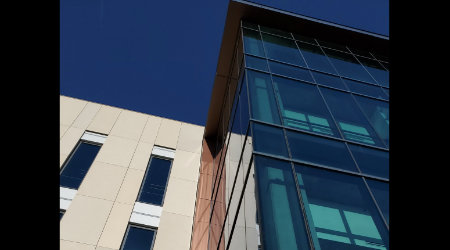 1. Manufactured in the United States
The world has made many changes in the face of COVID-19. Throughout the past year and a half, the idea of importing products from across the world is leaving companies hesitant and concerned. This concern has spurred more contractors and construction managers to use more domestically sourced products.
Domestically sourced products reduce the risk of potential delays and improve overall lead times for construction projects. This includes all facets of the building enclosure industry, such as glass, metal, aluminum and even bolts and hardware for the accessories and the components. Time is money in construction, so when a contractor sources a product domestically in four weeks as opposed to 12 to 16 weeks overseas, a more effective and seamless outcome to the project is achieved.
One of the questions now being asked by the architect, owner or general contractor today is where is the product coming from? It is imperative for them to know for a number of reasons. The origin of the components could add to the risk of the project being completed on time. If coming from another country, it can alter the schedule, cost, logistics or overall outcome of the project.
The trend is showing that more companies are willing to pay an additional cost for products manufactured in the United States. There is also an opportunity for fabricators, providers and suppliers in the U.S. to bring old components back to their shop or debut a new product. This will open up many opportunities for fabrication and production facilities in the U.S. There are certain products that are challenging to source domestically and can only be purchased from fabrication facilities in Germany, Spain, or China. Long term, United States companies have the opportunity to bring those products back and produce them stateside.
Concerning risk over the past year, there have been instances of imported products being quarantined or held for an extended period of time. If a company is waiting on a key component for a project and that component is sitting in quarantine out of their control, it will greatly hurt the overall schedule and affect the project's budget. Control is a big advantage of sourcing that material domestically.
From a consumer standpoint, there is much pride in buying and using products made in America. The pride and functional aspects provide qualitative and quantitative impacts of buying domestically versus sourcing them from overseas.
Throughout the pandemic, putting money back in the companies that are based in the U.S. is a catalyst of positive economic growth and betterment. Construction owners are clearly seeing that as well as they are willing to pay a little more to source products domestically.
2. Sustainability

While energy efficiency and sustainably have been top of mind for at least the last decade, facility professionals are now looking at it on a more micro level. The construction industry, specifically, has an increased focus on understanding what impact the building components and the building itself have on the environment.
There has been a steady stream of new questions being asked within the industry in an effort to build more sustainable projects. Are these products sustainable and are they contributing to this building being sustainable? Are the products smart? These products meet code, but what would it take to be code plus?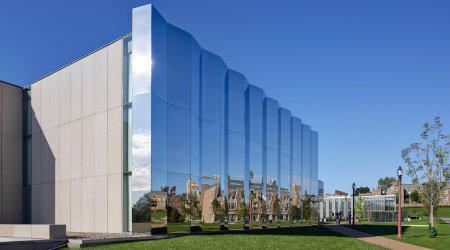 Buildings, whether new or renovated, continue to strive for Leadership in Energy and Environmental Design (LEED) certification from the U.S. Green Building Council (USGBC). These standards provide guidance on how to design, build or maintain an energy-efficient and sustainable structure.
Besides LEED certification, some cities and companies are utilizing additional platforms to improve sustainability. Twenty-five cities throughout the U.S. were selected to take part in Bloomberg Philanthropies' Climate Challenge, which is helping cities set and surpass climate goals by acting in the two highest-emitting sectors in cities: buildings and transportation. The program helps cities accelerate their efforts to limit climate change and promote a sustainable future for their residents. The program originally sought out 20 cities to participate, but the program was expanded to 25 cities due to the strength and amount of the applications it received.
Through the program, city mayors will implement proven climate solutions and innovations that will help grow the economy, protect public health and improve the quality of life for citizens in their cities.
3. Natural Metals
Specific to metal design, one of the trends in the industry is the use of natural metals. Some of the big-name providers get these products overseas, but there are some great options for these products domestically that are being used more prominently in designs today.
All-natural metals, such as aluminum, copper, steel and zinc, are found in a variety of architecture projects around the world. These metals provide some amazing qualities that contribute to overall sustainability, such as their long lifecycle, the ability to be recycled, and great durability. While these metals have been used in architecture projects for decades, architects, contractors and designers continue to choose these metals for commercial — and even residential — projects.
In recent years, there has been a growing popularity in pre-weathered steel and stainless steel. Pre-weathered steel is created to eliminate the need for painting the steel. If exposed to the elements for an extended amount of time, the steel forms a rust-like appearance. This creates a patina coating that prevents future corrosion. While stainless steel has become one of the most used materials in the world, it is preferred for its strength and durability for both structural and design use. Today, stainless steel can be found in buildings of any size, including skyscrapers.
Throughout the next few years, companies will continue seeking out domestic products, even if they cost more, to ensure they get their products on time so that projects can stay on schedule. Sustainability will continue to be a major focus as more companies focus on being green. In regard to the aesthetics of new or renovated buildings, natural metals, pre-weathered and stainless steel remain popular choices.
Michael Smalley is the director of preconstruction for IWR North America and has more than a decade of industry experience. He can be reached at msmalley@iwrna.com.
---
---
---
Related Topics:
Comments