Data Aire: 30 Years of Continuous Service…and Counting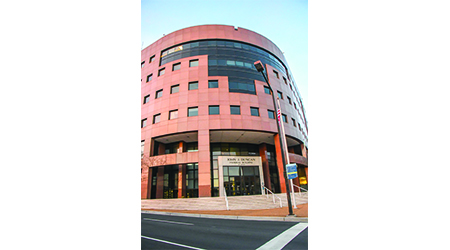 How long can mission critical data center cooling equipment last and still perform the job effectively while handling ever-increasing loads?
May 26, 2017 - Data Centers
How long can mission critical data center cooling equipment last and still perform the job effectively while handling ever-increasing loads? Traditional CRAC industry wisdom says 10 to 15 years, and that is more or less (and for better or worse) the accepted norm.

It's true that some manufacturers have installed units still performing well beyond that 10 to 15 year "acceptable" time frame — but what about floor-mounted CRAC equipment that has been in continuous service protecting vital U.S. government records for 30 years?

The 30 Year Mission: Cooling for Uncle Sam

Located in downtown Knoxville, Tennessee, the John Duncan Federal Building has been home to a wide range of government agencies over the years — including the Social Security Administration, the FBI, the IRS, the ATF, the Department of Homeland Security and the Secret Service. Quite a lineup, indeed.

Currently, the main tenant is the Office of Surface Mining Reclamation and Enforcement — a division of the Department of the Interior. Other tenants are considered classified and can't be mentioned in this article. In other words, this is an important place with important electronic records. Needless to say the physical and data security is what most would consider "tight."

The Keepers of the Cool
As it turns out, "Data Temp" Series floor-mounted CRAC equipment, installed in 1987, has been cooling the data center servers and related equipment pretty much without a hiccup for an entire 30 year time period. It also appears that two key members of the H & S Resources team — charged with maintaining and upgrading virtually all aspects of the building — have both worked with the building's installed Data Aire equipment since the mid 1990s. Clearly they were the perfect people to talk to.

We were fortunate enough to speak to those individuals — as well as some of the current tenants from the Office of Surface Mining Reclamation and Enforcement, also referred to as the OSM.

Scott Hawkins of H&S Resources has been the building Project Manager since 2002 — and has worked at the location since 1997. He is essentially in charge of all operations and maintenance pertaining to the grounds, housekeeping, or the facility in general.

Chris Finger, Chief Engineer of H&S Resources, has worked at the John Duncan Federal Building for 23 years, and has held, as he puts it, "too many titles to mention." He and his team actually maintain the data center cooling units and other equipment throughout the facility.

On Performance
One of the first questions posed was about performance. After 30 years, one would think things might be getting a bit "creaky" with the units. This was not the case.

Scott Hawkins: "Your average heating and air units last ten years. Fifteen is pushing them to the max. Thirty years and still cooling is unheard of. Still running? Still cooling? The agency doesn't call us. We're not getting alarms on our phones saying, 'Hey, I'm hot.' 'Humidity's out of whack' Data Aire units do their jobs correctly today just like they were designed to do 30 years ago."

Chris Finger: "Ten to 15 years would be normal. With proper maintenance through the years, Data Temp units are easy to sustain, and exceed all expectations as far as AC equipment for the computer room. We've dealt with other types of units and those things just don't hold up as well. Obviously, these things run for years … and years."

Above and Beyond
It also turns out that over the years this particular CRAC equipment has been put through some extreme conditions. For a period of time the government, in an attempt to manage energy usage, actually mandated that almost the entire facility — including the facility's main A/C System — be shut down at night during the summer months. This caused areas surrounding the data center to become very hot — temperatures reaching into the 90s and 100s on the upper floors, which is extremely detrimental for environmental control equipment.

Chris Finger recalls: "The environment around the server room becomes extremely hot. And the server room is not actually completely sealed off from the hot areas, yet the Data Aire equipment maintained the temperature at an acceptable level. Even under those conditions, the units performed well. Since I've been here, the load has increased, but the units have continued to perform and keep that area satisfied."

Daniel Lewis, a longtime IT Specialist for the OSM, concurred: "Thus far, we haven't had any cooling issues. It's like opening the door, there are no worries, and I'm grabbing my coat to keep warm. As far as our data is concerned, obviously, there's been some evolution over the years going on in that area, but the consistent things in the server room are the cooling units that have been very reliable for us."

On the Importance of Safe Data
Daniel Lewis and others we spoke to at the OSM clearly reminded us what "mission critical" really means — and how important "the mission" was and still is. Tom Haywood, the Administrative Officer for the OSM, oversees daily operations of the building on the administration side and "wears many hats" — including purchasing agent, safety officer, physical security officer, and records management. He has worked at the facility for eight years.

"The records that we maintain and the servers — all the data and historical, archived records, are crucial," Tom said emphatically. "I mean, we have vital records that track history. So preserving the integrity of those records within our electronic filing system and server units is key for the nation's interest and that of the public."

Tom added: "We've got official federal records in there. It has to be temperature controlled to maintain proficiency and efficiency to transfer that data in and out. We have numerous locations across the nation that feed into and out of that server. If something goes down with those records, we're dead in the water electronically. The Data Aire equipment allows us to maintain a comprehensive electronic filing system, including emails and documents — essentially all of our electronic records."

Daniel Lewis also noted that in addition to preventing data center equipment failure, the proper temperature also enhances data center server performance: "Timing is critical as far as our data is concerned. When a user sits down behind their desk, they want immediate response and our equipment has to meet certain standards in order to be able to serve our users quickly. So with our data, we really need the reliability Data Aire provides. We have to have that data there and available at all costs."

On Maintenance
As reliable and solid as Data Aire floor CRAC units are, 30 years of virtually trouble-free service doesn't happen by accident. An extremely dedicated team that takes a lot of pride in their work makes a difference.

Scott Hawkins: "Basically, like any piece of equipment that is critical to the facility/agency, that unit is checked every morning and every evening. That piece of equipment is critical, because if the servers get hot and shut down, then the agency shuts down."

Regarding replacing the equipment: "We haven't really considered changing the Data Aire equipment out because it has always run," Scott explained. "As long as you do the maintenance it'll last."

Chris Finger: "We just try to maintain things on a daily basis. We believe in proactivity. We don't believe in fighting fires, so it's important to check your equipment on a daily basis, monthly basis, and then also do your annuals. Of course, the belts, we keep those changed out. That's about as complicated as it gets to take care of these units."

"We presently maintain just about every name brand," Chris continued. "We've seen them come and we've seen some of them go. I would have to say the Data Temp equipment has been really the most reliable piece of equipment. I'm not just saying that — that's just the truth."

"Retirement" and a New Beginning
At the time of this writing, the CRAC equipment was still up and running; however, in honor of its 30 years of faithful service, Data Aire is partnering with H&S Resources and the John Duncan Federal Building to decommission this Data Temp equipment. What will happen to this faithful servant? It may "live on" in a sense, as a trade show display, and eventually become a permanent display at Data Aire Corporate Headquarters in Orange, CA.

"We're excited to receive this new unit," Scott Hawkins enthused. "We have fought many fires before from other units because we have many facilities. And we have many data units. And like I said, Data Aire has given us the least amount of trouble of any of the units that we have. And that's gospel. That's truth."

Or as Scott also put it: "I'm guessing that the new Data Aire equipment is built like the old equipment, so it should make it until my retirement. That's what I'm looking for,"

"I appreciate the cooling," added Daniel Lewis — with a smile.


---
Comments