Five Minutes With Audio & Video Home
fiveminuteswith
Seeking Certification: School District Pursues Energy Star Certification for Data Center
Gary Wright, Executive Director of Schools Operations at Cherokee County (N.C.) Schools, discusses his district's pursuit of an Energy Star certification for its data center.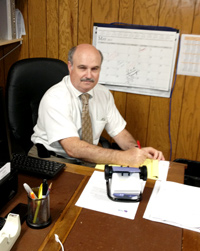 Gary Wright
Executive Director of Schools Operations
Cherokee County (N.C.) Schools

1. Describe your data center and how many buildings it serves.

The Cherokee County (N.C.) Schools network operations center (NOC) is located at the center of Cherokee County. All servers for the school system were moved out of the school building to the one location. The building was originally used as a small factory for the handicapped population of the county. Upon moving to a larger location, the Cherokee County government acquired the building on behalf of Cherokee County Schools. The school district has 18 main facilities with approximately 96 total separate buildings. A majority of these buildings are interconnected with fiber optic cable.


2. What is your role in achieving certification for the data center?

I will help the technology director locate a data center that has already achieved Energy Star status to serve as a mentor for this project.


3. Where does the data center rank on your school district's list of energy usage?

Our data ranks fourth from the bottom of all facilities in the district. Currently, cost avoidance at the NOC is running at 4.0 percent based upon analysis using the EnergyCap software.


4. What are the biggest challenges facing your data center in its efforts to achieve the Energy Star certification?

One of the largest challenges in transforming the data center into an Energy Star qualified facility will be finding the money to upgrade the electrical infrastructure. In addition, locating a mentor partner who will be willing to work as an advisor – as Cherokee County is geographically isolated.


5.What kind of energy savings do you hope to achieve from the certification process?

We hope to reduce energy consumption at this facility by at least 25-30 percent. In addition to the lighting upgrade we will add motion sensors to all rooms, replace thresholds under entrance doors, and put the NOC center custodian on a HVAC filter-changing schedule.


6.What are the biggest challenges in achieving certification?

The biggest challenge is locating an Energy Star plan on what the U.S. Environmental Protection Agency expects us to do to achieve this standard. We believe that once this plan is located we can move quickly in our efforts to convert old energy technology into LED technology.
posted: 6/4/2013