Team Player: How One FM Gets IT and Facilities Management to Collaborate
Steve Smith's job isn't to say "no" to IT. It's to say "yes" in the right way.
OTHER PARTS OF THIS ARTICLE
Pt. 1: This Page
Pt. 2:
FM and IT: Developing a Cooperative Environment
Pt. 3:
Facilities Management and the Art of Persuasion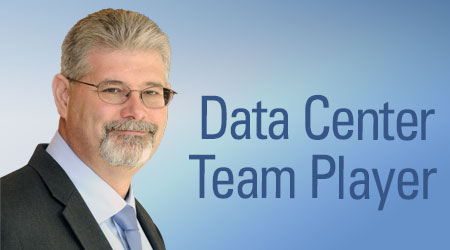 The life of a data center facility manager can offer plenty of reasons to complain. Planned upgrades have a way of being delayed, new servers sometimes show up unexpectedly, and getting IT to agree to a schedule for necessary maintenance on the facility infrastructure can be next to impossible. But when Steve Smith is having a conversation with top management or a meeting with one of his peers in IT, he doesn't see it as an opportunity to make demands or vent frustrations. Far from it. As director of Arvest Bank's physical IT network, he manages the bank's enterprise-class critical mission facilities as well as structured cabling and field services. He wants everyone to know that he is a team player, committed to doing what's best for the business. Starting an argument or being confrontational won't accomplish that goal.
Smith can afford to speak softly because he carries a very big message: He and his facilities team play a supporting role, but it's a mission critical role. He wants to be a team player, but he also knows that the rest of the team needs him. The only way that the IT department — in fact, the entire organization — can be successful is if the facility department is successful.
"My job is not to say 'no,'" Smith says. "My job is to say 'yes' in the right way."
Road to the data center
That mindset has served Smith well throughout his career. He married out of high school and stepped right into adult responsibilities, so he had no time for a traditional four-year degree. "I took some college courses in electronic technology at a local college, but I got most of my training on the job," Smith says.
His first job was in a manufacturing plant in the conveyor industry, where he learned about control wiring and larger electrical controls. After the factory closed, he landed a job as a maintenance supervisor with a major retailer and soon became manager of a mechanized warehouse, then data center manager. "I migrated toward jobs that gave me opportunities, and I was fortunate to work with a lot of smart people willing to share their knowledge," Smith says. "I expect that I drove many service technicians and engineers crazy with questions along the way, but they all helped develop my views of infrastructure and ways in which you can support and maintain it."
After the terrorist attacks of Sept. 11, 2001, the data center industry put new emphasis on resiliency and redundancy. "That is where my education really took off," Smith says. "It was sort of like the space program, where we had to figure out how to do things that are hard to test, but had to work correctly the first time, every time. It was extraordinarily challenging, and we learned a lot in a short period of time."
Today, Smith oversees facilities management for three mission critical facilities and the physical side of IT for Arvest banks in more than 120 communities in four states. He is responsible for physical data center operations, including space, power, cooling, and rack and stack, as well as structured cabling and field services for all companywide locations.
Smith has been responsible for building, renovating, or expanding an enterprise-class data center facility 10 times. These projects have ranged from greenfield builds of data centers from the ground up, to co-location builds, complete rebuilds, and upgrades.
Building a major data center "is among the hardest, most fun things I get to do," Smith says. "The engineering challenges involved are always different, and problem-solving is near constant throughout the process. Each project was a unique challenge of its own and created a list of things I would do differently next time. The engineering required to design a fault- and disaster-tolerant facility is an amazing team process that continually turns up new ideas and ways of doing things."
Perhaps the most difficult aspect of building a new data center is programming the building's size for the right expansion and flexibility capabilities. Sometimes Smith is given unrealistic cost or timeline parameters, and he uses his interpersonal skills to find a middle ground in managing expectations, which is an important part of his job during a build.
Upgrades or partial remodels bring their own challenges. "Expanding power and cooling plants on the fly can be a bit like changing tires on a bus at 80 miles an hour on a busy interstate highway," he says. Planning ahead goes a long way toward satisfying both internal and external customers.
For all his experience with high-profile data center construction and expansion projects, Smith understands that less glamorous parts of the critical infrastructure are equally important. "We view each communications room in any facility as an extension of the data center environment and treat it the same way," he says. There's no such thing as "just a comm closet" for Smith and his teams supporting front-line associates. Not surprisingly, his most important priority as director of the physical IT network is ensuring availability. "We deal with a lot of issues at all hours of the day and all days of the year," he says.
Continue Reading:

Cover Story: Steve Smith Profile

Team Player: How One FM Gets IT and Facilities Management to Collaborate

FM and IT: Developing a Cooperative Environment

Facilities Management and the Art of Persuasion
---
---
---
Related Topics:
Comments