Scalability, Easy Upgrades Among Cloud Benefits for Data Centers
Last of a 3-part article on cloud, colocation bringing new data center roles for facility managers
OTHER PARTS OF THIS ARTICLE
Pt. 1:
Facility Managers' Role Changing as Data Centers Evolve
Pt. 2:
Understanding Benefits of Cloud for Data Centers Important for Facility Managers
Pt. 3: This Page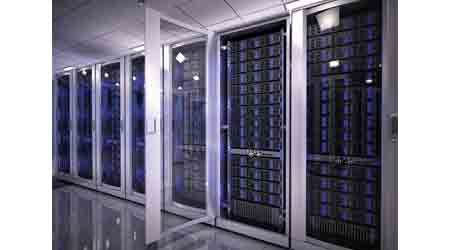 Scalability, easy upgrades, and speed are among the additional reasons why executive teams managing data centers might consider the cloud, according to Christopher Wade, program director, critical environment facility operations for Newmark Grubb Knight Frank.
Scalability. Because every organization is different, every company has different ways of coping with the peaks and valleys of processing requirements.
There are many reasons that demand for compute capacity rises and falls, says Wade. Retailers face seasonal fluctuations at holiday time. If a business wins new projects, the new work may place high demand on existing infrastructure. Mergers and acquisitions can also trigger spikes in data processing use. If all data center space is in-house, the CIO would have to prepare the infrastructure to cope with peak traffic — even if that meant over-provisioning for about 95 percent of the year. Relying on a cloud-based infrastructure means that executive teams no longer have to plan in-house infrastructure based on peak use — letting the equipment remain mostly inactive during non-peak periods. Rather than over-building infrastructure, organizations choose cloud computing for greater agility.
Schlattman recommends that organizations assess annual data center growth. "Usually, annual growth is 4 to 6 percent," Schlattman says. "But if you're in acquisition or new-business mode, that percentage goes way up."
In such environments, employing cloud scalability can be useful.
Easier Upgrades and Patches. Because cloud contracts rely on outsourced space, servers, and employees, the task of updating software is no longer an in-house issue, thus freeing IT staff for more vital roles in the enterprise data center. Security patches and feature updates are contracted, and for low-security processing requirements, cloud computing addresses these needs.
Speed. "This is perhaps the single most important reason for moving to cloud," says Wade. "The time taken to commission, implement, and configure services is generally measured in weeks, while a company could use its cloud provider to get services up and running within a matter of hours."
Speed becomes paramount when IT "time-to-market" translates into revenue. If CIOs drive revenue, speed in implementing new technology is a "competitive edge," Schlattman says.
Flexibility. The argument for CIOs in favor of cloud computing is that IT environments can be dynamic and fluid, with the ability to add new businesses, spin up new services, and respond to ever-increasing customer needs.
While cloud computing has many benefits, one of the common counter-arguments to cloud use is security. Early on, it might have been a viable concern. But experts note that modern cloud providers can offer high levels of security, often about on par with in-house systems. Nevertheless, cloud computing does contract out all equipment, space, and personnel — and therefore almost all of the control, too. While CIOs can have greater peace of mind about cloud security than in the past, it's still up to every organization to weigh the benefits of outsourcing computing.
The bottom line is that decisions about the location of a particular IT application — whether an enterprise data center, a colocation facility, or in the cloud — are driven by the literal "bottom line," in the accounting sense of the phrase. Just as today's CIOs increasingly focus on revenue, so too should facility managers. In a world where off-site computing is reliable, flexible, cheaper than on-site processing, and increasingly secure, facility managers can offer vital recommendations to executive teams and become an invaluable member of the team that helps make revenue-based decisions.
Loren Snyder, a contributing editor for Building Operating Management, is a writer who specializes in facility issues. He was formerly managing editor of Building Operating Management.
The Group 7x24 Exchange Aims to Increase Mission-Critical Information
7x24 Exchange is a member organization for executives in mission-critical facilities. The Exchange's mission is to "improve knowledge among those who design, build, operate and maintain mission-critical enterprise information infrastructures."
Founded in 1989, the non-profit 7x24 Exchange was shaped by a group of technology and facility professionals. "At that time, information technology and facilities executives worked in separate silos, not as a team," says Robert Cassiliano, chairman of the 7x24 Exchange and president and CEO of Business Information Services, a tech services company. "We decided we needed a forum where people could talk together about the issues and understand the problems that facilities people face and technology people face. We held our first meeting in a brokerage house in New York City with 16 people."
7x24 Exchange gets members connected with the thought leaders in mission-critical industries through a knowledge exchange via conference participation, an industry magazine, and a website.
"The collaborative nature of 7x24 Exchange members helps keep companies informed about the many new developments taking place in the rapidly changing world of digital infrastructures," Cassiliano says. "We offer a forum to share knowledge, success stories, and insight."
— Loren Snyder
Continue Reading:

Data Centers

Facility Managers' Role Changing as Data Centers Evolve

Understanding Benefits of Cloud for Data Centers Important for Facility Managers

Scalability, Easy Upgrades Among Cloud Benefits for Data Centers
---
---
---
Related Topics:
Comments