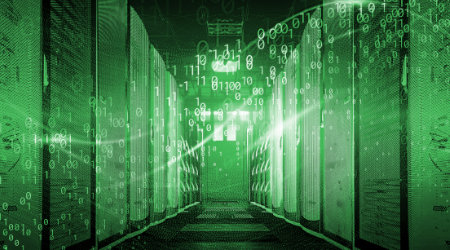 How to Design, Build, and Operate Greener Data Centers
From design through operations, follow this advice to lower embodied energy and improve energy efficiency in data centers.
As remote work and digitization drive demand for data centers, the sector's energy demands are also growing. With massive water and electricity requirements for cooling and operations, the industry has realized that changes are necessary to minimize the environmental impact of these pivotal facilities — and meet the sustainability goals of the countries in which they operate. Some of the biggest data center operators and providers have responded to these concerns with their own sustainability goals and carbon-neutral commitments.
Although operational strategies need to align with sustainability goals, there are other aspects that need to be considered, such as the environmental impact of construction. New data center builds can result in 13 percent more embodied carbon than a low carbon approach, and roughly 78 percent more than reusing an existing facility. This is primarily due to the construction and material requirements of facilities. But to meet sustainability goals, owners and operators need to consider new solutions that reduce carbon and energy emissions all the way from conception and construction to operation.
Sustainable design
When examining sustainable practices for data centers, embodied carbon needs to be considered. Embodied carbon consists of the sum of all greenhouse gases and includes all processes to gather, manufacture, transport, and install building materials. The construction of new buildings is responsible for approximately 40 percent of annual global greenhouse gas emissions; therefore, sustainable practices need to be considered from the outset of the project. As large amounts of energy are required to operate data centers, the operational carbon impact can be more than twice the embodied carbon impact. Owners and operators need to consider the design and materials used in projects — especially as operations become more sustainable.
For data center construction, concrete amounts to nearly 40 percent of the materials involved, and it is one of the most carbon intensive options. On average, a ton of cement will produce 1.25 tons of CO2. Luckily, the Global Cement and Concrete Association has committed to zero-emission concrete by 2050, which will significantly improve the embodied carbon of new data center projects. Until then, data centers need to consider alternatives to concrete, or at least use concrete providers that are already focusing on reducing emissions. Some companies are turning to timber framing in their data centers for an eco-friendly solution. In the UK, Innovate UK and the Ministry of Justice are working together on precast concrete, which is expected to lower carbon emissions by 40 percent by focusing on the entire process to create concrete, starting with the production of cement.
Fuel and steel also account for a large portion of data center construction materials, each accounting for about 10 percent of the project's carbon emissions. Steel is a material that is more resistant to wearing down or creeping, so it can easily be reused from other projects to lower embodied carbon. It can also be recycled if it does start to deteriorate. Building materials made from recycled or organic materials are also growing in popularity. As the industry becomes more interested in sustainable building material options, these products may be produced on a wider scale to cut back on overall carbon emissions.
The EU has introduced BAMB, which is a material tracing passport to track the materials used in construction and encourage the use of recycled materials. This is expected to create incentives for suppliers to create reusable materials and a circular economy. Tracking the materials in the construction of a project makes it easier to reuse or recycle these materials as facilities are torn down and rebuilt to keep up with changing demands and advancing technologies,
Fortunately, improving the environmental footprint of a data center project is not overly complicated. Engaging with the design and construction team early to create strategies to reduce the environmental impact can ensure alignment on goals and the project. Clients also need to be open to the possibility of using low carbon materials instead of traditional materials. Tracking materials throughout the supply chain process can provide an accurate representation of the carbon emissions of the building, helping owners and operators understand the true environmental impact of a data center project.
Construction practices
For faster delivery of data center projects, most operators use standardized designs. This strategy fosters a low-carbon approach, as practices and standards from one project can easily be replicated across all future facilities. Such practices include the use of modular construction and reusable building materials, all part of a low carbon approach in construction meant to achieve 13 percent less carbon during the construction process. Many construction firms suggest the use of modular construction to improve sustainability by up to 90.percent With a controlled environment to develop the components of the data center, there is less material waste. Unused sections or demolished facilities can be reused in future construction projects. Although modular construction relies on transportation to get the elements to the site, hydrogen-powered and EV transportation is being explored to further reduce carbon emissions.
Repurposing or renovating existing buildings is also a way to lower emissions - upgrading an older building can reduce carbon emissions by up to 78 percent, as referenced above. By retrofitting existing shells from commercial or warehousing projects, data centers can reduce emissions, as the project requires less net-new construction.
Operational strategies
Alternate energy sources are important for powering data centers, especially as power usage is set to increase by 2.7 percent in North America. Numerous providers are partnering with solar and wind energy companies to supply clean, alternative energy for data center campuses. Other companies are simply installing solar panels and water harvesting at their facilities to provide flexibility in their sustainable offerings. Although companies may use wind or solar energy directly, it still needs to be combined with more dependable sources of power until alternative energy sources are prepared to handle the demand and potential outages.
Having reliable emergency backup generators is critical for data centers in order to maintain always-on standards and 100 percent uptime. In early 2021, Texas's storms tested the capabilities of backup generators, as many providers relied on them for extended periods. But they also reconfirmed their importance, as data center providers managed to weather the storm and stay online. Unfortunately, most generators are diesel, which impacts negatively on the environment. That's why many companies are looking at new sources to power backup generators. One solution to lower emissions is switching to natural gas to power these generators, which burns cleanly with lower carbon dioxide and nitrous oxide emissions. This should increase efficiency without losing reliability, as fuel can be stored in pipelines ready for usage.
Holistic sustainability
As more providers seek to meet sustainability goals, and interest grows in sustainable standards and certifications, support for energy efficient practices is on the rise. Although embodied carbon may be more difficult to measure, it certainly impacts the overall energy efficiency of a project; providers who are seriously investing in sustainability goals need to start looking at their projects holistically from start to finish. A collaborative approach from suppliers, stakeholders, operators and owners can help inform sustainable material, construction and operating practices. Leveraging data from the entire project is also important, to ensure that all aspects are being measured for their carbon output. To promote competitive advantage, as well as to fight the climate crisis, sustainability needs to be at the forefront of data center design and operation.
Eoin Byrne is a Director for Linesight. He leads a significant data center program for the company.
---
---
---
Related Topics: