How Military Veterans Can Solve the Data Center Talent Shortage
Here's a chance to turn a crisis into an opportunity: Many veterans already have the skills and temperament required to manage data centers efficiently and effectively.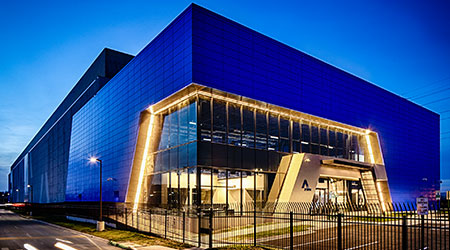 In nearly every region of the world, accelerated digital growth continues to fuel strong demand for data center capacity with no imminent signs of slowing down. The build-out of new data centers and networks is being driven largely by the steep rise of internet services, cloud, hosted, and other as-a-service workloads. But behind the scenes, the speed and scale of capacity growth is beginning to test the limits of the mission critical infrastructure sector's talent supply.
According to a report by the Uptime Institute, global data center staffing requirements are forecast to grow from approximately 2 million full-time employee equivalents (FTEs) in 2019 to nearly 2.3 million in 2025. Simultaneously, in the large and mature data center markets of the U.S. and Western Europe, many Boomer era employees are due to retire — a trend industry analysts sometimes refer to as the "grey tsunami" — which presents an additional drain on staffing.
Although data center recruitment needs are expected to rise steadily in the coming years, this growth in demand need not present a crisis, but an opportunity.
A Critical Mindset for Mission Critical
Mechanical and electrical engineers in data center strategy and operations roles, and all types of controls and monitoring employees, are among the technical staff that will be increasingly needed through 2025, according to the Uptime Institute report. Industry-wide, there are concerns about rising demand for technical staff, particularly for the ongoing operation of data centers.
Aside from a strong technical background, companies are looking for individuals that are very process-driven and possess what can be described as a critical mindset. As a military veteran — I joined the U.S. Navy in 1986, serving for 13 years as a nuclear machinist mate on submarines, nuclear power instructor, and maintenance manager for a marine transport ship — I know from direct experience that the critical mindset utilized in the military corresponds to the same mindset needed to effectively operate data centers.
Each year, more than 200,000 military service members transition into the civilian workforce.
Consummately Trainable Problem Solvers
Thanks to their training, when a military veteran enters a data center site, they tend to use all of their senses, becoming in tune with the equipment and often picking up on sounds and even smells to which others without military experience might be oblivious. Or they may be able to recognize and respond to alarms with rapidity and deep focus, even in potentially stressful situations.
Again, these abilities are often a direct result of the veteran's military experience. For example, if a vet was stationed in a forward operating base, he or she had to be keenly aware of everything that was going on both within and around them: the processes and procedures they've been trained to utilize in the face of a potential threat, as well as the ongoing maintenance of their equipment, vehicles, or weapons upon which the safety of their entire company might very well depend.
The men and women who have had these types of experience we find can handle multitasking in the stressful situations that data center staff encounter every day when operating these facilities. They are consummately trainable, driven problem solvers, and readily understand how their productivity and performance aligns with the mission of the company and the long-term goals of their own career.
UPS, By Any Other Name
The data center sector can take concerted actions to raise the profile of opportunities for military veterans and improve recruitment outreach and training. Today, there are programs such as Infrastructure Masons and Salute Mission Critical whose primary focus is to target veterans for training in jobs in mission critical environments.
While nuclear-trained candidates are certainly attractive potential hires because they require the least amount of training, there's a huge untapped market with veterans across all branches of the military as well as in the electrical and mechanical trades. There are hurdles to overcome but none that are by any means insurmountable. Sometimes there's a hesitancy that is simply a matter of unfamiliar terminology.
After leaving the military in the late '90s, I secured a job with a company that specialized in data center services. On my second day, I attended a meeting where I heard a string of unfamiliar acronyms such as PDUs, UPS, and RPPs. Was I in over my head?
What I didn't realize is that the equipment and systems that support data centers, the philosophy around procedural compliance, and the maintenance programs were the same as any mission critical environment — simply different terminology — whether related to the USS Seawolf patrolling beneath the surface of the Norwegian Sea or a hyperscale data center campus in Northern Virginia.
Similarly, a data center provider may have to assist new hires to bridge that language gap. Okay, he or she may not immediately understand uninterruptible power supply (UPS). But in the military, they may have operated transformers, motor generator sets, and battery systems. Combine these components, and you have UPS technology.
One final thing about employing veterans is that they're often accustomed to permanent change of station (PCS), which is the military's somewhat oxymoronic term for moving from one location, assignment, or detail to another. They can usually mobilize quite readily, comfortably transitioning to make a new home wherever our company's data centers are located. Along with all the other skills and attributes that military veterans accumulate throughout their years of service which directly correlate to the needs of this business, this is particularly advantageous when bringing in talent to support and drive growth in new or existing markets. These are the folks any competitive organization wants on their side.
Billie Haggard is senior vice president of operations and safety officer at Aligned, a data center provider offering innovative, sustainable, and adaptable colocation and build-to-scale solutions for cloud, enterprise, and managed service providers.
---
---
---
Related Topics:
Comments