You Might Like
On FacilitiesNet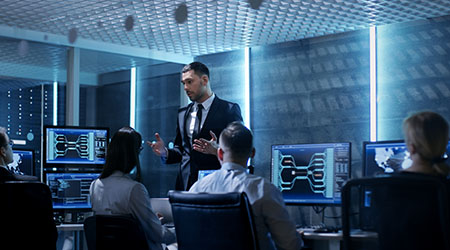 Five Lessons in Employee Engagement from Mission Critical Facilities
An evaluation of six data centers in the U.S. and Europe showed how critical human-centric design is in critical facilities.
As warehouses for technology, data centers are far from human-centric architecture. That's partially because cooling, maintenance, and security are emphasized in design. Yet scores of people work in these enormous buildings — humans maintain and operate the buildings and the technology within, creating workplace communities with a wide range of functions, from social to utilitarian.
A recent evaluation of the daily user experience studied six different data centers, three in the U.S. and three in Europe to achieve a wide-ranging geographic and cultural point of view. The approach layered site visits, user engagement, and lessons learned from new projects on top of the client's statistical research to identify deficiencies and develop localized solutions. Researchers conducted formal team interviews and on-the-fly lunchroom chats. They took note of parking needs, social activity preferences, and the desire to cluster together. After more than a year of conversations, observations, and interactions with local teams from operations to culinary, the team came away with five key learnings.
1. Invite multiple perspectives: Creating opportunities for feedback from all employees in both formal and informal settings can create a more human-centric workplace. Though classic data gathering provided foundational material for the project, personal interactions and anecdotes shared by a true cross-section of employees at each site brought that data into sharp focus, allowing for correct interpretation. Even as technology reshapes and dominates our workplaces and jobs, human experiences and perceptions remain key to architectural evolution. 

2. Learn from the details: Working across multiple locations allowed for observation of regional differences, which were used to further the understanding and overarching goal of workplace improvement throughout all the sites. For example, European regulations required more access to views and natural light — a measure of workplace quality that was applied to retrofits in their North American counterparts. Mothers' Rooms were a required element for every building under project guidelines — but it was found they were already included, and under-utilized. At North American sites, they often sat empty. European sites had converted them to dual-use "first aid" rooms, which suggests a solution for future workplaces.

3. Build in amenities: Across all sites, there was a desire to bring amenities and services up to the same level for all employees. Field research confirmed that employees did place high value on the services offered by the space: culinary programs and lawns for soccer or football were worth prioritizing, as they represent the physical component of workplace culture. Another finding was that building in flexible space to accommodate specific site preferences — a laundry service for one site, a bigger communal space or additional closets for another — created a sense of personalization that helped tie the larger corporate culture to each local workforce. Making room for employees to personalize their spaces in this way helped create a sense of belonging and autonomy. 

4. Enable the future: One of the goals for each of these data center sites was to incorporate flexibility into each data center campus to allow for future capacity and unknown needs. Admin spaces also benefit from this approach as the challenge is to design spaces that can evolve to meet the needs of changing technology, workplace trends, and numbers of employees. Designing spaces to be easily repurposed allows on-site teams to reconfigure them to meet immediate needs, while identifying spaces that can be renovated with minimal disruption and reserving campus space for new buildings enables large-scale flexibility. This future-forward approach both builds in efficiency and empowers employees to take control of their workspace.

5. Create community: Observation revealed that, even in data center campuses with multiple admin facilities, employees found ways to be together, clustering near cafes and larger offices. In interviews, they expressed a desire to connect throughout the workday. Though designing for a distributed workforce was the main strategy for years, with groups tied to specific data halls, it became clear that what employees value most is human adjacency. In addition, while the large, open office was viewed as a benefit, smaller conference rooms and focus areas offered needed respite from the crowd. These preferences informed shifts in the work — designs shifted to cluster most people together and to ease travel throughout campuses. 

As the initial stages of this reassessment were being finalized, COVID-19 arrived, shifting work online, and sparking contemplation about what the future of highly valued communal spaces will be. The incidental interactions fostered by the architecture of a physical office space are invaluable, and by embracing the lessons learned through interactions with end users, it will be possible to design future workplaces that enable business and foster the culture that makes these spaces as human as they are high tech.
Zoe Cloonan is an architect at Sheehan Nagle Harry Architects.
---
---
---
Related Topics: