Commissioning Data Center Systems To Achieve Performance Goals
Effective planning to address HVAC efficiency, power reliability and key post-installation considerations
OTHER PARTS OF THIS ARTICLE
Pt. 1:
Strategies and Tactics For Successful Data Center Upgrades
Pt. 2:
Ensuring Reliable Power to Data Centers
Pt. 3: This Page
Pt. 4:
Cooling Data Centers in a Crisis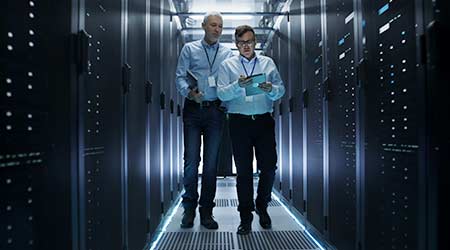 Upgrades to data center power and HVAC systems are not finished when the equipment installation is finished. It is essential that if installed systems are to deliver the intended reliability that they perform as designed. Commissioning is the best way to achieve this goal.

Electrical systems should be tested with properly sized load banks connected. Electrical failures should be simulated to ensure UPS, generators, transfer switches, and control systems function reliably under load. Each HVAC system component should be tested for normal operation and under failure conditions.

Maintenance also must be part of the planning. Equipment must be installed so it will allow for easy maintenance. Managers need to establish maintenance schedules for all equipment that equals or exceeds manufacturer suggestions, and technicians need to keep logs of maintenance performed so managers can track progress and performance over time.

Managers also must ensure the proper training of maintenance technicians on all installed equipment so no delays occur when calling in personnel who are not on site should a failure occur.

James Piper, P.E., is a national facilities consultant based in Bowie, Md. He has more than 30 years of experience with facilities maintenance, engineering and management issues.
Continue Reading:

Data Centers

Strategies and Tactics For Successful Data Center Upgrades

Ensuring Reliable Power to Data Centers

Commissioning Data Center Systems To Achieve Performance Goals

Cooling Data Centers in a Crisis
---
---
---
Related Topics:
Comments