« Back to Facilities Management Commercial Office Facilities Category Home
Office Redesign: the 21st Century Class A Building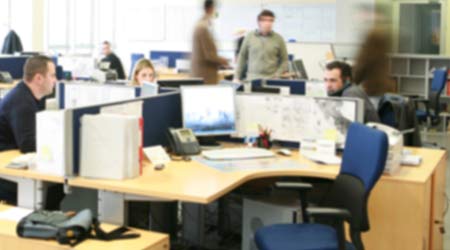 November 1, 2016 - Commercial Office Facilities
By Scott Fadness

The desired work environment of today is very different from the Class A buildings that served as a standard for the past 30 years.

I am the mayor of Fishers, Ind. Surprisingly, the number one question I receive when speaking to CEOs considering company relocation to Fishers is, "What type of restaurants are close by?" This is true of both established and up-and-coming companies. These businesses are seeking office spaces that facilitate today's mobile, flexible work culture, and commercial real estate developers that take heed of this shift will be better able to secure quality tenants.

In Fishers, which has attracted a number of entrepreneurs, technology, and large companies in the past year, we are seeing a demand for flexibility and integration, particularly between the office and the surrounding community. We believe this trend is reflective of demographic, economic, societal, and technological changes are influencing the desired work environment today.

How can developers adapt?

Create wide open spaces. Work today is transparent and collaborative, which isn't supported by closed-off cubicle structures. Open layouts are preferred and amenity space is at a premium; pool and ping pong tables, game rooms, and even lounges are now viewed as essentials to court the next generation of talent. A fitness component could also be included in the development of quality outdoor space. Green space is an opportunity, one that hasn't been maximized in the past. Ultimately, a creative and flexible office developer is required to create these unique spaces.

Make them mobile. The footprint of office space is shrinking. Many companies are encouraging telecommuting and doing away with assigned desks altogether, because technology is enabling the virtualization of work. Providing various environments for where work is conducted can be very attractive to a company, because in many ways it has outgrown cubicles.

Choose location wisely. Businesses not only need flexible options for work, they need flexible options for getting to work; the ability to walk, bike or take mass transit is important. People want to walk to lunch spots and coffee shops and many, especially Millennials, appreciate options when it comes to transportation. Proximity to pedestrian and bike trails and mass transit stops should be taken into consideration by developers.

Today the office is communal in nature, and many employees are transient — this makes scale an important conversation. Many midsize companies want to be identified by their surroundings; they no longer want to be identified by suite C in building 6 of some office park. They want to be located above a great restaurant or brew pub. They want to inhabit an old warehouse building that has been repurposed. In designing the next office park, a developer must pay attention to the nuances of creating a great sense of place.

Never before has the intellectual power of human capital been so important to the long-term viability of a company. Company leadership is aware of the race they are in for the next generation of best and brightest. They realize that the physical environment they provide to employees is a key recruitment tool. It is up to cities and developers to ensure that we are building office environments that meet the expectation of Class A for the 21st century economy.

Scott Fadness is the City of Fishers' first mayor, transitioned in 2014 from town manager. He has promoted creative solutions to retain and create jobs, redevelop Fishers' downtown, and establish Fishers as a hub of entrepreneurial activity.
posted on 11/1/2016