« Back to Facilities Management Commercial Office Facilities Category Home
How to Develop and Optimize your Furniture Budget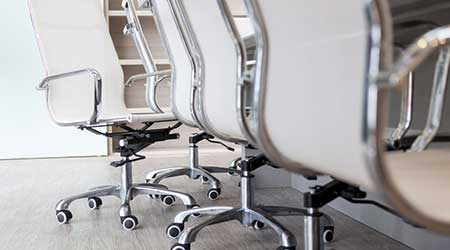 May 10, 2019 - Commercial Office Facilities
By Joan Simari
If you are planning an office move, expansion, or upgrade, you'll need to establish a budget for the project. While a real estate broker or architect may be able to provide a benchmark for construction, furniture is more difficult to estimate due to the multitude of choices, manufacturers, and corresponding price points available. When developing and optimizing your office furniture budget, there are a few key steps you can take.
1. Determine Your Furniture Goals.
Define your overarching design needs. Through your office design, are you looking to attract talent, address adjacencies for a more efficient work operation, accommodate an expanding headcount, create more collaborative spaces, establish a hoteling environment, integrate technology into the furniture, or establish a brand identity? The answer is most likely a combination of these and other concerns unique to your business.
It goes without saying that we all want a healthy and ergonomically supported work space. Some of the decisions needed to achieve this environment will have an impact on your budget and the health of your staff. Adjustable height desks, monitor arms, keyboard trays, and fully adjustable task seating are some of the elements you will need to account for when outlining your furniture goals.
2. Engage Your Colleagues
Furniture selection should be a collaborative process. Establish a group of stakeholders who will represent the larger organization's concerns. Teams and departments within your firm work differently and have specific internal and external responsibilities. It's important to understand each group's needs in relation to the overall project design, and in terms of what furniture they will need.
If your firm is like many today, you will be working to maximize seating in an open environment, limiting private office space and providing collaborative areas. How will those areas function? Do you need video conferencing and proprietary technology, or simply charging ports? Your IT team is one of your most important stakeholders, but marketing, human resources, sales, and other groups should be equally involved in the decisions around furniture functionality.
Once you've established your furniture goals, you should share those with your architect or designer. That information will be key to programming your space. It will also help your architect or designer understand your priorities.
3. Go Window Shopping
With furniture goals in hand, it's time to visit some manufacturer showrooms. Manufacturers' showrooms have many products and vignettes on display, but you may have to use your imagination to envision the finishes that work best for your project. Another option is to see what furniture your competitors or other firms with similar goals have recently installed. Most facility managers will be happy to accommodate a tour and share their experience.
Stick with commercial furniture lines, which are engineered to withstand daily use and are made of fabrics tested for thousands of rubs and staining. While online retailers and big box stores may offer lower price points that seem appealing today, their products will not hold up to years of use, and you will find that you will need to replace many of these items in the short term. Look for manufacturers that have been around for five or more years and support their lines with warranties and replacement parts.
4. Get Help
A furniture manufacturer can assist in obtaining samples of fabrics, finishes, chairs, and other furniture components that you may be interested in. A good rule of thumb is to try all seating before you purchase anything, and a furniture consultant can organize a "chair fair," sending samples from different manufacturers to your office for evaluation. Furniture consultants can also introduce you to different product lines.
While bundling your case goods (benching and offices), conference package, and ancillary (all the remaining soft seating, café, and reception pieces, etc.) may sound convenient, buying all your furniture from one source is not necessarily going to provide the best pricing or functional solutions. The most effective furniture project plans include a mix of products from different manufacturers.
A furniture project management consultancy can assist you in developing your budget and in coordinating an aggressive bid process, as well as overseeing delivery through installation. Be sure to select a firm that is not aligned with any particular manufacturer. Using a third-party manager allows you to procure furniture across all major lines.
5. Get It on Paper
Once you have shopped the showrooms, the manufacturer or furniture project manager can provide you with a rough order of magnitude pricing based on your selections. These days, with open benching becoming more prevalent, the percentage of budgets allocated to ancillary furniture is making up a larger percentage of the overall budget.
Your line items might include:
Conferencing package (conference tables and chairs)
Case goods package (benching, desks, private offices, task seating)
Ancillary package (soft seating, reception area, café, phone rooms, break out spaces, etc.)
Accessories (monitor arms, keyboard trays, desk lamps, convenience outlets, area rugs, pillows, etc.)
When finalizing your budget, remember to factor in delivery and installation costs and sales tax. Your delivery and installation will be affected by the days and times your building will allow freight access, as well as whether union labor is required by your lease.
Lastly...
Armed with your budget and a familiarity with the main line manufacturers' products, you'll be prepared to assess alternates — how they will affect your desired aesthetic and functionality. It's a bit of homework, but it can ultimately save you thousands at the end of the project. This is wonderful opportunity to use furniture to deliver a great work environment for you and your colleagues.
Joan Simari is a founding Principal of Furniture Advocates.
posted on 5/10/2019