You Might Like
On FacilitiesNet
How Workplace Design Strategies Are Shifting to Beat COVID
The new normal in how office space will look post-pandemic keeps shifting. Here's what you need to know now, whether you're preparing return-to-office now or further in the future.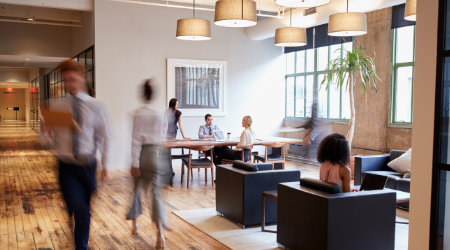 Since the beginning of the pandemic, those on the front lines of building ownership, facilities management, design, and construction quickly took the lead in adapting office environments to evolving criteria for protecting the health and wellbeing of workers. Fast-forward to the present: safety and sanitization standards are firmly established, and multiple vaccines are available in the United States. Assuming that these vaccines remain effective as new virus variants emerge, companies finally have a real chance to bring staff back to the office.
Re-Thinking Workplace Design
In an effort to understand what company leaders and their workforces were thinking about a return to the office, Boston design firm Margulies Perruzzi surveyed industry professionals and received 500+ responses to several fundamental questions:
When asked what most excited them about the prospect of returning to their workplace, 90 percent of respondents cited collaborating in person again and reuniting with colleagues. Coming in second was accessing office resources and equipment (64 percent), followed by returning to a well-designed, ergonomic workspace (58 percent), and working in an environment that allows them to focus (47 percent).

Regarding their concerns, 80 percent cited safety in common spaces, followed by social distancing in meeting and collaboration space (70 percent); work environment cleanliness (68 percent); interaction with the public, visitors, and vendors (66 percent); workspace density (60 percent); and air quality (38 percent).

Working from home provided valuable lessons learned. "Space to concentrate is important" garnered 87 percent agreement. Other feedback acknowledged the desirability of face-to-face interaction (83 percent); value of engagement with company culture and mission (82 percent); ability to be productive remotely (82 percent); importance of ergonomics (75 percent); and ability to manage teams remotely (73 percent). 

Survey findings are published in Volume 1: COVID-19 and the Future of the Workplace. The report also addresses general office upgrade options, MEP improvements with an emphasis on the application of UV-C light for air and surface sanitization, and information technology via relevant niche apps.
Maintaining Flexibility
The shape of future office environments will be largely determined by three factors: the ability of company leaders to direct and manage change; the subsequent development of organization-wide policies concerning remote work, safety, and occupancy; and the financial implications of those policies on facility decisions. A successful transition from the peak pandemic work-from-home scenario to a return-to-office scenario will require a broad spectrum of expertise and depend heavily on corporate agility and flexibility.
Margulies Perruzzi's January 2021 report, Volume 4: Post-COVID Workplace presents four workplace models that leaders can adapt to their own company's unique blueprint. They are traditional, flexible, balanced, and lean, and range in 25 percent increments from 100 percent of the workforce returning to the office in the traditional model, to 25 percent in the lean model. Each model comes with its own financial and logistical considerations, especially if more space is needed to accommodate social distancing. The graphic below demonstrates how the models compare in terms of cost and space.
Eight months later, as the world grapples with increased outbreaks caused by the delta variant and new facts about its transmissibility to and by the vaccinated, Workplace Strategy Report: Embracing the Hybrid Workspace affirms the logic of transitioning from a traditional to hybrid model. The data support this position: the company's survey of 8,600 people across multiple business sectors revealed that 44 percent of workers plan on being in the office three days a week, and 25 percent plan on two days. Only 9 percent responded that they would return to a pre-pandemic office presence.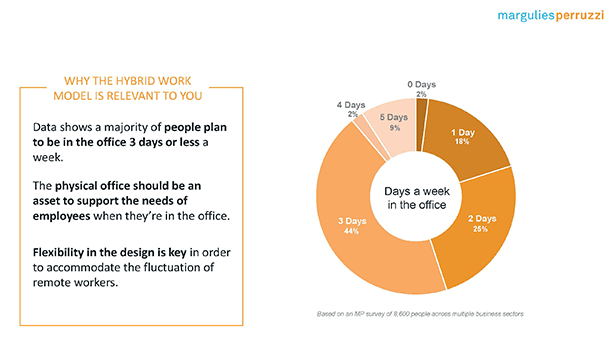 Managing Change


Change is difficult, but meaningful change cannot happen in a vacuum or without confident leadership. Approaching it in an analytical and positive manner can diminish fear of the unknown and promote inclusivity. Informed corporate leaders are adopting sequential steps for creating a practical, sustainable strategy for their companies, the first one being the creation of a framework that identifies employee type profiles and their correlative space needs.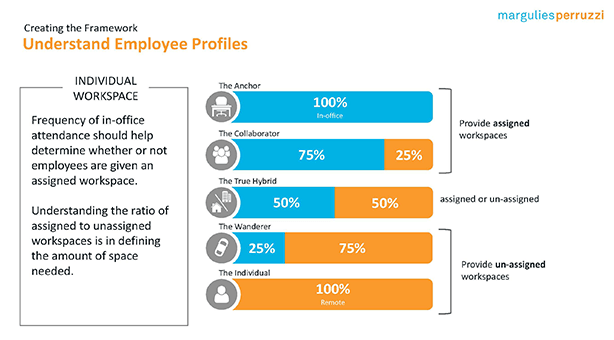 Once the framework has been established, the next steps are to:
1. Determine corporate willingness to change and how to build consensus around change.

2. Set guidelines for remote work and HR policies.

3. Confirm the financial implications.

4. Introduce property technology to manage space utilization on an ongoing basis.

5. Develop architectural, design, and engineering principles.

6. Form an implementation plan.

Inviting employees to be actively involved in designing their return-to-office environment can help make change feel less scary. Rather than seeing change as a threat to their livelihood, new workplace policies and office space redesigns are best framed as opportunities for growth, increased collaboration, and greater flexibility.
The New Hybrid Environment
Corporate leaders are becoming more receptive to the idea that work environments must embrace change as a constant and evolve in response. Catalysts include an increase in workplace utilization rates and safety protocols; restoration of employee engagement and culture; continuation of remote work and subsequent management of a reduced in-person population; and an increased need for collaboration technology and training.
The physical manifestation of these influences has ranged from familiar, early DIY quick fixes (Plexiglas, hand sanitizer, furniture spacing or removal, etc.) to long-term planning for the expense of new construction and furniture and the redesign, repurposing, and reassignment of office space.
There are many different options available for implementing a safe return to the office, but there is no "one size fits all" solution. The most successful solution will be that which is uniquely tailored to your company's business model, strategic plan, and corporate culture. Flexibility of both thought and design are the keys to cultivating a successful hybrid work environment.
Janet Morra, AIA, LEED AP is a principal and partner at Margulies Perruzzi, a leading architectural firm in Boston specialized in Healthcare, Science, Workplace and Real Estate projects.
---
---
---
Related Topics:
Comments