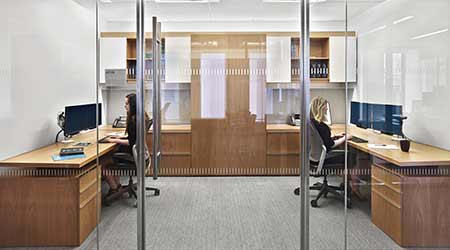 Photo: Eric Laignel/courtesy of HOK and HYL Architecture
For Office Space, Law Firms Think Small, Modular, Collaborative
Firms look to save real estate costs while striking work/life balance.
Big law firms traditionally offered big offices to partners, with big allowances to deck out those offices. That strategy amounted to table stakes if a large firm wanted to attract the best talent. And the high-end furnishings and ample office space served a marketing purpose, conveying an air of success, power, and authority to clients. But law firms have not been left behind in responding to the sea change in office design and are adopting strategies like smaller, modular offices that encourage collaboration.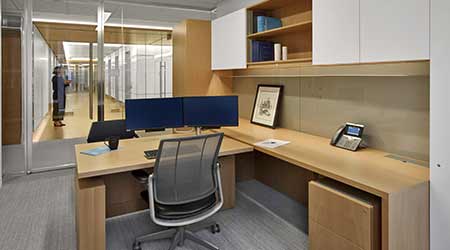 (Today, when it comes to furnishing their offices, law firm partners are likely to be offered choices from a preselected set of options, rather than getting an allowance to personally choose their furnishings. Photo: Eric Laignel/courtesy of HOK)
This trend began about five years ago, says Damla Gerhart, managing director of workplace strategy at CRBE Group, Inc. Because of changing demographics and technology and industry trends, many law firms are "proactively seeking opportunities to reduce costs and position themselves to attract talent." Since real estate is such a large cost of doing business, it makes sense to look at the use of space.
"Traditionally there was a prevalence of hierarchy and standards, and your title reflected your status in the firm and the amount of space you occupied," Gerhart says, but many law firms are reducing those differences along with their overall footprint. "A lot of firms have made great strides in becoming more paperless with their processes. Thus, marking up files and sharing information no longer requires housing boxes and boxes of paper," she says, another reason there is less need for oversized offices.
With regard to the space for partners, many law firms have scaled back to two sizes of private offices, with senior partners having slightly larger offices. These changes are being made as leases come up for expiration, creating "the opportunity to move or consolidate, and law firms are getting some funding from landlords to invest in that space," says Gerhart. While perimeter offices are not disappearing, law firms are considering interior offices for associates, especially since reductions in support staff are freeing up space.
Tom Polucci, director of interiors at HOK, also notes that law firms are using two sizes — "one size for associates and shared associates and one size for partners." There is a trend toward less individual design for attorneys, he says. "Partners might get a level of choice in how their office is furnished, but it is from a kit of parts or preselected set of pieces." In the past senior attorneys received allowances to personally furnish their own offices.
The idea is for space in a law office "to be much more modular so you can easily convert one office to another," Polucci says. For example, at White and Case's Manhattan offices, three associate offices can be converted into two partner offices and vice versa.
Like other types of business, law firms "are trying to create a more connected and collaborative environment," says Gerhart. "They want a workplace that is open and makes it easy for people to see each other, so they use glass instead of hard walls." This also allows more natural light to be brought in to spaces not on the perimeter. "In addition, they are adding amenities as a way to bring people together." Law libraries are disappearing, often replaced by communal space where people can get a cup of coffee and talk with their colleagues. "Knowledge sharing and mentorship of associates is becoming increasingly more important," says Gerhart, "and it's easier in an environment where you can easily see people."
Offices for one law firm concerned with work/life balance contain more functional spaces so that people needn't leave the office, says Liz Wozny, associate vice president at CallisonRTKL. An actual coffee shop was installed in the workspace, complete with individual and group seating, a lounge area, free snacks and beverages, gourmet coffee choices, and other amenities. The offices also have areas where people can take a break and recharge. Because of the concentrated work environment, most employees go home at six and rarely come in on the weekend.
More high-tech conference rooms are rapidly becoming the expectation in law offices, especially as they look to attract younger talent. "In some cases, people are dialing in and video conferencing and sharing content virtually," says Gerhart, which means resources must be allotted to state-of-the art technology that allows for virtual collaboration.
Maryellen Lo Bosco is a freelance writer who covers facility management and technology. She is a contributing editor for Building Operating Management.
Email comments and questions to edward.sullivan@tradepress.com.
---
---
---
Related Topics: