You Might Like
On FacilitiesNet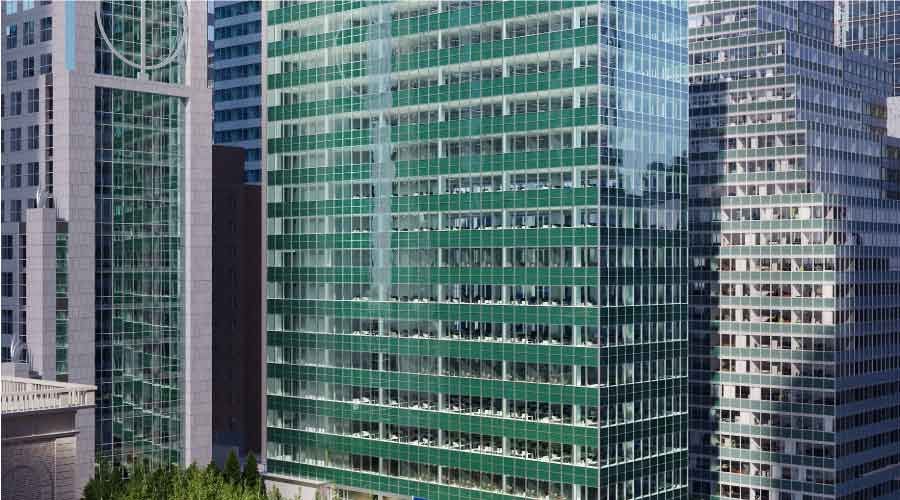 DOAS Adds Modern Touch to Classic Office Tower Renovation
The extensive renovations aim to create a like-new boutique office tower designed for the 21st century with advanced infrastructure.
In early 2022, two of New York City's top real estate development firms, WatermanCLARK and Brookfield Properties, announced plans to pursue a $100 million redevelopment and reimagination of Lever House, an iconic 1950s office tower located in the heart of Midtown Manhattan on Park Avenue.
The extensive renovations aim to create a like-new boutique office tower designed for the 21st century with advanced infrastructure, building systems and amenities, all while maintaining and celebrating the landmarked building's mid-century architectural heritage and design. The redevelopment program will entail an enhanced, newly remodeled lobby, an upgraded and vibrant landscaped public plaza, an expansive private outdoor terrace with adjoining hospitality suite, personal wellness and training facilities and more. Skidmore, Owings & Merrill (SOM), the original architects of Lever House, return as the project's lead design firm.
The redevelopment of Lever House is taking place amidst a pronounced period of flight to quality in the commercial real estate sector. Companies are seeking out new, modern workspaces that are hospitality driven and prioritize employee health and wellness. Given the rise in hybrid work, companies are also seeking out buildings that provide space for employees to congregate and socialize when they come into the office. Taking these new tenant expectations into consideration, the development team is creating a modern vision for Lever House.
Completed in 1952 as the U.S. headquarters of soap company Lever Brothers, Lever House has been globally recognized for its architectural influence at the time of its completion and in the decades following. It was one of the earliest examples of a glass curtain wall facade, revolutionizing Park Avenue, which had exclusively featured buildings of brick and masonry to that point. The facade, along with the positioning of the building's slim tower along the north end of the site, allows for ample sunlight on all floors. The remainder of the site is covered by a podium which appears to float on stainless steel columns, giving the ground floor over to public space rather than retail – a decision that redefined the relationship between the private and public realms. Lever House is hailed as an icon of the shift to modern skyscrapers, and later became one of only 50 buildings globally to win a Twenty-five Year Award from the American Institute of Architects (AIA).
Seventy years ago, Lever House represented the cutting edge of office design and architecture. After decades of existence, however, the cherished office tower is in need of improvements in order to compete with state-of-the-art skyscrapers which have cropped up across the city and attracted major tenants paying top rents. Given its landmark status, the development team faced the unique challenge of maintaining the bones of the tower while redesigning every facet of its interior function and feel to meet the needs of the modern, 21st century workforce focused on health, wellness and hospitality.
To that end, on the third floor, in consultation with renowned architecture firm Marmol Radziner, the developers are creating Lever Club, an exclusive lounge, restaurant, conference venue, and hospitality suite connected to nearly 15,000 square feet of outdoor terraces overlooking Park Avenue for the benefit of the building's tenants. In the building's lobby, Marmol Radziner designed an inviting seating arrangement to create an intimate environment akin to what you could find in a luxury hotel. Many of the building's original details, such as the exterior paving, plaster ceilings, stainless steel columns, and marble planter will be restored. A new planting program by Reed Hilderbrand will bring a grove of birch trees into the planters, both in the plaza and on the third-floor terrace.
Perhaps the least visible but no less impactful change to come at Lever House pertains to air filtration. Among a workforce that is slowly transitioning back to in-person work after more than two years in a pandemic – in which COVID-19 spread via airborne droplets – there is a heightened awareness of indoor air quality that did not exist pre-pandemic. In addition to avoiding illness, there is compelling data to prove that air filtration has a direct impact on a company's bottom line. In a 2015 Harvard study on the effects of indoor environmental quality on cognitive function, study participants assigned to work in well-ventilated offices with below-average levels of indoor pollutants and CO2 had, on average, double the cognitive performance scores compared to those who worked in offices with typical levels.
At Lever House, engineering firm Cosentini was enlisted to update the mechanical systems of the tower from midcentury perimeter induction units to a dedicated outdoor air system (DOAS), which will deliver 100 percent outside air to tenants. The system will prevent recirculation of air between floors and cross-contamination of air between tenants, while also reducing odors. As an added benefit, DOAS will allow for additional floor space and higher ceilings, all without changing the exterior appearance of the building. A multi-million-dollar operation, this installation required a complete disassembly of the space to demolish every piece of mechanical equipment associated with air filtration and replace the air distribution systems. With wellness-forward improvements like DOAS, Lever House is targeting the highest health and sustainability standards including LEED Gold, WELL, WiredScore Platinum, Energy-Star, and GRESB upon its completion in the first quarter of 2023.
Lever House is in good company among buildings like 1100 Avenue of Americas and 660 Fifth Avenue, which are all setting a new standard for wellness in the workplace by integrating DOAS systems. This feature, combined with others such as large windows that let in an abundance of natural sunlight and outdoor terraces that connect workers to nature, are setting these buildings apart from the rest by enhancing the mood and performance of employees.
The original design of Lever House was groundbreaking because of its prioritization of workers' needs; its thin tower yielded natural light for employees rather than rentable square feet while its ground level pedestrian plaza forsook retail income for public space. In a highly competitive environment with tenants only seeking out the best-of-the-best office spaces, the employee-focused approach taken to this redevelopment will allow Lever House to reclaim its position as one of the most sought-after buildings in New York City.
Ric Clark is the co-managing partner of WatermanCLARK.
---
---
---
Related Topics: